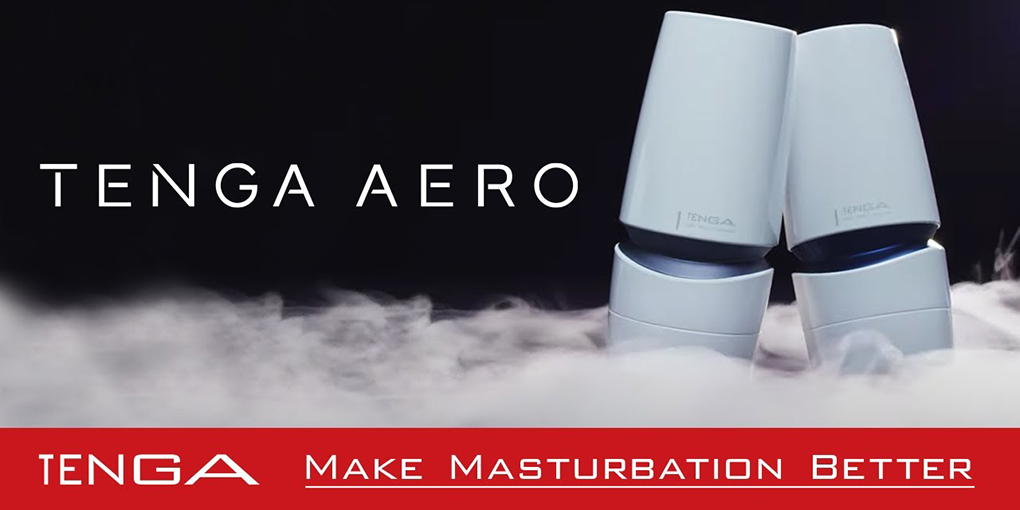 Now, I'm not the one to go around and diss sex toys, but most sex toys that claim they are "better than a blow job" are lying. That doesn't mean they aren't excellent or pleasurable! They'll undoubtedly make you bust a nut. But, as you'll see in my Tenga Aero Cobalt review, some toys simply do it better than others.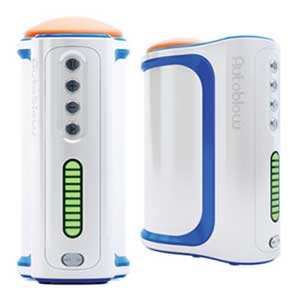 Autoblow A.I.+

Hands free blowjob toy

Heavy duty motor

Powered by artificial intelligence

Interchangeable sleeves

Body-safe materials

Plug it into any electrical outlet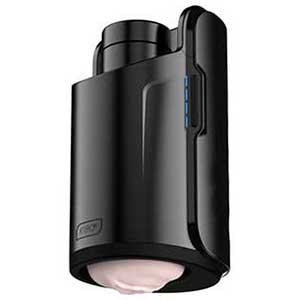 Kiiroo Keon

Automatic stroker

Sliding scale of speed

Elegant and discreet

Real-feel masturbation sleeve

Connects to video chat platform and VR porn

Easy to store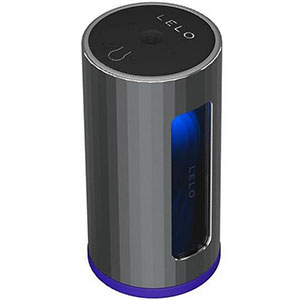 Lelo F1S V2

Hands free blowjob machine

Long-lasting charge

Fully waterproof

Powerful sensations

Realistic artificial skin material

Easy to clean

Promo Code: "HAPPYBF" - 15% Off
Getting a machine or a manual toy to mimic and simulate a blow job is not easy. Even though we've been telling women for ages that there's not much to a blow job ("Just lick it, dear, and he'll be happy!"), that's not exactly true, is it?
A good blow job includes four crucial factors:
Tender material (of the lips and the inner cheek area)
Wetness (of the mouth)
Sucking
Stroking
Now, the sucking and the stroking aren't that difficult to manufacture, right? Thanks to the wonders of modern technology, we have plenty of BJ machines and manual toys that can replicate the technical aspect of getting your pocket rocket sucked on.
But what about the other two factors? Dipping your dingus into a warm and wet mouth isn't the same as dipping it into a cold lubed-up toy.
Well, many toys can't really help you there. Aside from warming up some lube, there isn't much the toy manufacturers can do to replicate a real blow job. That's why some of them (the real sex toy industry MVPs) do their best to make sure the sucking and stroking feel heavenly.
Tenga is one of those companies. As you'll see throughout this Tenga Aero Cobalt review, this toy is inconspicuous, but only at first glance. Let's unpack it to see what's up.
What Is the Tenga Aero Cobalt?
I've had my fair share of Tenga toys on my dick throughout the past few years. Tenga is a unique company because they pay equal attention to both the form and functionality of their toys. Unlike some other manufacturers, they don't really aim for realism when they are developing new toys. Instead, they go for novelty and innovation.
You probably remember a similar speech from my Tenga Geo review. My Tenga Crysta review also had quite a few paragraphs that were nothing more than Mark gushing about a sex toy for men that looks like no other (and feels fantastic).
So, it's really not that surprising that I'm equally excited to share my thoughts with you in this Tenga Aero Cobalt review.
Tenga Aero Cobalt is a ring masturbator. It's not automatic. Therefore, the toy won't do your job for you. However, because this is a ring masturbator with a fantastic texture in the sleeve and two different ways of controlling the suction, you'll still have a stellar time with it.
Not to mention, the toy also has ten different levels of suction. Now that's something you can't get when getting a real blowie, right? It's not like you can tell your girl to bring it up a notch or two in a subtle way. If you do, she might try to hoover your brains out through your dick.
Click Here To Check The Up To Date Price
What Makes It Special?
The entire design of the Tenga Aero Cobalt is unique and special. As I mentioned already, the company is really trying its hardest to stand out in the crowd. And it's working!
The two-piece design features a ring that separates the inner sleeve into two pieces. The ring feels great, and it helps with the suction. You twist it clockwise for more suction or counterclockwise for less suction.
If you can't tell which is which while in the throes of passion, Tenga has your back. The outer shell has a dial system etched into the ring-like dip that's in the middle of the toy. That way, you can always take a peek and see where you're at, intensity-wise.
Now, if you want to know more about this, frankly, amazing toy, keep reading. I'll reveal all in the second part of my Tenga Aero Cobalt review!
The Design
The overall design is a beauty to look at. The shape of the stroker is a bit curved with a flat bottom and a flat top. The stroker has an outer shell that's made out of ABS plastic and comes in crisp white. That makes the toy look high-end and pristine.
Of course, the money piece is the ring that divides the stroker into two parts. As I mentioned already, it does more than just look nice as it's the most significant selling point of this toy. It's there to help out with the suction and make the entire toy easier to grip.
One of the things I really liked about Tenga Aero Cobalt is the fact that it won't slip from your hand. Now, this was the first thing I noticed about it, and it immediately put me at ease. When the design process goes as far as to ensure the entire toy is usable and practical, I know I have a winner in my hands (and on my dick).
Of course, as soon as said toy went ON my dick, I forgot all about the design! When I tell you that this is one of the better manual strokers on the market, you better believe me! I don't give strong, definitive statements like that often, nor do I give them lightly.
I've thoroughly tested the Tenga Aero Cobalt (as well as its sister Tenga Aero Silver, but we'll talk more about that in another review) so that I could give you the detailed and precise rundown that you deserve!
So, the design is stellar and focuses on both form and function. But let's see about the specs, shall we?
Click Here To Check The Up To Date Price
The Specs
Thenga Aero Cobalt is by no means a small toy. It's around 7.5 inches tall and has a diameter of 3.12 inches. Now, to some of us, that might sound small-ish. After all, we're used to everything being big, bold, and, if possible, jumbo-sized.
The beauty of Tenga is that it makes unrealistic toys with realistic proportions in mind. Look, the sleeve is around 6.7 inches of insertable length. Why? Because most men are approximately 6 inches long! Tenga doesn't cater to those imaginary men who are packing monster dongs in their trousers. No! Instead, they make toys for the Average Joe (or Mark), who have a more humble (but still mighty) snake in their pants.
So, while some might mind the size, I don't. With 8 inches in diameter, the toy fits perfectly in the palm of my hand and doesn't feel awkward. What's more, the toy is also relatively light. It only weighs around 0.7 pounds.
Now, if that's not easy to handle, I don't know what is!
The Features
As pretty as the Tenga Aero Cobalt is, its features are more magnificent. The beauty of the design really can't compensate for the lack of functions (which is something that many sex toy manufacturers can't seem to realize). Luckily, Tenga offers both, every single time.
As far as features go, Tenga Aero Cobalt offers:
The Amazing Ring Valve
Ten Suction Levels
A Few Extras
Now, I've mentioned most of these features before, but I feel it's essential that I explain exactly what they do and how the toy works for you to get the complete picture.
Before I do that, however, I'd like to mention the inner sleeve. The texture of the Tenga Aero Cobalt is the only thing that sets it apart from the Tenga Aero Silver. Although both are amazing, the Cobalt does more for me personally.
The sleeve has a broad entrance which is nice because I don't always appreciate it when toys go hard right from the get-go. After the entrance, you'll hit the textured ring reasonably quickly (after an inch or two). The ring, as I already mentioned, constricts the airflow in the toy and enhances suction.
After the ring, there are two hourglasses full of little nubs and ridges that will massage you like there's no tomorrow. However, don't stay in them too long because right after them, you'll hit the best texture Tenga ever put on the market. The following two chambers, or, better said, a long hallway and a chamber, have rectangular nubs all over them. They are also relatively narrow (which is always a plus).
But, the ring is the money piece. So, let's see what it actually does.
The Ring Valve
The air valve that sits in the middle of the toy is what makes it so good. It constricts the airflow in the stroker to imitate suction. Instead of squeezing the toy or screwing a cap to restrict airflow, with the Tenga Aero Cobalt, you can repeatedly twist the two sections to control the intensity of the suction.
Even when you don't use the air valve and just use the Tenga Aero Cobalt as a regular stroker, you'll still feel the tightness. However, I do suggest tightening the thing further and making good use of the suction feature. If you go to the highest level of suction, the toy will almost feel too intense. So, use caution when playing and test out all the levels before hitting the highest one.
The Suction
As I mentioned, there are ten different suction levels. The first one feels good, like the beginning of a blow job usually does, while the highest level feels like someone (or something) is trying to suck your very soul out of your body, and they decided that sucking your dick is the perfect way to do it.
Now, don't get me wrong. This is by no means a bad thing. High-intensity suction is actually what most men look for when they browse blow job machines and toys. After all, that's something that you can rarely get in real life.
The Extras
Tenga always has a little something-something extra that it offers to its customers. Sometimes that's nothing more than a complimentary pouch of lube. Other times, it's something way better.
The Tenga Aero Cobalt has a little incorporated drainer in the lid of the toy. Now that's not something you see very often. Cleaning sex toys can be anything from a simple one-two-three situation to a whole ordeal that takes a few hours. So, when a company goes out of its way to make the process easier, Mark is here to praise them and applaud them (loudly!).
The drying rack is convenient, and it means you don't have to think about where you'll place your sleeve while you're waiting for it to dry.
By the way, just because Tenga has a nifty extra doesn't mean it forgot about the regular extra features. Each Tenga Aero Cobalt comes with complimentary lube. That way, you can play as soon as you get yours in the mail.
Related
Cleaning and Storing
As I said, thanks to Tenga's ingenious design, cleaning is not that hard. The plastic shell doesn't need cleaning (you can dust it off occasionally), but the inner TPE sleeve needs to be cleaned thoroughly after every use.
The easiest way to do that is to take it out and flip it inside out. Then, clean the sleeve with some soap and water (or with a sex toy cleaner). Pop it on the drying rack in the lid and wait until it's fully dry.
Clear Skies Over Markland?
Now, some of you might already know how I'll finish this Tenga Aero Cobalt review. Yes, that's right, we're looking under the hood and searching for potential flaws.
If you ask me (and you are asking me because you're here, reading my review), Tenga Aero Cobalt has two flaws. One of them is minor and not something I actually mind. The other one, however, is a biggie.
The minor flaw is the size. I already mentioned that Tenga products generally don't cater to huge dongs. So, if you're packing a weapon of mass (pussy) destruction in your pants, Tenga won't accommodate the entirety of it. That doesn't mean this product isn't for you. It just means you won't be able to go in balls-deep.
The second flaw is the noise. Tenga Aero Cobalt is extremely loud for a non-automatic stroker. The air valve makes a loud blowing noise when you close it partially. However, the toy makes noise even when the valve is completely open or completely closed. So, no matter which intensity you opt for, the toy will be loud.
There's really no way around this, and if you're looking for something that will allow you to stealth-masturbate, Tenga Aero Cobalt might not be the best choice. If noise isn't one of your major concerns, then by all means – go for it.
A Few Parting Words
So, what do you think? Does the newest Tenga addition appeal to you? Did it tickle your fancy, stroke your imagination, evoke some probing thoughts?
If so, feel free to share them with me! I really did my best to make sure my Tenga Aero Cobalt review showcased both the good and the bad of this product. You know I don't like it when you guys waste your money on snake oil. So, only the best toys find their way to Markland and, consequently, to you! Let me know how you liked this new Tenga toy and if you agree with my overall impression!
Click Here To Check The Up To Date Price
Product Specs:
| | |
| --- | --- |
| 🏷️ Name: | ⭕ Tenga Aero Cobalt |
| 📁 Type: | ⭕ Blowjob Machine |
| ⚙️ Features: | ⭕ 10 Different Suction Levels |
| 🛠️ Materials: | ⭕ TPE |
| 📅 Last updated: | ⭕ March 6, 2023 |