Yes, I know, my Satisfyer Men Wand review is long overdue. But I've heard your pleas, and finally got my hands (and Little General) on Satisfyer's toy that's taken the world by storm.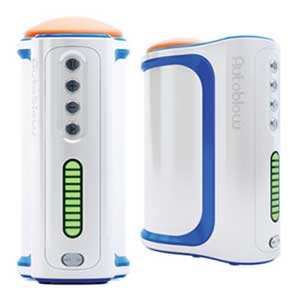 Autoblow A.I.+

Hands free blowjob toy

Heavy duty motor

Powered by artificial intelligence

Interchangeable sleeves

Body-safe materials

Plug it into any electrical outlet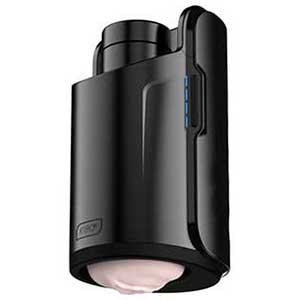 Kiiroo Keon

Automatic stroker

Sliding scale of speed

Elegant and discreet

Real-feel masturbation sleeve

Connects to video chat platform and VR porn

Easy to store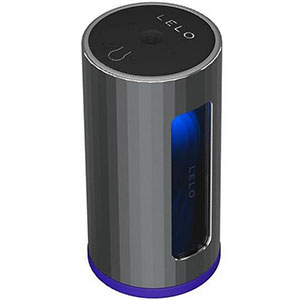 Lelo F1S V2

Hands free blowjob machine

Long-lasting charge

Fully waterproof

Powerful sensations

Realistic artificial skin material

Easy to clean

Promo Code: "HAPPYBF" - 15% Off
And after a few months of testing, I finally have my ducks in a row, and I can share my honest opinions of the Men Wand. I'll also tell you how it compares to some of the best strokers on the market. So let's jump right in.
The Satisfyer Men Wand Explained
I wanted to kick off my Satisfyer Men Wand review the way I do all others – by telling you what the hell this toy is. Basically, the Men Wand is a rechargeable male vibrator that works on members of all sizes. Its features and functions remind me of the Fun Factory Manta, only the Men Wand is cheaper and stronger.
Just like the Manta, the Satisfyer Men Wand has these smooth, silicone wings or flaps that envelop your third leg. Then, by pressing one of the two vibration buttons, you can change the speeds and patterns of the flaps.
In fact, the Men Wand has 7 intensities and 5 vibration settings, giving you a total of 35 mind-blowing options. That being said, it's kind of a positive and a negative. While I appreciate the fact that there's so much to choose from, it can also be kind of a nuisance.
I mean, picture this: You're lying in bed, getting your freak on, and setting number 8 is doing it for you. Then, disaster strikes, and you accidentally hit another button. The setting is fine, but it's just not floating your boat. So you have to push the buttons a million more times to get back to where you were. And by the time you've found what you were looking for, the train has already left the station.
Click Here To Check The Up To Date Price
The Ins and Outs of the Satisfyer Men Wand
In the next part of my Satisfyer Men Wand review, I wanted to talk to you about the toy specs, because they're huge deal breakers for me. So the toy is made out of body-safe silicone, it's phthalate-free and non-porous.
To support the 35 insane vibration options, the Men Wand has a powerful motor inside, as well as a rechargeable battery. The battery takes about three hours to charge, and you'll get an hour of uninterrupted fun with it.
I do want to mention that, if you order off the official website, you'll only get a USB cable. But if you get it on SheVibe, you can also get an AC adapter for it, making the whole charging process easier and faster.
Even though the Men Wand has a motor inside, it still has IPX7 waterproof certification. That means that you can draw yourself a bath, and just go to town on your little buddy while in the tub.
Satisfyer really believes in the quality of the toy, which is why the Men Wand has a 10-year manufacturer warranty. So even if one of the parts goes faulty during that period, you can call the company for a new one.
Why You Need a Satisfyer Men Wand
Listen, I've reviewed a ton (and I mean a ton) of different cock rings, vibrators, and blowjob machines. But I've always had a soft spot for male sex toys that I can use on/with a partner. Which is exactly how the Satisfyer Men Wand won me over.
Couple's Play
Yes, it's an amazing male masturbator that can get you hard in a matter of seconds, and make you blast your baby juice all over. But you can also use it when you're with a partner, no matter what gender or position. You can put the Men Wand on your dong, and it'll vibrate while you're inside someone else.
Another time that you could use it is when you don't want to have penetrative sex, but still want the big O. You can put your ding dong inside the Men Wand, and lay the flat side on a female partner. It's kind of a weird, but cool version of dry humping, and it's sure to get you off.
Female Pleasure
And while that's all great and magical, it's not even the best part. The Men Wand can double as a clitoral massager. Due to its unique shape, a woman can put the back of the toy on her clit, and start the "massage."
Of course, your lady friend can be in charge of her own pace and settings, and do whatever she likes. But one way to spice things up is to take matters into your own hands. Place the Men Wand on her, and start going through the different vibration patterns. With a push of a button, you can make her eyes roll into the back of her head with pleasure.
I'd have to say that I've had much better experiences with the Men Wand than the Manta when it comes to using it on a partner. That's because instead of the tiny flaps vibrating on her clitoris, there's a whole damn vibrator head. It honestly reminds me of most Wand Massagers for women, which is exactly why it works so well.
Related
Taking Care of Your Satisfyer Men Wand
It's that moment in my Satisfyer Men Wand review when I tell you that you should clean your sex toys. So unless you want your baby maker to fall off, I suggest that you get the soap ready. Luckily, since the Men Wand doesn't have any cups or chambers, cleaning it is super simple.
Basically, all you need is a mild soap and some cold or tepid water. Once you've charmed the snake, clean yourself up and run your Men Wand under water. You can also start gently rubbing any spunk or dirt off it. If you have an antibacterial spray, I recommend spritzing it over the Men Wand just for safe measure. But if you don't, this one from Wicked is really good, cheap, and easy to use.
When you finish, I suggest using a lint-free cloth to dry it because the silicone material does collect dust. While I'm on the topic of silicone toys, I do want to mention that I like to put mine in a baggy or pouch when I'm done using them. That's because a bag can keep them dust-free, and I don't have to worry about washing my masturbators before playing with them every single time.
My favorite pouch has been the Sugar Sak toy bag because it's antibacterial and big enough to store most of my toys. So I always have a couple of them lying around just in case I get a new toy and don't have anywhere to put it.
How to Stroke Your Ego With the Satisfyer Men Wand
Let's move onto my favorite part of the Satisfyer Men Wand review – explaining how I got along with it. Since it's a silicone toy, I immediately knew that I had to reach for my water-based lube. I know I sound like a broken record, but just don't use silicone lube with silicone toys. It's never a good combination.
To be totally honest, against my better judgment, I tried using the Men Wand with no lube once, and I hated every minute of it. The silicone kind of got stuck on my skin, and wouldn't move, so the entire experience was pretty much awful.
I tried the Men Wand a couple of different times to test out how powerful it is. The first time that I used it, I had a full-on boner, and got off in just a couple of minutes.
Then, to test the Men Wand even further, I played with it while I was sporting a semi. I started by working the shaft and moving the toy up and down while increasing the vibrations. It took about five minutes before I blew my load, but what a load it was.
Finally, on the third day, I put on The Simpsons, chilled on my couch, completely flaccid, and put the Men Wand on my John Thomas. Even though I wasn't doing much with it or actually paying a lot of attention, the masturbator did make my soldier stand at attention. And in an un-shocking turn of events, I busted a nut in under 10 minutes.
So as far as I'm concerned, the Men Wand has passed all the tests with flying colors. No matter if you have a tough time getting hard or get a boner every time there's a light breeze, the Men Wand will absolutely deliver.
Click Here To Check The Up To Date Price
Manta vs. Men Wand – Head to Head Battle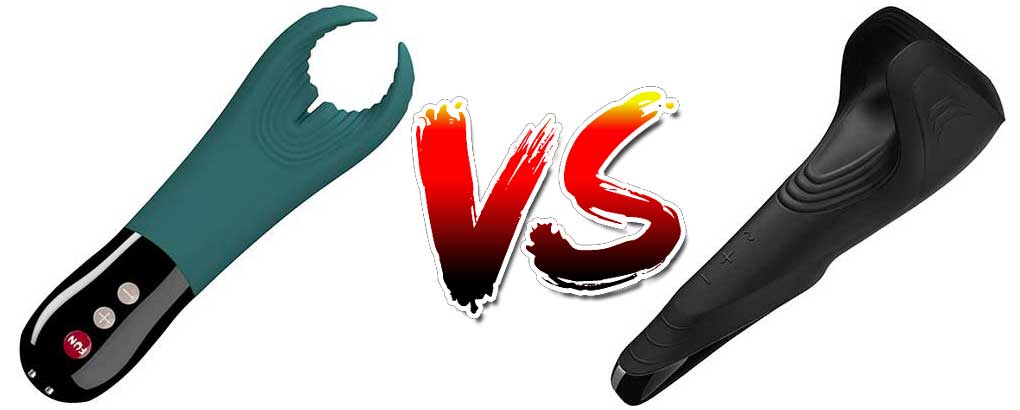 Right off the bat, I'll say this – I love the Fun Factory Manta and have used it a dozen more times since I wrote my review. But when I saw that the Men Wand claims to do the exact same thing as the Manta for less money, I had to try it out.
I want to start this Satisfyer Men Wand review battle by talking about how they're similar. Firstly, they both have an open-ended design, unique flaps that envelop your buddy, and are made from silicone. You can also use both the Manta and the Men Wand with a partner. However, in my personal experience, the Men Wand edges out the Manta here and gets the point.
Now let's move on to how and where they differ, starting with the battery. The Men Wand has a much more powerful battery than the Manta, and it takes less time to charge. What's more, the Satisfyer toy doesn't have a deep ridge in the middle of it to hold lube. It also doesn't have a loop handle, making it a bit more difficult to hold.
So overall, I'd have to say that the Manta has a better design, but that does come with a cost. The Men Wand has the Manta beat when it comes to price and power, which is not something you should take lightly.
What Sucks About the Satisfyer Men Wand
While I'd love to say that the Men Wand is an absolute technological marvel, it's not without its faults.
The Distance Between the Flaps – My biggest problem with the toy is its size and the distance between the flaps. I don't know if Satisfyer designed its toy with only girthier men in mind, but that's kind of how it turned out.
When you don't stretch them out, the wings stand about 1.4 inches away from each other. That's great if you have an average or above-average Schwanz. But if you're smaller than that, the wings won't connect enough to give you the necessary friction.
The Overall Design – Another issue that I noticed while writing my Satisfyer Men Wand review has to do with the overall design. You see, the toy doesn't actually have grips that you can hold onto while you're going to town on yourself. So once you're all lubed up and start playing, the Men Wand can easily slip away from your fingers. I know that it's only a minor issue, but it did happen to me once, and it was really annoying, so I had to mention it.
The Buttons – Lastly, and I'm basically nit-picking at this point, I really don't like the buttons on the Men Wand. All three are completely flat, which looks great and works well with the design. However, once you're in the middle of your session, pressing the correct buttons to change your settings can be tricky.
So Would I Recommend the Satisfyer Men Wand?
Let's do a final summary of the Men Wand, and talk about why you need it in your life. The first thing I love about it is the overall design and the fact that I can use it with a partner. I also really enjoyed the different vibration and pulsations settings, but I just think that there should be fewer.
With that said, I would definitely recommend the Satisfyer Men Wand, especially if it's your first time trying out male sex toys. I mean, it's really intuitive, versatile, and it won't set you back a fortune.
I hope that my Satisfyer Men Wand review was helpful and that it's made you realize just how much you need this bad boy. Until next time, happy fapping!
Click Here To Check The Up To Date Price
Product Specs:
| | |
| --- | --- |
| 🏷️ Name: | ⭕ Satisfyer Men Wand |
| 📁 Type: | ⭕ Male Masturbator |
| ⚙️ Features: | ⭕ Flexible Stimulating Wings |
| 🛠️ Materials: | ⭕ Silicone |
| 📅 Last updated: | ⭕ September 16, 2023 |
Disclaimer
Our articles feature affiliate links. If you appreciate our content and would like to show your support, you can consider buying your new sex toys using the links we provide. Every purchase made through our links helps us earn a small commission, without any additional cost to you.