I've avoided writing my Thrust Pro Tech review for a while now because it's kind of controversial. I love it, hate it, think that it's hot, annoying, and everything in between. So here it all is; the good, the bad, and the shocking.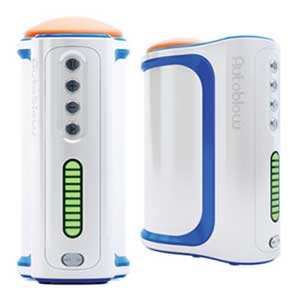 Autoblow A.I.+

Hands free blowjob toy

Heavy duty motor

Powered by artificial intelligence

Interchangeable sleeves

Body-safe materials

Plug it into any electrical outlet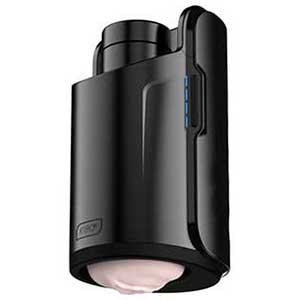 Kiiroo Keon

Automatic stroker

Sliding scale of speed

Elegant and discreet

Real-feel masturbation sleeve

Connects to video chat platform and VR porn

Easy to store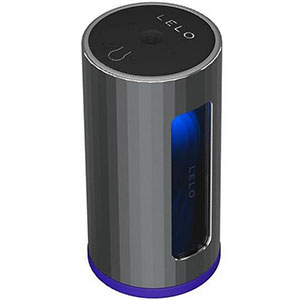 Lelo F1S V2

Hands free blowjob machine

Long-lasting charge

Fully waterproof

Powerful sensations

Realistic artificial skin material

Easy to clean

Promo Code: "HAPPYBF" - 15% Off
What Is Thrust Pro Tech?
The Thrust Pro Tech is a rechargeable, thrusting male masturbator with a cooter topper. It only came out a few months ago, and so far, it's received a lot of mixed reviews, which I totally get. The toy is still a bit all over the place, and Thrust needs to work out some kinks, but it's definitely promising.
Anyway, getting back to the Thrust Pro Tech review, this masturbator is rechargeable and has pretty solid battery life. It also boasts a few different vibration speeds and patterns, all designed to get you to blow a load.
But the thing that drew me to the Thrust Pro is the moaning feature. Yes, you heard it right. This masturbator will moan in pleasure when it feels you thrusting. That obviously made me tingle in all the right places, and I knew that the toy had to be mine.
Pro Tech's Specs
Before I get to the moaning (that's what she said), first things first; I've got to cover the specs in my Thrust Pro Tech review. The case is made out of a soft, but sturdy plastic, which is good news for all the butterfingers out there. Even if you drop it, it might get a few scuffs, but it for sure won't break.
The Pro Tech is, as I mentioned earlier, a rechargeable male sex toy with a run time of about 55 minutes. With the included USB charger, it'll take about two hours to fully charge it, which isn't bad.
Another really important thing about the Pro Tech is that it's splashproof, and you know what that means. It's perfect for some R-rated fun in the shower.
When it comes to the internal sleeve, I have to say that it's pretty damn soft and supple. Its internal length is six inches, which means that most guys can easily slip inside. There's also lots of texture going on that supposedly mimics a person's mouth.
I mean, I can't say that the sleeve is exactly like a mouth, but it's still pretty damn hot. It's full of these bumps and ridges that stroke your willy, oh-so-gently.
You should also know that Pro Tech is a phthalate-free toy, which is perfect for you people with allergies.
Click Here To Check The Up To Date Price
The Design
While I'm here, I do want to give credit where credit is due, and that's Thrust Pro's design. In addition to the black plastic case, which is classic, I guess, there's also a peekaboo window.
Similar to the Lelo F1s Developer's Kit, there's a see-through plastic part, which helps you take in exactly what the toy's doing. I don't know about you, but for me, watching everything unfold and seeing the toy getting me off is really hot.
Also, Pro Tech's design is pretty intuitive, and there are three buttons you can push. One's the power button, the other's to turn on the moaning, and the third one changes the vibration settings.
Another thing that I like about the design is that you can easily push any of them, while you're holding the Thrust Pro Tech with one hand. Just be careful, though, and try not to hit the off switch right before busting a nut. In fact, my advice is to get your hand off the buttons once you've chosen your settings.
To help with the hold, Thrust also put two grips on the sides of its bowling pin-shaped sex toy. Basically, no matter how much you're flailing about, there's little to no chance that the Pro Tech will slip from your lube-covered hands. As someone who's had this happen to them, I do really appreciate that.
Pro Tech's Features
Now that I've covered the specs, it's that time in the Thrust Pro Tech review to talk about the features that make this toy so unique. Since I already mentioned the moaning feature, I won't go too much into it, but there's just one thing that I forgot to mention. And that's the fact that you can listen to the moans with your headphones.
If you want to lay low, and not let everyone in on the fact that you're playing with a sex toy, just plug your headphones in. Then, once you have more privacy, you can take them out, and enjoy the moans. I almost kind of wish that I could even hook them up to speakers or something. That would be cool.
Thrusts
Let's switch gears for a second, and talk about the vibrations, which are solid, but nothing revolutionary. With a push of a button, you can cycle through two thrusting speeds, and just as many patterns.
Don't get me wrong, the thrusts are incredible, and they're definitely enough to get you off. But it's just something I've seen before.
That's why I think that the Thrust Pro Tech would be the best choice for beginners and novices. It's enough to draw you in and get you off, but it won't ruin you for other toys in the future (if you know what I mean).
Travel Lock
Another cool feature that Pro Tech has is Travel Lock. Since the masturbator is pretty compact, you could easily take it with you on vacation or when you're traveling. But imagine it going off, and starting to buzz right when you're checking your bags or going through passport control.
To avoid having that happen to you (like it did to me), you can turn on the Travel Lock feature. Once you've arrived at your destination, switch it back on, and you're good to go.
Click Here To Check The Up To Date Price
Playing With the Pro Tech
Let's get into the reason all of you clicked on this Thrust Pro Tech review, and that's the performance. I'll tell you guys exactly what I did, how I did it, and what I realized along the way.
To start off, I obviously put a crapload of lube on both my Major and the Pro Tech. Then, I slid inside and turned the "thrusts" on. The reason I put thrusts in quotation marks is that they're actually more like vibrations, rather than full-blown motions.
Either way, the lower speeds/patterns were amazing at turning me on, and needless to say, I was standing at attention. For clarification, when I slid inside, I was only sporting a semi.
The Thrust Pro honestly is a great tool for developing stamina and building up your schlongevity. If you're quick on the draw, you can use it for edging, and you'll be able to last much longer with an actual human later on.
After a while, I (obviously) wanted to release all that pent up energy, so I increased the speed. Unsurprisingly, I was able to blow my load in just a few short minutes.
The Moaning
The first time I played with the Pro Tech, I didn't turn on the moaning because I quite honestly forgot. But the next time I picked it up, I made sure to plug in my earphones and let the gentle moans wash over me.
At first, the moans were incredible, and they really made the whole experience better. I got turned on faster, and I finished quicker, for sure.
With that said, the moans did get repetitive, and I was soon bored. It's pretty short audio that starts playing on a loop after a minute or so, and it wasn't in sync with what I was doing. However, I could've lived with that. Here's my real problem.
The only audio that's available is of a woman moaning. If you're into men, I think that the feature wouldn't do too much for you, and it all goes out the window. I wish that Thrust put a bit more effort, and offered more variety. Otherwise, a lot of guys won't be able to enjoy it.
Partner Play
If you want to use the Pro Tech with a partner, you won't have to worry about the moaning feature. It's actually a pretty great couples sex toy, especially during foreplay.
They can put the Pro Tech on you, and watch you twisting and turning with pleasure. You can let them choose the settings on their own, and be spontaneous and in the moment.
Of course, you can also use the Pro Tech from start to finish, and it'll for sure make you cream your sheets. Either way, it's a good time for all.
Related
Cleaning the Pro Tech
One thing that Thrust definitely did right was making the Pro Tech easy to clean. But as always, there's a learning curve with it, so I thought I'd elaborate more in my Thrust Pro Tech review.
To get your spunk out, and free your soldiers, you first need to take off the blue cover. Then, unclip the toy, twist the base, and the sleeve will pop right out. It's really simple, but if you're feeling unsure, you can just check the booklet that comes with the Pro Tech.
You should then do your normal song and dance, and wash it like you would any other sleeve. Turn it upside down to get as much jizz out of it as you can. Squirt a bit of cleaner inside, swish it around, maybe get in with your fingers.
After that, run your Pro Tech under some lukewarm water, and abracadabra, alakazam, you're done! You should then leave your toy somewhere to dry, pop it back into the case, and it's ready to go.
I also recommend going the extra mile and using renewing powder on the topper and in the sleeve. Thrust makes its own, which is pretty solid, but if you're in a pinch, just use cornstarch.
The Things Wrong With the Pro Tech
So far in my Thrust Pro Tech review, I've mostly just given praise to the toy and talked about what I love about it. That probably makes my intro sound confusing, so let me explain.
The biggest issue I had with the Pro Tech, and what I know is bothering a lot of guys, is the width. I get that the whole point of it is for it to be snug, but there's a point where it becomes too snug. So if you're on the girthier side of things, I don't know if I'd recommend this toy for you.
On the other hand, if you're just there size-wise, and really want the Pro Tech, there is a way to use it. You just put a smidge bit more lube and work your tip and shaft, ignoring the base. It could still easily get you off, especially if you're more sensitive.
The other issue I obviously had was with the short moans on a loop with only female audio. But I already crapped on that, so I won't go into it more.
The third, and final problem has to do with Pro Tech's advertising and saying that it's a thrusting masturbator. As I said, the motions aren't really thrusting, rather vibrating.
I have no problems with using vibrating male masturbators, and those are actually some of the best toys I've owned. However, I do wish I knew about it beforehand so that I wouldn't set my bar so high.
Final Verdict
It's time to put this Thrust Pro Tech review to bed, and give my final verdict on the toy. All in all, I do like Pro Tech, and I think that it could be your new best friend, especially if you're a beginner. You'll also get a lot of use out of it if you aren't sporting an actual third leg in your pants. However, if that's the case, I'd honestly recommend something else from Thrust, like the Pro Elite or Ultra line.
Click Here To Check The Up To Date Price
Product Specs:
| | |
| --- | --- |
| 🏷️ Name: | ⭕ Thrust Pro Tech |
| 📁 Type: | ⭕ Male Masturbator |
| ⚙️ Features: | ⭕ USB Rechargeable |
| 🛠️ Materials: | ⭕ TPE |
| 📅 Last updated: | ⭕ September 16, 2023 |
Disclaimer
Our articles feature affiliate links. If you appreciate our content and would like to show your support, you can consider buying your new sex toys using the links we provide. Every purchase made through our links helps us earn a small commission, without any additional cost to you.