Bluetooth isn't just for playing music anymore! This high tech male masturbator uses bluetooth and a downloadable phone app to create intense pleasure that can be enjoyed alone OR with a partner! Enjoy long distance sex with this innovative technology, and never be starved for sexual gratification again!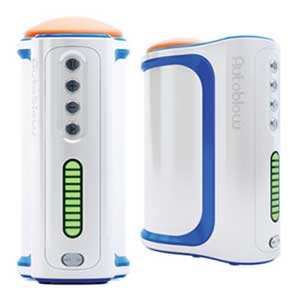 Autoblow A.I.+

Hands free blowjob toy

Heavy duty motor

Powered by artificial intelligence

Interchangeable sleeves

Body-safe materials

Plug it into any electrical outlet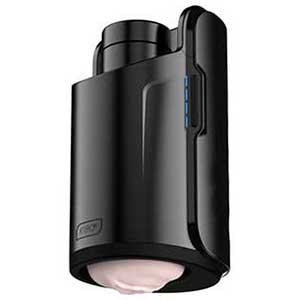 Kiiroo Keon

Automatic stroker

Sliding scale of speed

Elegant and discreet

Real-feel masturbation sleeve

Connects to video chat platform and VR porn

Easy to store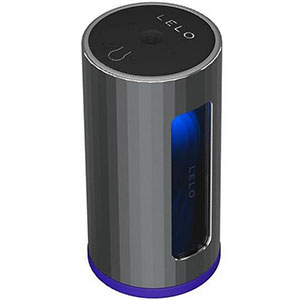 Lelo F1S V2

Hands free blowjob machine

Long-lasting charge

Fully waterproof

Powerful sensations

Realistic artificial skin material

Easy to clean

Promo Code: "HAPPYBF" - 15% Off
Hold up – what exactly is the Lovense Max 2?
The lovense Max 2 is a sleek looking sex toy for guy that holds a ton of sexual power and performance inside a slim white cylinder that at first glance probaby just looks like a reusable water bottle to most. But what's inside is infinitely better! Over the years, the makes of Lovense have been fine-tuning and tweaking their product to ensure that with their latest version, the Max 2, you're getting only the best in male sex toys! Which is what made me want to write this Lovense Max 2 Review. They've come a long way, and they deserve to get the credit now!
So where do I begin… as I said, the outside is a basic white cylinder. Nothing too fancy there, but the inside is full of pleasure! It boasts a multiple sensation sleeve, and extended vibrator, and 360 degree contractions! (Yep, that feels as good as it sounds!) The incredible textures inside the sleeve create an intensely satisfying feeling as it strokes and vibrates along your cock. Plus, there's an adjustable air vent on the end that allows you to control the suction as you play. As if it couldn't get any better, right?
And then of course you hook up your toy to your phone app so that you (or your partner) can take control of the settings! Even if your partner is in another city, they're able to control your sensations over the phone! And better yet – your toy and their toy can sync so it's like you're actually having sex, no matter how far apart you are!
Click Here To Check The Up To Date Price
Related
How to use the toy
If you've used any other automatic male masturbators in the past, it's not much different to this, but I'll go over the basics anyway:
Make sure you've downloaded the app and charged the device.
Turn both on and let it sync up. (or if you prefer you can simply use the controls on the side of the cylinder for speed and vibration settings)
Choose to sync up to a partner if desired.
Use lube on your own member as well as around the entrance to the blowjob machine to ensure a smooth, wet ride.
Insert your manhood, and start to play around with the controls! There are 7 vibration and 3 contraction settings to choose from so choose what feels best for you.
Clean up your mess once you've reached your climax. Cleaning soon after will help keep the toy in good condition.
Lovense Max 2 Review: THE GOOD
Remote control. I love that I can use my phone to control the settings because it allows me to get into more unique positions so I can get different sensations. Of course, it's also really fun to use with a partner who is actually IN the room. Giving them complete control of the remote so they can watch me writhe around with pleasure is pretty fun.
Lots of variety. There are 7 different vibration settings which go from low to earthquake and everything in between. Plus, you've got 3 different contraction settings. So more than 20 variations in total means that you'll never get bored playing with the Lovense Max 2!
Long-distance capabilities. I mentioned this above, but the fact that you can actually sync up with other toys that are so far away is incredible! For anyone who is in a long distance relationship, the ability to sync up and please each other from such a distance could literally be a relationship saver!
Strong suction. The feeling is incredible on your member. The 360° contractions feel incredibly tight, and then you've got the additional valve that you can open and close on the end of the toy increases or decreases the suction. Amazing!
Rechargeable. Anyone who knows me, knows that I do NOT like toys that require me to change the batteries. I ALSO do not like toys that are rechargeable but the charge barely lasts through even one session! So this one is a winner because it charges pretty quickly and lasts a long while!
Lovense Max 2 Review: THE NOT SO GOOD
Doesn't look realistic. For some people, this is actually a GOOD thing – because I know that not everyone LIKES the super realistic male sex toys like I do. But this one gives me a futuristic vibe with the white casing and the generic round hole for insertion. That being said though, you only see that at the very beginning, and once you're inside, does it really matter what the hole looks like?
Vagina sleeve costs extra. I know, I know… it's personal preference. But I wish you could at least choose between the regular insert and the vagina insert when you purchase. Good news is though, you CAN purchase separately.
Slick outer casing. I'm not talking about style here. Careful where you're getting your lube, because the outer casing can become a bit too slippery if you spill some lube on it. They've added ridges in it since the last version, but it can still cause a bit of annoyance.
The noise. While I've had some toys that are A LOT louder, I've also had toys that are quieter. So depending on where you plan to use it, this may or may not be an issue for you.
A Quick Recap
If you're looking for a high quality male masturbator that you can control with the tap of your smartphone, this is a seriously great value, and it feels amazing. You will not be disappointed with the vibrations and contractions as they stimulate your cock, and I highly recommend that you take advantage of the remote control with a partner if you can! But even if you're just looking for solo play, this one will definitely give you what you're looking for. So hop on the tech bandwagon and get yourself a male sex toy that's definitely part of the 21 century!
Click Here To Check The Up To Date Price
Product Specs:
| | |
| --- | --- |
| 🏷️ Name: | ⭕ Lovense Max 2 |
| 📁 Type: | ⭕ Blowjob Machine |
| ⚙️ Features: | ⭕ Long-Distance Capabilities |
| 🛠️ Materials: | ⭕ Silicone |
| 📅 Last updated: | ⭕ September 16, 2023 |
Disclaimer
Our articles feature affiliate links. If you appreciate our content and would like to show your support, you can consider buying your new sex toys using the links we provide. Every purchase made through our links helps us earn a small commission, without any additional cost to you.