Meiki artificial vaginas have an awesome reputation, and the Meiki 7 does NOT disappoint! Modelled after the amazing beautiful Brazilian-Japanese porn star Sarah, you'll be able to sit back and watch the gorgeous goddess in a porn video while you stroke yourself with this sleeve and you'll know exactly what it's like to sleep with her in real life!
Just imagine that F-cup chest bouncing in your face as you thrust into the Meiki 7 Sarah Sun's Carnaval. Reviewed by none other than myself, I can tell you that Sarah feels GOOD! Reeeeal good!
Okay – tell me more about this Meiki 7 Artificial Vagina!
Like other Meiki sex toys for men, the Meiki 7 has two layers – the inner and the outer. The outer layer is soft and smooth, and easy to hold and handle as you slide in and out. And then comes in the inside.. The most important part if you ask me. Although I do like the way toys look to a certain extent, it's really all about how the inside is crafted, and how it feels on my cock, am I right?! And this one feels pretty damn good!
The inside is modelled perfectly after Sarah herself. And once you get past that external layer you'll be pleasantly surprised to find beautifully copied labia and outer vulva. And further inside you've got ribs and textures and all the goodness to really make sure you get off in the best way possible!
Plus, when you put on some porn of Sarah herself, you'll LOVE knowing that you know what it actually FEELS like to have sex with her!
Click Here To Check The Up To Date Price
Using the Meiki 7 Sarah Sun's Carnaval
This isn't a complicated toy, and so it's not exactly rocket science to figure out how to use it, but just in case you're new, I'll give you a run through:
Top reasons I recommend the Meiki 7 Sarah Sun's Carnaval
I don't know if you know this about me, but I've tried pretty much all the male sex toys I've seen. I have a HUGE sex toy aresenal at my home with all kinds of toys. I've got some very intense and high-tech toys which I love, but there's always room for the more basic and traditional sleeves. And this is one that I definitely recommend, and here's why:
It's not ALL good in the Meiki 7 Sarah Sun's Carnaval Review…
Sarah is beautiful, and I may be just a little in love with her. So when I say there are a few things about her artificial vagina that could be improved upon, know that it's nothing against HER personally, okay? But here they are.. The things that weren't 100% awesome about this toy:
Final thoughts on the Meiki 7
Sarah Sun's Carnaval is a really great toy for anyone who is like me and LOVES the idea of sticking it in porn stars. I mean I'm not insane… I know I'm not REALLY sleeping with porn stars, but as I said above, the thought of this being a replica of her ACTUAL vagina really gets me turned on! When I stroke it back and forth I can picture her in my head, moaning and smiling with pleasure.
And if that doesn't do it for ya, it's made of a high quality and realistic material that Meiki is known for. With some lubricant and your imagination (or porn) you're going to be feeling real good all night long! Or as long you can last, that is. I'd recommend this particular toy to any guy who's looking to get a nice feel for a realistic vagina and doesn't want to pay an arm and a leg for it. Great quality and value for the price for sure! And it's a great feel – so it's a good choice for anyone – from beginners to seasoned pros like myself. After all, variety is the spice of life, right?
Click Here To Check The Up To Date Price
Summary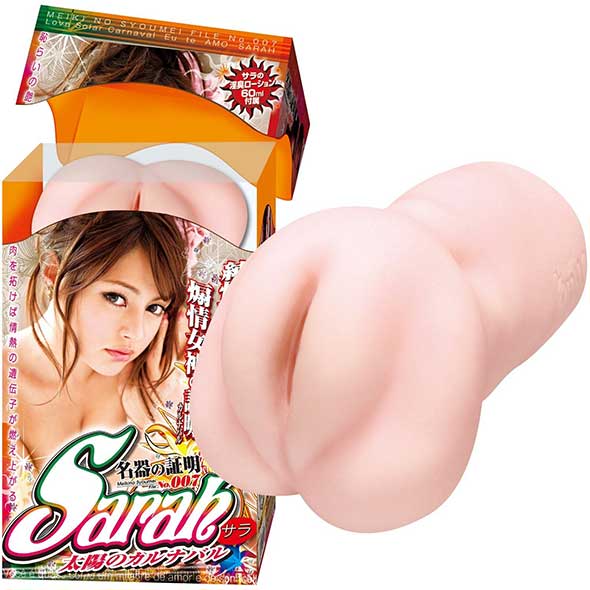 Article Name
Meiki 7 Sarah Sun's Carnaval Review
Description
Know what it's like to sleep with Japanese-Brazilian porn star Sarah when you slide into the Meiki 7 Sarah Sun's Carnaval masturbation sleeve. Find out more in this Meiki 7 Sarah Sun's Carnaval Review.
Author
Publisher Name
Publisher Logo