Fleshlight is, without a doubt, one of the biggest, most popular sex toy companies out there, but they're not really that innovative. It seems like it's always one and the same product, only in different packaging. However, that all changed with Fleshskins. This SuperSkin sleeve has upped the game once and for all, and I'm beyond excited to tell you about it in my Fleshlight Fleshskins review. Here's why I think this new toy is a total game-changer.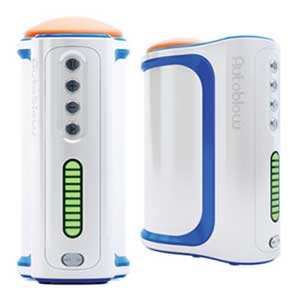 Autoblow A.I.+

Hands free blowjob toy

Heavy duty motor

Powered by artificial intelligence

Interchangeable sleeves

Body-safe materials

Plug it into any electrical outlet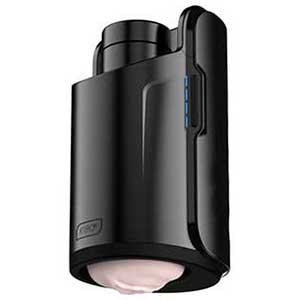 Kiiroo Keon

Automatic stroker

Sliding scale of speed

Elegant and discreet

Real-feel masturbation sleeve

Connects to video chat platform and VR porn

Easy to store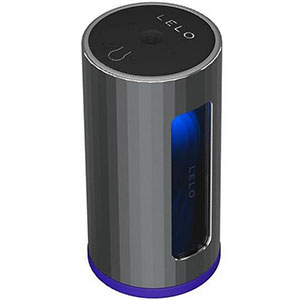 Lelo F1S V2

Hands free blowjob machine

Long-lasting charge

Fully waterproof

Powerful sensations

Realistic artificial skin material

Easy to clean

Promo Code: "HAPPYBF" - 15% Off
What Is the Fleshlight Fleshskins?
A while back, I talked about how guys with massive hogs sometimes struggle when using Fleshlight products. Even though the sleeves are stretchy and soft, the case is somewhat restricting, and a lot of men with King Kong dongs can't use it.
Apparently, Fleshlight heard everyone's cries and came out with Fleshskins – a masturbation sleeve that every penis-owner can use. Since it doesn't have a case, there are no length restrictions on how tall you have to be to ride. Also, the soft SuperSkin material stretches enough to accommodate all girths and widths.
The Fleshskins kind of reminds of the Tenga Spinner, only I think that Fleshlight might be better than Tenga. Why would I say something so controversial, yet brave, you ask? Well, the Fleshskins has something that no other sleeve has – finger holes.
Yes, I know that saying finger holes doesn't really sound all that enticing, but hear me out. When you push your fingers through the silicone knuckles, you will be in control of your grip. You can easily adjust the pressure and grip and basically customize your orgasm.
Since the sleeve itself is kind of sticky and slippery, it'd be almost impossible to blow a high-quality load without the holes. There's even a small thumb rest, which tells you how much thought went into designing this toy.
The Inner Texture
While the holes certainly are impressive (that's what he said), they aren't the reason I decided to write this Fleshlight Fleshskins review. What won me over was the inner texture of the sleeve because it's not like anything I'd ever seen before.
It's a combination of alternating dome-shaped bumps that kind of look like boobs (not gonna lie), as well as ridges. When you first put your beef bullet in, you're welcomed by big domes that have little nipple-like bumps. Then, as you thrust deeper, you'll encounter the ridges that will gently massage you.
After that, there are some more boobs, then ribs again, and finishing off with small bumps that tickle your pickle. If you want, you can push the Fleshskins sleeve all the way down to the base, so that your tip sticks out of the top. Since it's an open-ended design, you are in complete control of where and how your John Thomas sits.
The Measurements
Like I said earlier in my Fleshlight Fleshskins review, any man can comfortably fit in. There's no reason to worry so much about the length and width of the toy because it will accommodate all of you. But for the sake of being thorough, here are the basic measurements you should know.
The total length of the Fleshskins sleeve is 5.35 inches, while the width comes out at around 0.8 inches. I know that that doesn't sound like a lot, but given how stretchy the sleeve is, it's not an issue.
Another important measurement that you should know is that the case, which houses a drying rack, is 8.75 inches tall. It's also about 3 inches wide, which is a pretty decent size considering how small the sleeve is.
Personally, I love the case, I think that it feels sturdy, and it's beyond useful. However, since it is so chunky, it wouldn't be very easy to hide in a sock drawer. That's just something to think about.
The Materials
If you've ever used any Fleshlight products, you know that there's nothing that compares to the softness of its sleeves. When making the Fleshskins, Fleshlight just said, Why fix it if it ain't broke? and used its trademark SuperSkin material. It's basically TPE (thermoplastic elastomer), which is beyond stretchy and supple and gives insane sensations.
The material is also kind of sticky, which might feel weird when you first hold it, but you'll get used to it. It's also fully waterproof and submersible for some fun in the water.
Click Here To Check The Up To Date Price
Playing with the Fleshlight Fleshskins
Look, I've used a fair share of Fleshlight sex toys for men in the past; I know how most of them feel. So when I got the Fleshskins, I wasn't expecting it to blow my mind since I'm familiar with the sensations. Boy, was I wrong.
I want to use this part of my Fleshlight Fleshskins review to explain why this sleeve is a bajillion times better than the older versions. For starters, there's the easy-grip finger hole that allows for a much more intense experience. Unlike the end-caps in other Fleshlight pocket pussies, it's much easier to control the sleeve and apply your ideal amount of pressure.
Then, you move on to the bumps, boobs, and ridges that will stroke and massage you, enveloping every inch of your lap rocket. It's not something I'd ever felt before, especially not with a Fleshlight toy.
Now, one thing to know about Fleshskins is that, even though it's so slippery and smooth, you still need lube (that kind of rhymes). While you could technically get away with not using any, it's not really that great. Also, the sleeve will start making that annoying pfft sound that I've come to hate so much.
Hot and Cold
While doing some research for my Fleshlight Fleshskins review, I came across a guy who said that the sleeve feels amazing when it's warm. Basically, he ran the toy under warm water for a couple of minutes, slathered it in lube, and started thrusting.
Being a self-proclaimed sexplorer myself, I thought I should give it a shot, and did the same. All I can say is meh. Sure, it feels kind of cool, but the heat dissipates pretty fast, and then you're left with a wet Fleshskins.
If you really want to feel the hot and cold sensations, I think that getting Fleshlight's water-based Fleshlube is a much better option. It'll warm you up, cool you down, and you'll be wet only in the best way possible.
Partner Play
Of course, it wouldn't be a complete Fleshlight Fleshskins review if I didn't test the thing with a partner. When I got the toy, I used it for a couple of weeks on my own to see how it would fare, and the best ways to use it. Then, I called a lady friend and had her use the sleeve on me to see what kind of sexual magic we could create.
Needless to say, getting the toy on me was super easy, and literally took only a few seconds. But my friend had some trouble adjusting her grip because Fleshskins is almost like putty in your hands.
So we took a different approach and had her slide her fingers through the holes, pull towards her, and go to town. It was a much better feeling, and the suction was on point.
It took some finessing, but as always, I did manage to blow my load in a pretty impressive time. In addition to the grip being easy to control, another cool benefit of the Fleshskins is that you get to see everything going on inside. Instructing someone how to milk your monster is much simpler when both of you have eyes on the situation.
I also think that playing with Fleshskins with a partner is better than using a regular Fleshlight. Since the former is much lighter and softer, it won't strain your partner, even if you can last an hour.
Related
Taking Care of Your Fleshskins

You know how I always say that you should never invert your sleeves because it might damage them? Well, that's not really the case with Fleshskins. I feel like this toy is one of the easiest to clean and care for in the entire line, and wanted to give some credit in my Fleshlight Fleshskins review.
Since this sleeve is open-ended, it won't act as a pocket for your baby batter, unless you close it off. Most of your spunk will fly out, which means that there's little to clean.
First, you can start by inverting the Flehskins, and running lukewarm water over it. Then, squirt some mild soap onto the sleeve, and start scrubbing with your fingers. Make sure that you get into every nook and cranny, especially where the boobs in the sleeve are. After that, it's time to rinse the soap, and you're ready to go.
Every so often, I recommend spraying your Fleshskins with some toy cleaning spray, just to keep it sanitary. Fleshlight actually has its own spray, which isn't half bad and has a nice amount in it. Finally, you leave it out to dry in your custom drying case that comes with Fleshskins.
Click Here To Check The Up To Date Price
Airflow Drying Case
One of the biggest problems I have with my masturbation sleeves is not having anywhere to dry them. I usually plop them on a kitchen towel and wait a few hours before I can put them back into storage.
But while they're drying like that, they tend to collect dust, which is a real bummer because I don't want to clean my toys twice. Not to mention, if you live with someone, leaving your masturbation sleeves lying around the house is usually not an option.
That's why I love what Fleshlight has done with Fleshskins. When you buy it off the website, you'll receive a see-through storage case with a custom, built-in drying rack.
So once your Fleshskins is clean, you can slide it over the rod on the drying rack. You can leave it there for a couple of hours, and come back to it to put the case back.
If you're in a rush or don't want to leave the Fleshskins just lying about, you can cover it with a case right away. The drying time will increase by a little bit, but it's a pretty solid solution.
Faster Drying
One method that you can use to speed up the process is to wipe the toy with a cloth. However, you have to make sure that it's a lint-free one. Otherwise, lint will stick to your sleeve, and it'll be a bitch to take off later.
To ensure that you've not missed any spots, put your lint-free cloth over the drying rack. Then, you can pull the Fleshskins over, and go up and down a few times to ensure that you've got every last drop.
Any Complaints?
So far in my Fleshlight Fleshskins review, I've had nothing but good things to say about this toy. And while I do still think that it's incredible, it's not without its faults.
The first thing that I want to address is the stickiness situation. As I mentioned, Fleshskins is a TPE toy, which means that it attracts a lot of dust. You can avoid that by putting the sleeve in the case when you're not using it. But it does attract dust even while you're playing, which is a bummer.
Getting dust off such a sticky surface is kind of annoying, but not impossible. You just have to make sure that you're following all of the cleaning and storing guidelines, and it shouldn't be a big problem.
Another thing that I want to mention is the longevity of the finger holes. While my holes are still holding up pretty well, I feel like they've stretched, after only a couple of weeks of use. I don't know if and when the holes will break, but they do seem pretty flimsy and thin. Here's hoping for the best, but I'll update you guys if the situation changes.
Hot New Toy or Lousy Junk?
There are no two ways about it – I love Fleshskins, and I'm ready to shout it from a rooftop. It's sleek, compact, and it welcomes ding dongs of all shapes and sizes. In fact, I was so excited to write this Fleshlight Fleshskins review because I can't wait for you guys to fall in love with it just as I did. So go forth, buy the toy, beat your meat, and have a blast!
Click Here To Check The Up To Date Price
Product Specs:
| | |
| --- | --- |
| 🏷️ Name: | ⭕ Fleshlight Fleshskins |
| 📁 Type: | ⭕ Fleshlight Sex Toy |
| ⚙️ Features: | ⭕ Easy To Handle |
| 🛠️ Materials: | ⭕ SuperSkin |
| 📅 Last updated: | ⭕ September 16, 2023 |
Disclaimer
Our articles feature affiliate links. If you appreciate our content and would like to show your support, you can consider buying your new sex toys using the links we provide. Every purchase made through our links helps us earn a small commission, without any additional cost to you.