It's not often that a toy piques my interest as much as a particular one from Blowmotion has. So before buying it, I thought that I should do some research, and see what others are saying about it. Unfortunately for me, there were almost no reviews in sight, and nothing to discover. So I honestly had no idea what I was getting myself into with this Blowmotion Warming Pulsating Masturbator review.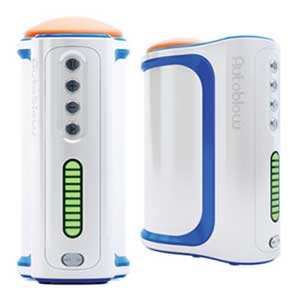 Autoblow A.I.+

Hands free blowjob toy

Heavy duty motor

Powered by artificial intelligence

Interchangeable sleeves

Body-safe materials

Plug it into any electrical outlet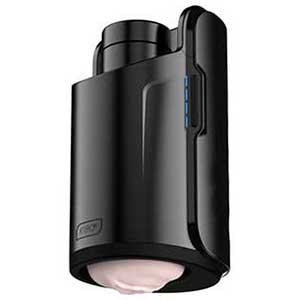 Kiiroo Keon

Automatic stroker

Sliding scale of speed

Elegant and discreet

Real-feel masturbation sleeve

Connects to video chat platform and VR porn

Easy to store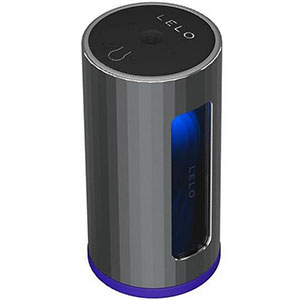 Lelo F1S V2

Hands free blowjob machine

Long-lasting charge

Fully waterproof

Powerful sensations

Realistic artificial skin material

Easy to clean

Promo Code: "HAPPYBF" - 15% Off
However, since I consider myself the Magellan of male masturbators, I pushed on, got my toy, and have been playing with it all week. So without further ado, let me show you why the Blowmotion male masturbator is going to be your new best friend.
What Is the Blowmotion Warming Pulsating Rechargeable Male Masturbator?
Before I officially get into my Blowmotion Warming Pulsating Masturbator review, I just have to get one thing off my chest. Blowmotion Warming Pulsating Rechargeable Male Masturbator is probably the lamest name for a toy I've ever heard in my life.
Yes, I get that it makes the toy pretty self-explanatory, but come on. It's like Blowmotion put so much effort into making the masturbator that they'd just given up when it was time to give it a cool name or something. So from this point on, I'll just call it Blowmotion because anything else would be insane. Okay, rant over, let's get into it.
Lovehoney made a brand new blowjob machine for the Blowmotion line that combines almost all the features men already know and love. For this particular toy, Lovehoney really went all out and put all sorts of different bells and whistles.
Depending on what gets your motors running, you can warm up the Blowmotion, turn on magnetic pulsations, or 6 vibration patterns. A bit later in the review, I'll give you the skinny on how all these things feel while you're playing. But first, it's time for the specs.
Click Here To Check The Up To Date Price
The Blowmotion's Specs
Let's start covering all the basics in this Blowmotion Warming Pulsating Masturbator review, and talk about things you need to know before blowing. First of all, it's a splashproof toy that's free of allergens like phthalates and latex.
The internal canal of the Blowmotion is made entirely out of soft and supple silicone, while the case has some plastic elements. There are only two buttons on it, which is both convenient and confusing.
It's pretty handy because it means you don't have to fiddle around with unnecessary controls while charming the snake. However, the power and pulse buttons are one and the same, which can be tricky.
You should also know that Blowmotion has a travel lock feature that's pretty easily activated. All you have to do is press and hold both buttons simultaneously for about five seconds. To unlock it, repeat the same steps.
Personally, I always love it when my toys have a travel lock feature because I do like taking them with me on vacations. So by having that option, I don't have to worry about my masturbator going off and buzzing while it's in my bag.
Size
Now, let's cover the specs that seem to have caused quite a stir online — the size. The total length of Blowmotion is 5 inches, but the internal canal is 3.5 inches. Also, it's about 1.5 inches wide at the base and tapers a bit at the top.
Apparently, there's some concern that the canal is way too short and wide to provide any sort of satisfaction, but that wasn't my experience. For one, Blowmotion's case is made of a silicone and ABS blend, which means that it's pretty soft. So you can easily squeeze it if and when you want more pressure.
As far as the length goes, I'm pretty sure that Blowmotion wasn't designed to cover your entire one-eyed snake from base to tip. It's meant to stimulate and focus on different parts of your willy. If you want a full manhood massager, you're much better off getting a sleeve, like the Tenga Spinner, for example.
Battery Life
I also wanted to talk about the battery in my Blowmotion Warming Pulsating Masturbator review because it didn't really blow me away. I'm not sure what kind of battery is inside, but it takes a while to charge. You need to leave it plugged in for two whole hours to get an hour of play.
While I don't think that the 60 minutes is something to look down on, it's still not that impressive. If you're using Blowmotion for edging, you might need a bit longer than that. And then, it's not like you can pop it in for a quick charge.
Also, the toy comes with a USB charging cable which is pretty freaking short. You would think that you could just plug the Blowmotion into your computer, and continue on playing. But that's going to be much more difficult than it seems.
The power from your laptop (or whatever device you're using) won't be strong enough to charge and power the toy simultaneously. So you'll just have to wait the two hours (or at least an hour) and carry on playing later.
Other Blowmotion Toys
If the Blowmotion Warming Pulsating Rechargeable Male Masturbator (ugh) isn't striking your fancy, don't worry, there's more. I wanted to mention a couple of the other masturbators in my Blowmotion Warming Pulsating Masturbator review because I think that they're all cool, and something I'm considering buying.
They're all essentially male masturbators, but with different features. So you could buy one with Real-Feel suction, auto suction, pulse vibrations, and so much more. They all differ in shape, size, and canal depth.
Also, all the Blowmotion masturbators vary a lot in prices, but almost all of them are over the $100 mark. I think that they all look pretty luxurious and high-end, so if you ever want me to try any, please let me know.
Click Here To Check The Up To Date Price
Related
Blowing With Blowmotion
Okay, enough screwing around, it's time to get into the main event of the Blowmotion Warming Pulsating Masturbator review — the playtime. The Blowmotion's unique features allow you to use the male sex toy for foreplay, edging, and blowing a load.
Since I didn't want to leave anything out, I tested the masturbator over the course of a few days and tried all the settings. Here's how they worked for me.
Vibrating
If you've ever owned a masturbator or vibrator, you'll probably already be familiar with the vibrating sensations. There's a total of six different options for you to choose from, and they all vary in intensity.
I think that the lowest two settings are perfect for when you're just edging or want to keep your soldier standing at attention. In theory, it could get you off, but only if you hadn't had any sort of sex for like a year or something, or if you're super sensitive. Otherwise, the two speeds will keep your erection up while you focus on some other things.
Then, by going up a notch, you can really feel what this baby can do. The stronger vibrations can and will, without a shadow of a doubt, get you off. However, for the absolute best results, you should combine them with either thrusting or squeezing.
Depending on how you're getting your rocks off, you can either start moving your ding dong and thrust or squeeze the Blowmotion with your hands. Of course, by combining all the motions and the highest settings, you'll really be shooting for the stars.
Pulsating + Heating
If the vibrations aren't your thing, you can easily switch over to the pulsations with just a push of a button. Also, if you choose pulsating, your Blowmotion toy will slowly start heating up.
Now, I know that the heat might seem like a gimmick to some, but I'm usually a fan. I've had a few toys in the past that can heat up, and they always make the entire experience feel more lifelike. Actually, looking back, my favorite toy was the Lovehoney Hot Shot, which is a cool coincidence.
Basically, the warmth is supposed to simulate a mouth, and I think it does a pretty good job of it. With that said, the highest it can go is 104°F, which feels so good on the skin.
Like the vibrations, there are six different pulsation patterns for you to choose from. Again, the lower ones are better for foreplay and edging, while the higher ones will make you squeal in ecstasy.
But here's the thing; if you choose the highest pulse settings, Blowmotion will start buzzing away like crazy. It's not quiet or subtle, and there's no way you could use it on the down-low. So if you need to stay discrete, I recommend staying on the lower end of the pulse spectrum and squeezing/thrusting.
Cleaning the Blowmotion
Since I haven't tried any other Blowmotion toys in the past, I wasn't sure what to expect when it came to cleaning the toy. Lucky for me, it was a super simple process, and it didn't take me more than a few minutes.
As I mentioned earlier in the Blowmotion Warming Pulsating Masturbator review, the masturbator is splashproof. That means that it can definitely take a certain amount of water, but you shouldn't submerge it because it might damage it.
So after I'd done my dirty deed, I put the Blowmotion so that the hole was facing my sink. That allowed for some of the love juice to come out before I ran the water over it. Of course, you don't need to do this, and you can just start rinsing.
Once you're sure that there's no more jizz inside, grab a toy cleaner or soap. I love using the one from Lovehoney, but anything mild would work. Then, get your fingers all up in the sleeve, and make sure that you cover every last inch of it. After that, rinse your toy with lukewarm water again, and leave it to air dry.
The one thing to be mindful of when cleaning is not to get any water in the charging port. If you can, cover it up with something, like a towel or even a piece of tape. Even though the Blowmotion is splashproof, I'm not sure that it would survive so much water in the port. I mean, that's probably not a chance you want to take with a toy that costs as much as this one.
Blowmotion's Blind Spots
It's now that part of the Blowmotion Warming Pulsating Masturbator review when I tell you all the reasons this toy blows. If I'm being honest, there aren't that many, and most of them are just minor issues, but they might be deal breakers for some of you.
I already talked about the loud pulse settings, so I'm just going to skip that and quickly mention the heating feature. I wish that you could turn the heat setting on without the pulsation. It would be so cool if you could pair it with vibrations, and get off that way, not just with pulsing.
Also, since there's no special button for heating only, you can't really control the temperature. Your only option is to turn on the pulse and see where that takes you. But who knows, maybe Blowmotion will make it a unique feature later down the line.
The last small problem I had was that the Blowmotion doesn't come with any sort of storage. Sure, there's the box that it came with, but eventually, that's just going to break.
For a toy that's higher-end, I wish that there was at least a storage bag or pouch, maybe even a little drying rack. Maybe I'm being way too judgy, but I stand by it.
Final Thoughts
The entire Blowmotion range is still pretty new, and it's expanding all the time. In my opinion, all the toys, including the Blowmotion Warming Pulsating Rechargeable Male Masturbator seem pretty high-quality. Of course, as always, I still need to do a lot of testing, but so far, so great.
As far as my Blowmotion Warming Pulsating Masturbator review goes, and my final score, I'd give it a 9/10. It's an excellent masturbator, and it's a lot of fun, but the company still needs to work out a few kinks. Needless to say, I'm really excited about the future.
Click Here To Check The Up To Date Price
Product Specs:
| | |
| --- | --- |
| 🏷️ Name: | ⭕ Blowmotion Warming Pulsating Masturbator |
| 📁 Type: | ⭕ Blowjob Machine |
| ⚙️ Features: | ⭕ Heating, Pulsating |
| 🛠️ Materials: | ⭕ Supple Silicone |
| 📅 Last updated: | ⭕ September 16, 2023 |
Disclaimer
Our articles feature affiliate links. If you appreciate our content and would like to show your support, you can consider buying your new sex toys using the links we provide. Every purchase made through our links helps us earn a small commission, without any additional cost to you.