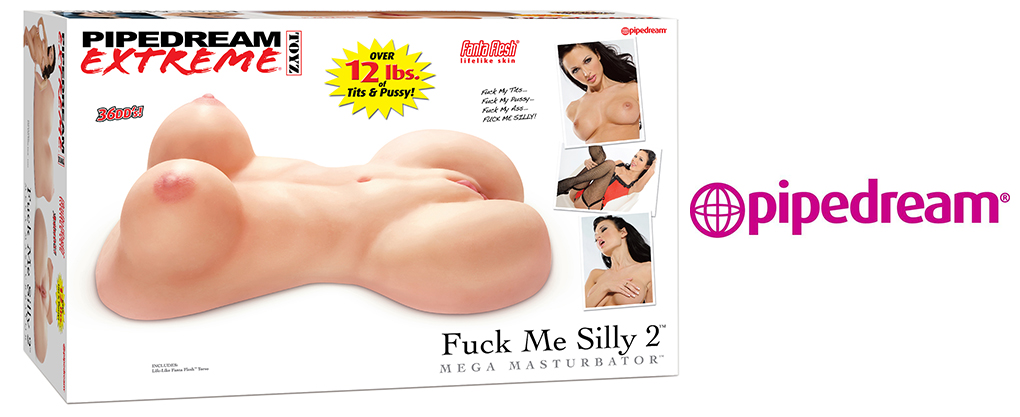 It's been a while since I've done a sex doll review, so I thought to myself, "This is the perfect time to grace the eyeballs of my loyal horndogs with my full Pipedream Fuck Me Silly 2 review."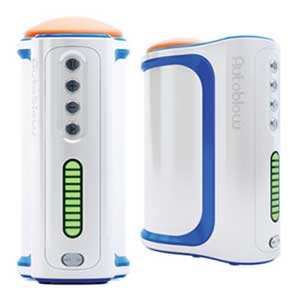 Autoblow A.I.+

Hands free blowjob toy

Heavy duty motor

Powered by artificial intelligence

Interchangeable sleeves

Body-safe materials

Plug it into any electrical outlet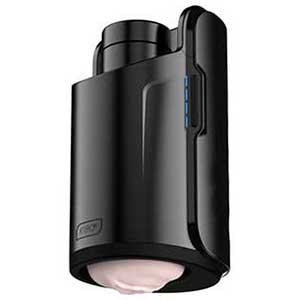 Kiiroo Keon

Automatic stroker

Sliding scale of speed

Elegant and discreet

Real-feel masturbation sleeve

Connects to video chat platform and VR porn

Easy to store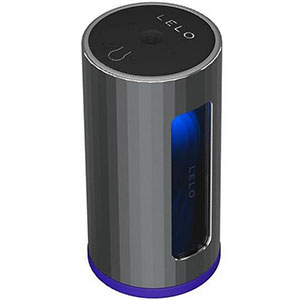 Lelo F1S V2

Hands free blowjob machine

Long-lasting charge

Fully waterproof

Powerful sensations

Realistic artificial skin material

Easy to clean

Promo Code: "HAPPYBF" - 15% Off
Yes, I know the name is a mouthful, but at least it's straightforward. I often proclaim, "Fuck me silly, please!" to my sex toys, so I actually think the name is fitting.
Aside from the stellar nomenclature, Pipedream has a lot to offer. Now, some of you might remember that I have tried Pipedream's products before (read my Mega-Bator review to hear all about their hands-free male masturbation toy). So, I was reasonably familiar with the brand.
However, I've never taken a peek under the hood of one of their sex dolls as thoroughly as I did with their Fuck Me Silly 2. So, today, I have for you the good, the great, and the amazing (as well as a bit of "why did you do that, Pipedream") for you. So, let's unpack this, shall we?
What Is the Pipedream Fuck Me Silly 2?
Clearly, it's the new and improved version of the OG Fuck Me Silly!
Nah, I'm just messing with you. Although that is true, Fuck Me Silly 2 is a "pussy, ass, and tits sex doll." Yeah, the orgasm trifecta, as I call them!
So, as you can see in the pics, Fuck Me Silly 2 is a torso sex doll with two openings (a vagina and a butthole) and a pair of to-die-for breasts. Now, I'll talk more about them titties later, but I will say right away that they were a huge selling point for me.
I always was (and remain to this day) more of a breast man, so I appreciate a good rack on a lady. It doesn't really matter if the lady is real or not. I have plenty of appreciation in me, even for fake titties (especially if they are 36 DDs).
Aside from the obvious(ly big) breasts, Fuck Me Silly also has a hefty size and weight as well as a smooth design.
But what separates them from the sea of torso sex dolls? What makes Fuck Me Silly 2 the game changer?
Let's see.
Click Here To Check The Up To Date Price
What Makes It So Special?
As you (maybe) know, I only review the products that wow me. I don't leave a lot of room on my blog for average, run-of-the-mill sex toys that would make most of us go, "Meh."
So, clearly, for there to be a Pipedream Fuck Me Silly 2 review, the Fuck Me Silly 2 actually has to tick a few of my boxes. And it does!
It's a great toy that promises mind-blowing orgasms. However, aside from the general features that I'll go into later, I chose to share it with you because of two things:
It's realistic
The Fanta Flesh material is heavenly
So, to answer your question – that's what makes it unique.
The Unboxing
So I thought I'd switch things up a bit in my Pipedream Fuck Me Silly 2 review and guide you through the entire process of trying this bad baby out. So, naturally, I had to start with the unboxing.
Now, pay attention, because this is important. The box you'll get will be heavy. The doll itself is pretty hefty (which is a plus, in my opinion). So, lift with your knees, fellas, not with your back.
Anyway, once you haul your box inside, you'll see that it's just a regular box. As most sex companies do, Pipedream sends their products in inconspicuous packages, so the arrival doesn't advertise to the whole world you're about to fuck into a delicious fake pussy tonight. Thank you, Pipedream.
In the box, you'll find the toy, obviously, and a few extras:
an instruction manual, just in case you're unsure which end to slam your pocket rocket into
a booklet of other Pipedream products (which you won't pay any attention to. But it has highlights of many good sex toys, so check it out after your nuts are empty.)
a bit of lube (water-based, of course)
a sample of Pipedream's sex toy cleaner
The Design
When it comes to the toy itself, the design is practically flawless. I say that because it's a torso sex doll with a rack many women would want and an ass that won't ever quit. So the design team did their best with this toy.
It's also worth mentioning that Fuck Me Silly 2 is a vast improvement upon its predecessor (the OG Fuck Me Silly). It's more realistic, has better and more detailed breasts, and the orifices feel better.
The Ergonomic Elegance
Proving that they are the masters of design once again, Pipedream made a perfectly ergonomic fuck toy. As I mentioned already, two luscious, inviting breasts that jiggle almost like the real thing sit at the very top of the toy.
They narrow into a slim, lavish waist that's thin enough to be the perfect gripping point for you. So, that's what you'll grab onto while you're fucking the toy silly.
The waist continues into two wide hips/buttocks that are the epitome of a bubble butt. Of course, that's where the magic happens, as they say, considering that both the vagina hole and the butthole are there, ready and waiting for you to hide your cucumber in.
The waste has somewhat of an easy-grip design to it, so even if you get yourself and the toy entirely covered in lube, you'll still have no problem keeping a steady grip on it.
The Waterproof Wonder
When I say that the Pipedream team really put a lot of thought into functionality, I mean it. The toy is completely waterproof. This doesn't come as much of a surprise, considering that it doesn't have any hardware. It doesn't vibrate, rotate, do flips, and do any of those other things some sex dolls do these days.
It also has no other hardware. So, you can't hook it up to a VR or use it along with other toys (unless you get really creative). While this might sound like a downside to some, to me, it says one thing. The Pipedream team decided to make the sex toy for men excellent without accessories. And I respect that.
So, a toy like that is, naturally, completely waterproof. That makes clean-up time easier. It also means I can have some dirty, sexy times in the bathtub. A win-win, if you ask me.
Click Here To Check The Up To Date Price
The Specs
As we're nearing the most delicious parts of my Pipedream Fuck Me Silly 2 review, it's time to talk about the specs.
I already mentioned that the toy is heavy. I wasn't lying. The toy (sans box and extra goodies) is around 18 pounds. Yeah, that sounds like a lot. But it has its advantages:
There's plenty of material, so the toy jiggles.
It feels more like the real thing than some less heavy toys.
It makes it easier for you to manipulate the toy (in other words, you won't fuck it straight out of your hands because it's too light).
The toy is of average size for a torso sex doll. It's 20.5 inches tall and has 12.5 in width and 6.75 inches in depth. So, you'll have plenty to hold on to while you're fucking your own brains out.
The Features
Fuck Me Silly 2 isn't a toy that can be upgraded. It also doesn't come with vibrators, motors, or any other gadgets. However, that doesn't mean it doesn't have a set of excellent features.
New And Improved
As I mentioned already, the main feature of Fuck Me Silly 2 is that it's a considerable improvement compared to its predecessor. The last torso sex doll from Pipedream was lovely, and it did its job perfectly well. However, it wasn't as realistic.
Furthermore, it didn't have the nice entries as Fuck Me Silly 2 does. It seems like there were a lot of R&D meetings in the Pipedream HQ after their OG product received some not-so-stellar reviews. I honestly enjoy buying from a company that listens to their clients' feedbacks, so I'm happy to report that Fuck Me Silly 2 is entirely different from the OG version.
In other words, if you already own the OG toy, you won't regret buying the improved Volume Two product.
With Exquisite Details
Both the breasts and the orifices have a lot of details on them. This is actually what mainly contributes to the realistic quality that makes the Fuck Me Silly 2 stand out in the crowd.
The breasts are luscious and heavy. They have perky nipples that you simply must roll between your teeth and wrap your tongue around. Sure, they won't feel like the real deal, but at least they look it!
Both orifices also look pretty realistic. The vagina opening has gorgeous, full lips as well as a perky little clitoris. The whole thing looks as real as a sex doll vagina can (if we count out the hyper-realistic robot sex dolls, of course). The butthole is tiny and wrinkly and just inviting enough to make you dip into it as soon as you get some lube inside.
And speaking of the inside, let's talk about textures. So, Fuck Me Silly 2 has two different fuck holes and, although they have a similar texture, they are diverse enough to make you feel as if you're fucking into a vagina or a butt (depending on where you dip it).
The realism stops there, though. The one-inch wide holes are around 8 inches deep and have an inside texture that doesn't feel like the real thing. But that doesn't mean it doesn't feel heavenly. Of course, the butt is tighter than the vagina, and I enjoyed sending my pocket rocket on a mission into both of them (several times).
And Tits for Days
I already said that huge tatas were a central selling point for me. That's always the case. Why lie, right? Anyway, the tits really drew my attention when I was considering whether this product is worthy of my time or not.
36DD is the size, in case you were wondering. Now, I don't know about you, but that's not something I come face to face (or, better said, tit to face) in real life all that often. So, if you've always dreamed of banging a thin-waisted beauty with breasts that will spill out of your hand, now's your chance.
Fanta(stic) Flesh
Of course, the whole realistic appeal is primarily due to the material the Pipedream used. The Fanta Flesh is a material that the company patented. So, they are the only ones on the market with toys of this material.
It feels so much like the real thing; I'm having trouble describing it. You'll have the impression you're grabbing onto real skin and fucking into a real person.
Related
Cleaning and Storing
Because the toy is so big and heavy, cleaning and storing it are somewhat of a hassle. Cleaning is made easier by the draining hole on the back of the toy, so at least you don't have to fill the whole thing up with water and then juggle it while you flip it over to drain it.
Storing might be an issue if you don't have enough space. Fanta Flesh is an awesome material, but it's also sensitive. If you don't protect it from dust, dirt, and sunlight, it will tear more easily.
Give It To Us, Mark! What's Wrong With It?
OK, so clearly, I really like Pipeline's Fuck Me Silly 2. However, that doesn't mean the toy is perfect.
Did the quality surprise me? Yes. Was I amazed? I mean, not really. It's a good toy, but it has its flaws:
It's more prone to wear and tear due to the material. The Fanta Flesh is sensitive, as I already mentioned, especially around the openings. So if you like rough play, your toy might not last as long as it would if you were gentler.
There are no extras. The sex doll is all this toy really is. You can fuck into it and enjoy yourself, but there are no vibrating features or any other extra amenities for that matter. I don't particularly mind that, but I know some of you do.
Cleaning takes a while. Yes, the draining hole makes it easier, but sex dolls always take a while to clean and dry, no matter how much the manufacturers make it easy for us to clean them.
A Few Parting Words
What did you think of my Pipedream Fuck Me Silly 2 review? I was honestly surprised by how much I liked this product. It's your regular torso sex doll but with a few extras and a design that will blow your mind. As always, I recommend this product wholeheartedly and if you follow through and buy it, let me know how you liked it. I always love it when you slide into my DMs, you naughty bastards, you!
Click Here To Check The Up To Date Price
Product Specs:
| | |
| --- | --- |
| 🏷️ Name: | ⭕ Pipedream Fuck Me Silly 2 |
| 📁 Type: | ⭕ Pocket Pussy |
| ⚙️ Features: | ⭕ Waterproof |
| 🛠️ Materials: | ⭕ Soft Plastic |
| 📅 Last updated: | ⭕ November 29, 2023 |
Disclaimer
Our articles feature affiliate links. If you appreciate our content and would like to show your support, you can consider buying your new sex toys using the links we provide. Every purchase made through our links helps us earn a small commission, without any additional cost to you.