I know that the Apollo Hydro isn't the latest and greatest toy to hit the market, but it's still a damn good blow job toy. In fact, I've had this toy for a while now, and I can't believe how long it's taken to write my Apollo Hydro Power Stroker review. So to all of you that have been waiting, I'm sorry, but I've finally done it, and I'm ready to give you my two cents on this bad boy.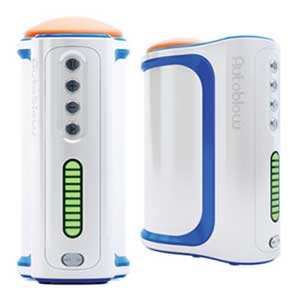 Autoblow A.I.+

Hands free blowjob toy

Heavy duty motor

Powered by artificial intelligence

Interchangeable sleeves

Body-safe materials

Plug it into any electrical outlet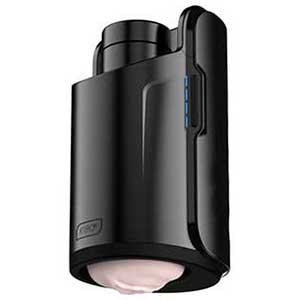 Kiiroo Keon

Automatic stroker

Sliding scale of speed

Elegant and discreet

Real-feel masturbation sleeve

Connects to video chat platform and VR porn

Easy to store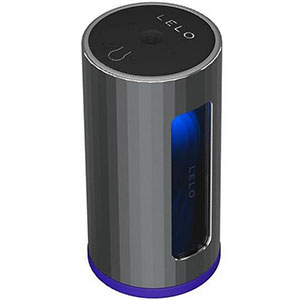 Lelo F1S V2

Hands free blowjob machine

Long-lasting charge

Fully waterproof

Powerful sensations

Realistic artificial skin material

Easy to clean

Promo Code: "HAPPYBF" - 15% Off
What Is the Apollo Hydro Power Stroker and Why Does It Sound Like It's a Rocket?
Let's kick off this Apollo Hydro Power Stroker review with a little insight into what this toy is and what it does. As you probably guessed from the name, the Apollo Hydro is a power stroker that will stroke and vibrate your sex pistol in unimaginable ways.
It consists of a soft sleeve with supple jelly nodules that can vibrate in 30 different modes. Yes, you read that right – 30. I know what your first thought might be, Who in the hell is going to fuss with a bunch of buttons to change vibration patterns? Well, not you, because the Apollo Hydro only has two buttons for you to push, and one of them is just to turn the toy on/off. Basically, all you have to do is click one thing to get the settings and patterns to change.
But the reason most penis-owners, such as myself, fell in love with the Apollo Hydro is the suction cup. Before you get it twisted, the cup won't actually suck you off. It's just there so that you can stick the toy onto a flat surface, and go hands-free.
Another cool thing about this California Exotic stroker is that it's completely waterproof. Since it doesn't have any electronic bits in it, you can take it with you in the shower or bath. It's also latex and phthalate-free, and even guys with allergies can play with it.
It does work on 4 AA batteries, which is pretty convenient. You don't have to worry about recharging it all night, or having it die in the middle of play. All you need to do is put a fresh set of batteries in, and you're good to go.
Click Here To Check The Up To Date Price
What Are the Specs of the Apollo Hydro?
For the next part of my Apollo Hydro Power Stroker review, I wanted to talk about the specs that can make or break this toy for you. The casing is made out of a combination of ABS and PU Cote, which is pretty sturdy and durable. On it, there's the interface that houses two buttons, and it's made out of silicone. I like this mix of plastic and silicone because the case is solid, but you can easily control the buttons.
Moving onto the Apollo's sleeve that's made out of TPR, which is a material that's super flexible. It's also resistant to tears and abrasions, and it's recyclable, which is kind of cool. So when you finish playing with your stroker, you can recycle the sleeve, and it'll find a new life. Maybe it'll come back as a brand new pocket pussy, who knows.
I also want to mention that, unlike a lot of masturbation sleeves, the Apollo Hydro is closed-ended. When you're done stroking your ego, your spunk will fly directly into the sleeve, and stay there. It will not shoot out across the room like Spiderman's web, and it'll be easy to clean.
While I'm on the topic of cleaning, to make things easier for you, California Exotic made the sleeve removable. That way, you can pop it out and rinse it when you're done.
But the thing that'll potentially make or break this toy for you is the insertable length, which is 4.75 inches. The width is 2.25 inches, which is pretty standard, and I think that the majority of you could easily slide inside.
The Design
The design of any of my sex gadgets is always super important to me, and this stroker from California Exotic is no different. So in this part of my Apollo Hydro Power Stroker review, let's talk about how the company won me over.
For one, the design is pretty straightforward and simple, which I love. I didn't have to fiddle with 20 different buttons to get what I want. Instead, I turned the toy on, adjusted the vibration settings, and was ready to go.
On the plastic case, you also have four silicone grips that help you hold onto the toy. I thought that that was a nice touch because the case can get slippery when you have lube on your hands.
If you want the hands-free experience, all you have to do is attach the suction cup. Luckily, the process is pretty simple, and it doesn't take more than a minute to do. But when you're not using the cup, you can screw on a separate cap.
I also liked that the Apollo Hydro is a vibrant blue and not just regular old black. I mean, there's nothing wrong with shiny black plastic, but it's kind of boring if I'm being honest.
With that said, you can also get the Apollo Hydro in gray on the California Exotic website. However, it's more expensive there than it is on LoveHoney. So if color isn't a dealbreaker for you (which I don't know why it would be), just stick with the blue.
What the Apollo Hydro Can Do for You
For the next part of this Apollo Hydro Power Stroker review, let's talk about what this toy could do for you. I know that the vibration settings seem kind of basic, but there's more than meets the eye.
As I mentioned earlier, there are 30 different options for you to choose from. That, in itself, should be enough to make any grown man scream in ecstasy. But it doesn't stop there.
The Apollo Hydro also has a memory chip inside that will save your last vibration setting when you turn the toy off. Then, once you turn it back on, the toy will just keep doing what it was doing when you put it down. I think that that's pretty ingenious because I've always hated having to shuffle through dozens of settings to find what I like.
Click Here To Check The Up To Date Price
What I Like About the Apollo Hydro
My favorite thing about the Apollo Hydro, as ridiculous as it sounds, is the freaking suction cup. I LOVE the fact that I can stick my stroker onto pretty much any flat surface, and start playing. In fact, I was so happy about this addition that I went around my house, and tried sticking the Apollo Hydro on a bunch of different things to see what works.
So far, I've had the best time putting the toy on my table, while a fullscreen Pornhub video blasted in the background. I might have gone a bit overboard when I turned on the surround sound, but hey, it's all for research.
Related
How the Apollo Hydro Comes
I wanted to take a second in my Apollo Hydro Power Stroker review and talk about the packaging because it's not exactly impressive. The toy comes in a pretty flimsy cardboard box that doesn't really protect the precious cargo inside. Also, written in huge letters on the box is HYDRO POWER STROKER, which isn't exactly subtle.
Inside, you'll get the stroker (obviously), as well as the suction cup. Unfortunately, unlike Tenga, for example, California Exotic won't send you a sample of lube. If you want to play with your stroker right out of the box, I suggest getting some water-based lubed beforehand.
While I'm on the topic of lubes, I've really been liking a cool brand called ID Glide. They make awesome water-based lubes, and you can get them in a bunch of different sizes. If you're just a casual sex toy user, you can get the ID Glide with 4.4 fl oz. Another one that I like is the Sliquid Organics Natural Gel, which doesn't have any paraben or glycerine in it.
But if you're a sex toy fiend like me, the company also does a one-gallon version, which comes in a huge jug. Yes, it's expensive, but you will probably never run out of it when you're in a sticky situation.
Is the Apollo Hydro Easy to Clean?
One thing that impressed me while writing my Apollo Hydro Power Stroker review is the ease of cleanup. Given that it is a stroker, which can sometimes be difficult to clean, the Apollo Hydro is pretty low-maintenance. Since it has a detachable sleeve that you can pop out, the cleanup is usually minimal and shouldn't take more than 5 minutes.
All you have to do is take the sleeve out, run it under lukewarm water, and wash it with a toy cleaner. Scrub with your fingers to ensure that there's no more jizz inside, and then rinse again. Once you've done that, you can leave the sleeve to dry on a towel or cloth.
If you got some of the lube on the case, take an anti-bac tissue, like the one from Lovehoney, and wipe it down. The tissues are biodegradable, and you can use them on yourself and your toys, which is pretty cool.
When you're sure that the toy is dry, you should store it in a pouch, since silicone does attract a lot of dust. If you don't have a pouch or bag, you can put the Apollo Hydro back in its box until you're ready to stroke again.
What's Not to Like About Apollo Hydro?
Do you remember how earlier in my Apollo Hydro Power Stroker review I said that the toy is waterproof? Well, it technically is, and it won't break if you submerge it underwater.
With that said, the toy isn't really sealed all the way through, which is a huge bummer. I used it once while I was showering, and I had placed the Apollo Hydro directly under the water stream. I did my thing and got out of the shower to dry myself and the stroker. The sleeve came off easily enough and didn't give me any problems.
Then I noticed that water had seeped in pretty much everywhere, including the battery compartment. I had to disassemble the whole thing, dry every piece with a towel, and leave it like that.
Now I'm generally not a huge fan of shower sex (solo or otherwise) so this isn't such a huge issue for me, and I don't plan on doing it again. But if you're getting the Apollo Hydro mainly because you want to splash around in the bath, you should keep this in mind.
Another minor issue I had with the Apollo Hydro is the buzzing noise. It can get pretty loud if you crank up the vibration settings. Again, it's not really a problem for me, but it could be kind of annoying if you're trying to be sneaky and beat one out on the down-low.
That said, one thing that will bring down the noise is holding the toy in your hands. As long as you don't put it on anything, like a table, you should be fine.
Yay or Nay – My Final Verdict on the Apollo Hydro
Let's recap what we've learned so far. The Apollo Hydro is a powerful vibrating stroker with 30 pulsation and vibration settings. It has a neutral opening that won't put off anyone from using it and a soft and supple sleeve. You can use the toy with or without a suction cup, and take it with you in the tub.
Basically, when I sum up this entire Apollo Hydro Power Stroker review, I think that it's pretty safe to say that this toy is an absolute winner in my book. It does everything I want it to, and more, and the buzzing sound doesn't phase me in the slightest. So go on, get your male sex toy, and cum join me on the dark side. It's awesome here.
Click Here To Check The Up To Date Price
Product Specs:
| | |
| --- | --- |
| 🏷️ Name: | ⭕ Apollo Hydro Power Stroker |
| 📁 Type: | ⭕ Blowjob Machine |
| ⚙️ Features: | ⭕ Table Mount |
| 🛠️ Materials: | ⭕ Silicone |
| 📅 Last updated: | ⭕ September 16, 2023 |
Disclaimer
Our articles feature affiliate links. If you appreciate our content and would like to show your support, you can consider buying your new sex toys using the links we provide. Every purchase made through our links helps us earn a small commission, without any additional cost to you.