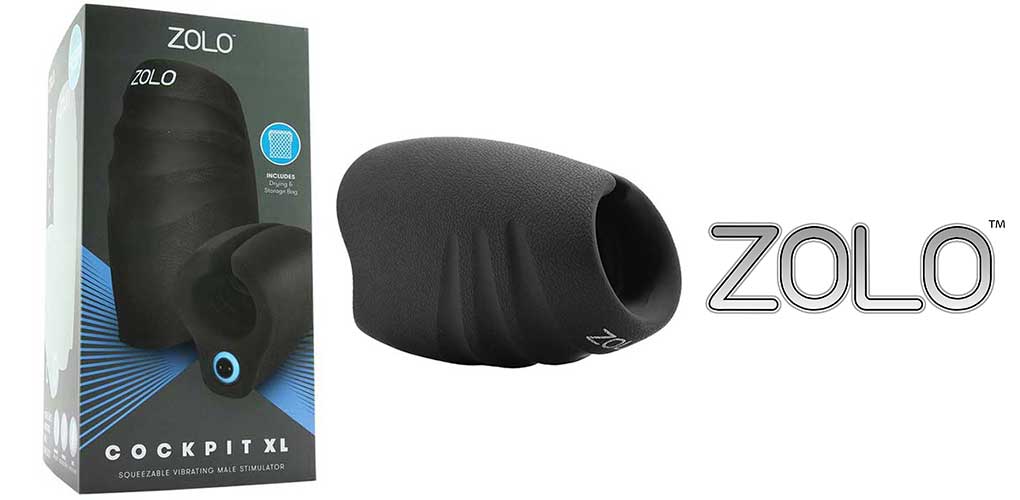 After the response I received to my Zolo Automatic Blowjob review, I knew I had to treat you with another Zolo goodie. So, without further ado, let's dive into the Zolo Cockpit XL review!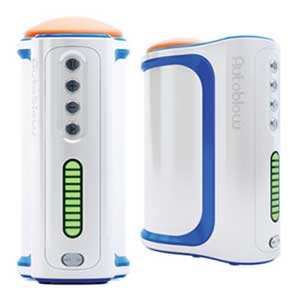 Autoblow A.I.+

Hands free blowjob toy

Heavy duty motor

Powered by artificial intelligence

Interchangeable sleeves

Body-safe materials

Plug it into any electrical outlet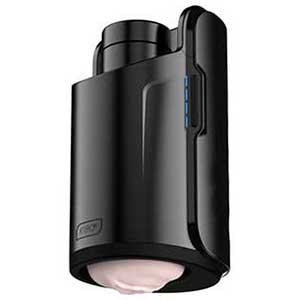 Kiiroo Keon

Automatic stroker

Sliding scale of speed

Elegant and discreet

Real-feel masturbation sleeve

Connects to video chat platform and VR porn

Easy to store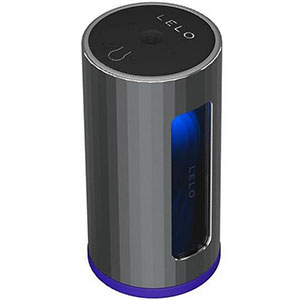 Lelo F1S V2

Hands free blowjob machine

Long-lasting charge

Fully waterproof

Powerful sensations

Realistic artificial skin material

Easy to clean

Promo Code: "HAPPYBF" - 15% Off
Actually, first of all, let's take a moment to discuss the name, shall we? As some of you may know, I find the names of most male sex toys boring at best and appalling at worst. Some are straight to the point (like the previous Zolo gadget I reviewed), but others are simply uninspired (think Autoblow). Of course, there are also those names that make you wonder whether you're buying a sex toy or a car part (I'm looking at you F1s Developer's Kit).
So, reviewing a toy with a name that's fun and punny like the Cockpit XL is a true joy. Yeah, I know, it doesn't take much to make me happy.
What Is the Zolo Cockpit XL?
As you'll see in my Zolo Cockpit XL review, this magnificent piece of technology is a stroker. It does have a few extra features, though. I wouldn't just feature a regular stroker on my page; that's soooo ten years ago.
In fact, the Cockpit XL isn't so much a regular stroker as it is a vibrating penis masturbator. It's squeezable and adjustable, which makes it a perfect fit for just about everybody. Oh, and I mentioned it vibrates, right? Yup, it has several glorious vibrating patterns that you can choose from. Each of them will get you right where you need to be going (straight to Pleasureville).
Of course, the main selling point of the Cockpit XL, and the reason it got its name, is the fact that it's a Cockpit follow-up. The users spoke, and Zolo listened. When they said the original Cockpit wasn't strong enough, Zolo gathered their R&D team and came up with a version with 25% more power.
Thus, the Zolo Cockpit XL was born!
OK, But What Makes It Special?
Overall, there's quite a bit that makes the Zolo Cockpit XL special. Aside from the vibrating feature and the fact that it has an easy-grip surface, it's also a one-size-fits-all type of toy.
Now, I know what you're thinking – there's no such thing on the sex toy market. Well, guess again! Due to its design, Cockpit XL will wrap around you beautifully, no matter what your size is.
I usually get a lot of complaints from my readers that are more on the "well-endowed" side. They resent the fact their lap rockets can't fit into all toys tip-to-base. Although I'm always inclined to tell them to cry me a river, I do have sympathy for them and their monster dongs.
Luckily, with the Cockpit XL, you don't really have to worry about the size. Sure, you won't be able to fit your entire schlong into it, but you aren't really supposed to, anyway. You're supposed to stroke it (hence the name, right?). And, given that the overall design is accommodating to all girths, you'll have a smashing time.
Click Here To Check The Up To Date Price
Speaking of Design…
In a true high-quality fashion, Cockpit XL is a black, matte silicone toy. My loyal readers already know that I prefer black toys (I'm a simple guy after all), but, more importantly, I'm not a massive fan of TPE. That's precisely why silicone toys are always my first pick. They are easy to clean and will show less wear and tear no matter how much you use them.
Sometimes, when I find a toy I really like, I try it out thoroughly to see how it holds up when it comes to vigorous use. I'm happy to say that the Zolo Cockpit XL held up nicely. I'm actually pretty sure that it would hold its shape and do its job perfectly even after a few years of use.
Overall, Zolo makes top-notch toys and ensures the materials they use are 100% body-safe. That's exactly how they make sure you can use all their toys for many, MANY happy months and years.
The Cockpit XL has a superb ergonomic easy-grip design that ensures maximum pleasure with minimal effort. The toy is the perfect combo of sturdy and flexible. It holds its shape no matter how hard you go, but it's also adjustable, which means it will maintain consistent contact with your entire lap rocket.
Cockpit XL Specs – Everything You Need to Know
Now, you might have gathered from my Zolo Cockpit XL review so far that this is a simple toy. And, indeed, it is. However, that doesn't mean it isn't mighty.
Let's check out the specs, shall we?
The Size
Size-wise, the Cockpit XL isn't that impressive. It's 5.15 inches long and has around 2.5 inches in girth when it's empty. Of course, once you plop your junk inside, the circumference will get wider, depending on the size of your schlong.
Since the toy has an open-faced chamber, there's plenty of room for you in there.
Overall, the toy is quite sturdy, thanks to the ABS plastic bullet housing. As mentioned, the sleeve itself is silicone, and it's also phthalate-free, which makes it completely body-safe. You will need to use water-based lube since the silicone-based one might damage the blowjob toy. Luckily, you'll get a complimentary packet of lube with the toy (thank you, Zolo) to tie you over until you get some of your own (if you don't already have it).
The Features
Now comes the juicy part of my Zolo Cockpit XL review – the one where we go into the nitty-gritty of the features.
I already mentioned some of them, but let's go over everything together again, shall we? First of all, the toy has an ergonomic easy-grip surface. Why should you care? Well, since it has holes on both ends and an open-faced chamber, the surface design ensures that you don't slip out. Even if your grip on your Sexcalibur isn't firm (some people like light pressure, you know), the toy will stay tightly wrapped around you.
However, even with light pressure, you'll be able to finish in style, thanks to the no-slip finish feature. Even when highly lubricated (with lube and your precious man juice), the toy doesn't slip away from you. Some strokers can't really hit the mark when it comes to this feature, so I'm really immensely grateful to Zolo for making it happen.
Of course, the toy's main features are the fact that it's squeezable and that it vibrates. Thanks to the squeezable feature, you can adjust your grip to achieve the desired sensation. However, if that's not enough to tip you over, you can also engage one of the seven vibration patterns.
Since the Cockpit XL has only one button, it's super easy to go through all seven vibration patterns and pick your favorite. You can choose between three speeds of stable vibration and four patterns that alternate pulsing and/or escalating vibrations.
Also, since it has 25% more power than its predecessor (the OG Cockpit), you'll find some, if not all of them to be powerful and forceful (which is a good thing, trust me).
Click Here To Check The Up To Date Price
Gimme More
Finally, the Cockpit XL is also completely waterproof. This is great since it's a toy on the smaller side, which makes it perfect for shower play. So, it would be quite a shame if it weren't waterproof.
Aside from that, the toy is also rechargeable. It comes with a long USB cord that makes charging less of a hassle. However, it takes over 90 minutes to charge the toy fully, so keep that in mind before you get all pumped out for playtime.
Is There Anything Extra?
As you know, I'm insatiable and always on the lookout for toys that offer more than most. So, when I finally got my hands on the Zolo Cockpit XL, I looked it over and asked myself, "Is that it?"
Luckily, it wasn't. Aside from the wide range of features (and, for a simple stroker, it really does have a wide range of capabilities), the Cockpit XL also offers targeted stimulation. What does that mean?
I'm so glad you asked. The inside of the toy has concentric ridges that allow you to go the extra mile when it comes to pleasuring yourself. You can concentrate on a specific area (say, the very tip) by dragging the bumps over it, thus achieving more pleasure.
Aside from that, the Cockpit XL comes in a really fancy package. But that's not all. You'll also find some extra goodies inside. To ensure their customers take proper care of their toys, Zolo includes a drying and storage case with each toy. That's an excellent treat for those who aren't as toy-obsessed as I am and don't have a closet full of designated storage containers.
Related
Stroking Your Way to Happiness
I'm not going to lie, I'm not really sure why you'd need a how-to guide for using the Zolo Cockpit XL, but here it is anyway.
First of all, make sure the toy is clean and dry before you start playing with it. Then, make sure it's as lubed as you prefer. Some people like a bit of dry playtime, but I honestly don't recommend that. The easy-grip surface isn't exactly slide-friendly (which is kind of the whole point), so you'll need plenty of lube.
As mentioned, you'll need water-based lube. Use the one that comes with the package or whatever you have at home and apply it liberally to your one-eyed monster and the inside of the toy. Then, start stroking!
I recommend you go through all seven modes of vibration. Not all of them are equally exciting. However, that is also a good thing because if there's no variety, then what's the point of making a sex toy for men with seven different vibration modes? Of course, the four pulsating options are my favorite and, if you want my personal preference, stick to pulsating option #3 (that's the sixth one overall) when you get close to the finish line.
It's Cleaning Time!
After playtime comes the cleanup. Everybody knows that! Luckily, cleanup isn't a hassle with the Cockpit XL. That's partially due to its design (the open-faced chamber makes everything easy to reach) and partly due to the material.
Silicone is easy to clean and dry, and you can completely sterilize it (unlike TPE). Use some warm water and mild soap to get all that lube and jizz out of the toy and then either wipe it down or leave it to dry on its own. After that, plop it into the drying and storage case and put it in your bedside drawer (or wherever it is you keep your naughty goodies).
That's it!
Any Dirty Secrets?
As always, we can't wrap up the Zolo Cockpit XL review without mentioning the downsides. As you've probably guessed by now, I'm pleased as punch with this toy. However, that doesn't mean it's perfect.
So, what dirty secrets is the Cockpit XL hiding?
The battery life is less than impressive – considering that it takes over 90 minutes to get fully charged, Cockpit XL has feeble battery life. All you get is around 60 minutes of playtime before it dies on you. That's not necessarily that bad (in fact, it's sort of the industry standard), but for a toy that doesn't have a lot of features, it's not a lot.
Some vibration modes are lackluster – I've mentioned this already, but not all vibration modes are as exciting as others. The first few are quite weak and don't really do much but tickle my fancy. Then again, that's sort of their whole goal, isn't it? Still, if you need focused, strong stimulation to finish, not all vibration modes will work for you.
A Few Parting Words
That brings us to the end of my Zolo Cockpit XL review. I hope you enjoyed it and that it will prove to be helpful when it comes to picking the right stroker. Overall, all Zolo products I've tried out over the years have been more than satisfying, which is why I can whole-heartedly recommend the Cockpit XL. It's definitely an improvement compared both to its predecessor and some other strokers on the market. Let me know if you agree!
Click Here To Check The Up To Date Price
Product Specs:
| | |
| --- | --- |
| 🏷️ Name: | ⭕ Zolo Cockpit XL |
| 📁 Type: | ⭕ Male Masturbator |
| ⚙️ Features: | ⭕ Seven Vibration Patterns |
| 🛠️ Materials: | ⭕ Silicone |
| 📅 Last updated: | ⭕ September 16, 2023 |
Disclaimer
Our articles feature affiliate links. If you appreciate our content and would like to show your support, you can consider buying your new sex toys using the links we provide. Every purchase made through our links helps us earn a small commission, without any additional cost to you.