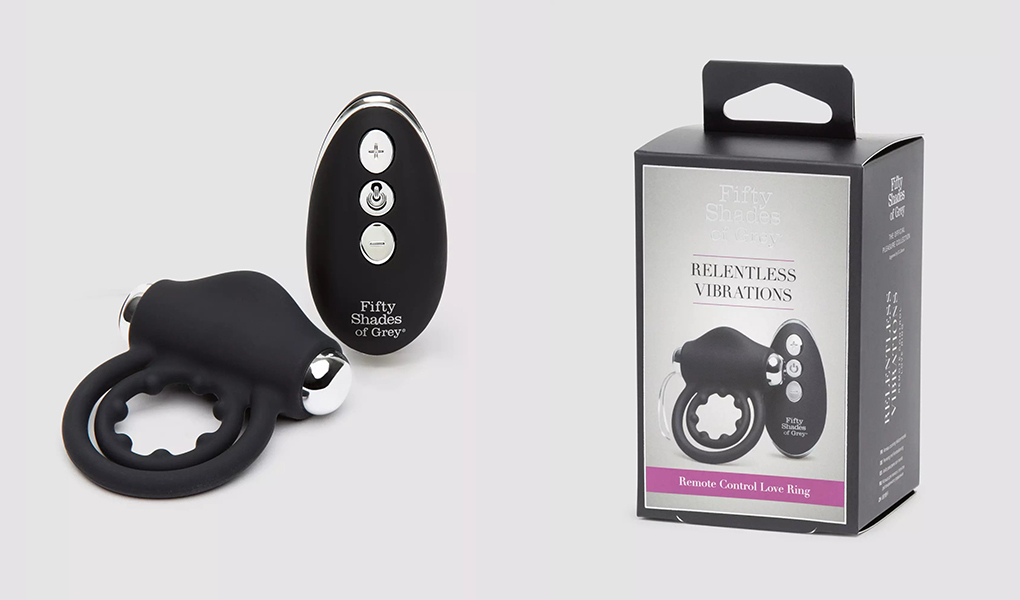 If you're just starting to explore darker shades of kinkiness, or even if you're a full-on BDSM pro, a quality cock ring definitely deserves a place in your bedroom or dungeon. The Fifty Shades of Grey Relentless Vibrations Remote Love Ring is a double cock ring and clitoral stimulator designed for any adventurous couple. This love ring is branded after the Fifty Shades erotic film/book series, and I finally got to test it out with my GF over the past couple of weeks, and you can check out what I thought about it in this Fifty Shades of Grey Love Ring review!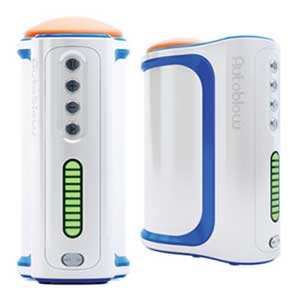 Autoblow A.I.+

Hands free blowjob toy

Heavy duty motor

Powered by artificial intelligence

Interchangeable sleeves

Body-safe materials

Plug it into any electrical outlet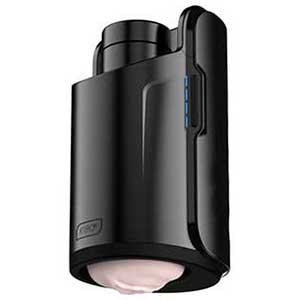 Kiiroo Keon

Automatic stroker

Sliding scale of speed

Elegant and discreet

Real-feel masturbation sleeve

Connects to video chat platform and VR porn

Easy to store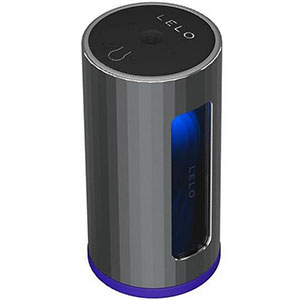 Lelo F1S V2

Hands free blowjob machine

Long-lasting charge

Fully waterproof

Powerful sensations

Realistic artificial skin material

Easy to clean

Promo Code: "HAPPYBF" - 15% Off
So did this tiny toy make us feel like Christian Grey and Anastasia? How did it survive my solo masturbation experiments and steamy sex marathons with my better half? And what are some of its most unique features?
So… Fifty Shades Of Grey Sex Toys Are A Thing Now?!
The Relentless Vibrations Remote Love Ring is a compact sex toy made by Lovehoney. If you're like me, and you had no clue, this love ring is actually part of the company's official Fifty Shades of Grey sex toy line. The line came out a few years ago with the release of Fifty Shades Freed.
Obviously, my first thoughts during this Fifty Shades of Grey Love Ring review were that this was yet another money-milking tactic for the franchise. However, the line of toys was met with high praise from many popular lifestyle and sex magazines, such as Glamour, Vice, Bustle, etc. In fact, the entire line was made in collaboration with E L James, the author of the Fifty Shades books.
Additionally, the official collection is quite massive, with tons of lingerie, bondage gear, and over 30 unique sex toys. When I saw that, it made me change my mind about the whole money-grabbing scheme. My dingaling and I genuinely took an interest in testing some of these toys out! So how did the Fifty Shades of Grey Relentless Vibrations Remote Love Ring do?
Click Here To Check The Up To Date Price
At first glance, this Fifty Shades of Grey sex toy looks like the swiss army knife of cock rings! Basically, you get a double ring and a silky smooth silicone material. I was immediately able to tell that the material of this toy is top-notch. But the cool features don't stop there.
The toy comes with a remote-controlled mini bullet vibrator. You can slip this mini vibrator into the compact sleeve at the top of the ring. Then, use the remote to experiment with dozens of intensities and vibration patterns. It literally allows your partner to put your pleasure into their own hands!
What Can You Do With It?
For starters, this Fifty Shades ring is mainly a couples toy, but you can also use it on your own. If you've never slipped on a c-ring, let me enlighten you! These compact sex toys are meant to slide down to the base of your semi-erect or flaccid dick and grip it tightly. That way, they can partially block the blood flow that comes in and out when you get your boner. The result? Well, every time I put on a cock ring, my erection gets bigger and harder. While this takes my pleasure and my orgasm into the stratosphere, the toy allows me to last much longer. Also, anyone with a schlong can use this toy to increase and extend their pleasure!
Basically, I found the Relentless Vibrations Remote Love Ring to be absolutely perfect for long wanking benders. Plus, this toy can truly be a godsend if your partner takes a bit longer to orgasm or wants you to last until they cum multiple times.
Moreover, many kinky couples love to use cock rings for fetishes and other sexual experiments. Here, remote-controlled c-rings like the Fifty Shades of Grey Love Ring can give you an extra level of pleasure. The addition of a clitoral vibrator will pump up the intensity during sex. Plus, the remote control will enable you to use your toy in various naughty scenarios during foreplay, mutual masturbation, and so on. If you're into sweaty sex and filthy kinks, the Relentless Vibrations Remote Love Ring will not hold you back. You can use it for all sorts of tease and denial, cock edging, milking, orgasm denial, roleplay, torture play, public play kinks, and so on.
The Devil Is In the Details
Honestly, I've tried several "feature-packed" c-rings with remotes. Many of them had poor and impractical designs. What I noticed during this Fifty Shades of Grey Love Ring review is that the toy has a convenient and robust design. Its classy color fits somewhere between black and the darkest shade of grey.
Plus, the toy didn't make me fumble around too much when I wanted to put it on and turn on the vibration settings remotely. Aside from its premium look and a smooth feel, this Fifty Shades of Grey Love Ring offers:
Double rings that slide over your penis and testicles
Mini bullet vibrator (USB chargeable)
Mini remote controller with included CR2032 battery
10 vibration patterns
6 intensities
45 minutes of battery life
A classy box with an included Fifty Shades of Grey carrying pouch
Finally, the ring and the vibrator are 100% waterproof. However, the remote is not waterproof, and you'll need to keep it away from water.
Click Here To Check The Up To Date Price
A Perfect Fit For Massive Orgasms?
In all my years of partying with penis rings, I still find it hard to instruct you on how they fit. It all depends so much on your joystick, its shape, and its thickness. However, some materials like silicone feel much better and more comfortable than others. I was able to slip this ring around my cock and balls easily and not feel too constricted. The toy felt incredibly comfortable with some water-based lubricant, and I found that both the penis and the testicle rings had just the right thickness. Plus, the penis ring has a nice texture to it, while the testicle ring is smooth.
Frankly, I'm not a fan of testicle rings because my boys are a bit too sensitive. Still, the testicle ring was wide enough, and it didn't do any damage to my sensitive nuts. Unlike some rings that can barely stretch and only stay firm, the Fifty Shades Love Ring nicely adapts to various penis girths.
According to the manufacturer, the minimum diameter is two inches. The maximum is 2.5 inches, but the ring can actually stretch out much further. My womb raider has a circumference of around five inches, and I could easily fit the ring around it. I also noticed that both rings would return to their original shape after every use. It seems like the male sex toy will last a long time.
Overall, I was impressed with the fit and feel of this love ring. Also, I think that most guys will enjoy its size. What's more, the material is non-porous, and it takes only a few minutes to clean it with warm water and soap.
Related
Hands-Free Play With Custom Vibrations
As mentioned, the vibrator offers ten custom patterns and six speeds. The bullet itself is made of steel. It fits snugly into the silicone sleeve on top of the ring. This sleeve is wide enough to stimulate the entire clitoral area from various positions.
However, what I noticed during my Fifty Shades of Grey Love Ring review is that the sleeve muffles some of the vibrations. The upside to this is that the entire toy is extremely quiet. The sound is barely noticeable at arm's length, which makes it ideal for public play.
Additionally, the vibrator is USB rechargeable, and it took me around two hours to charge it. The battery lasted approximately 40 to 45 minutes during every use. The remote is not rechargeable, but it has a standard lithium coin button battery that should last for a long time. Also, the remote matches the color of the ring and has three silver buttons along with the Fifty Shades of Grey logo. Like the ring, the remote has a smooth texture and fits in my palm easily.
In action, it was easy to change the patterns and speeds on the fly. Moreover, the ten custom patterns will give you some interesting changes in pulsations. The six speed settings are also versatile, and I found the vibrations to be just enough for me.
How It Felt When I Slipped It On For This Fifty Shades Of Grey Love Ring Review
As I said earlier in my Fifty Shades of Grey Love Ring review, both rings were a great fit for my Love Rocket and its engines. I was hoping to feel the vibrations all the way up my shaft, but that wasn't the case. This might vary with your penis length though. However, the vibrator buzzed gently around my genitals. I had some explosive experiences while experimenting with the vibration settings and various wanking techniques.
With lots of lube, I could feel the rings gripping me tightly around my shaft and balls. Even better, it made my eight-incher look even more massive, like Dwayne The Rock's throbbing bicep. Talk about a confidence boost!
What's more, I had the pleasure of testing the Fifty Shades ring in all sorts of solo experiments. Every time I put it on, it gripped my cock tightly and made my erection last much longer while delaying my orgasm. I tried it out during solo masturbation, and I also used it with my Autoblow blowjob machine. What an unforgettable jizzing experience! The testicle rings squeezed my manhood with intensity every time I came. I'd definitely recommend it for solo use. It prolongs your masturbation sessions, lets you control your orgasms better, and ultimately helps you train for sex!
How It Felt When We Used It Together
To be honest, my GF and I went all out on this thing. We had tons of intimate, orgasmic, and outright filthy moments! She loved using the remote control functions on me during foreplay. We even tried a couple of edging, denial, and milking fetishes to get really kinky. Here, the vibrations were strong enough to get me to orgasm hands-free without any manual stimulation. We also turned things around… Basically, I wrapped the ring around a dildo and pushed it inside her along with another butt plug. Then, I used the remote to pleasure her while ordering her to suck me off. Take that, Christian Grey!
However, when we used the ring during sex, she said ahe wanted to feel an additional level of vibration. While she came several times using the highest vibration settings, she needed them to be a little stronger to truly make her body squirm. She also used the Fun Factory Duke prostate massager on me, which I had the pleasure of reviewing fairly recently. We both thought this was the best experience we had with the ring because it made me blow some of my biggest loads!
Best of all, we both enjoyed the tight grip of the Fifty Shades ring around my balls and dick during deep blowjobs and hardcore butt sex. To me, the ring allowed me to turn my GF into my little sex kitten and pump her holes for hours on end. The "enhanced" size of my dick made her struggle for air. That was her favorite thing about this Fifty Shades toy, and she also loved how the ring was able to extend our pleasure.
What I Loved
Superb build quality and materials;
It was a perfect fit for me – the testicle ring was not too tight to cause me any discomfort. Both rings will feel great for guys who are sensitive;
Intuitive remote controls;
Tons of options for vibration speeds and patterns;
It's a crowd-pleaser;
It will make your penis look massive!
What Could Be Improved
My partner would have preferred stronger vibration settings;
The vibrator sleeve muffles the vibrations, but this also makes the toy much quieter;
We couldn't fit a stronger bullet vibrator into the sleeve because it was too tight;
Do they make this thing in a single-ring version? I would have preferred that, but that's just me and my sensitive gonads.
Final Thoughts in My Fifty Shades of Grey Love Ring Review
The Fifty Shades of Grey Relentless Vibrations Remote Love Ring is one of the better vibrating cock and ball rings I've used recently. Unlike many others, the remote is intuitive, and it looks like it won't break after one use. Overall, the ring is durable and comfortable, it looks classy, and it certainly provided my partner and me with tons of kinky fun in the bedroom. If you're looking for an all-purpose vibrating cock ring, don't look any further!
Click Here To Check The Up To Date Price
Product Specs:
| | |
| --- | --- |
| 🏷️ Name: | ⭕ Fifty Shades of Grey Love Ring |
| 📁 Type: | ⭕ Cock Ring |
| ⚙️ Features: | ⭕ 10 Vibration Patterns With 6 Levels Of Intensity |
| 🛠️ Materials: | ⭕ Silicone |
| 📅 Last updated: | ⭕ November 29, 2023 |
Disclaimer
Our articles feature affiliate links. If you appreciate our content and would like to show your support, you can consider buying your new sex toys using the links we provide. Every purchase made through our links helps us earn a small commission, without any additional cost to you.