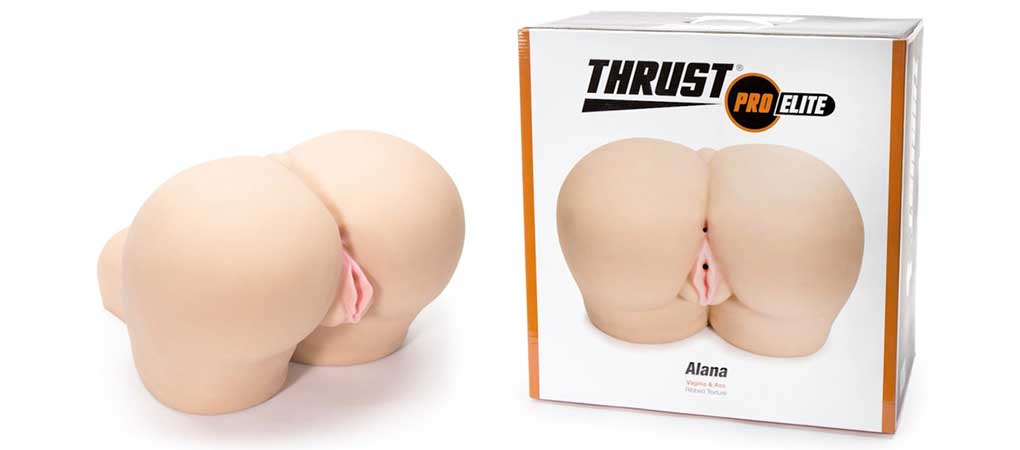 Let me make quick introductions. This is Alana, one of the best realistic vagina and butt masturbators on the market. Alana, meet my fellow horndogs. The pleasure is all theirs! Or at least it will be, by the end of my Thrust Pro Elite Alana review.
I always have a real treat for you guys because I do my best to review the creme de la creme of the sex toy market. However, some treats are tastier than others. That's the case with Alana. I've had my hands (and dong) on many realistic bums throughout the years, but Alana's is exceptional.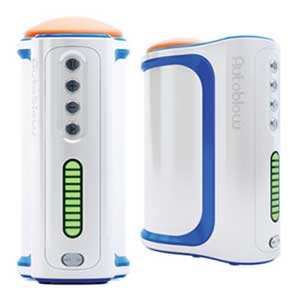 Autoblow A.I.+

Hands free blowjob toy

Heavy duty motor

Powered by artificial intelligence

Interchangeable sleeves

Body-safe materials

Plug it into any electrical outlet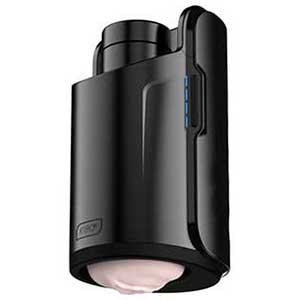 Kiiroo Keon

Automatic stroker

Sliding scale of speed

Elegant and discreet

Real-feel masturbation sleeve

Connects to video chat platform and VR porn

Easy to store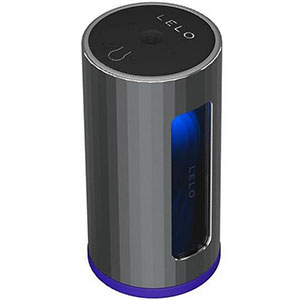 Lelo F1S V2

Hands free blowjob machine

Long-lasting charge

Fully waterproof

Powerful sensations

Realistic artificial skin material

Easy to clean

Promo Code: "HAPPYBF" - 15% Off
Many of you know that I'm a huge fan of realistic sex dolls. My collection is vast (some would say disturbingly so), and having fun with my dolls is one of my (not so) guilty pleasures. However, given that I don't live in a mansion, storage space is becoming a bit of a problem. That's where realistic butts come into play. I can have all the fun without it taking up half of my closet space!
Who's Alana Again?
Alana is the definition of a double whammy. She's a realistic vagina and butt masturbator doll with two fully functional, tight, and deliciously ribbed canals that will make your playtime infinitely more fun.
Both of Alana's delightful openings are full-sized, and her butt is exceptionally realistic. Thanks to the TPE, her cheeks are so soft and flesh-like, they are practically begging for you to caress them. The vagina is also quite realistic and modeled after the, in my opinion, most beautiful lips ever. The rosy folds and the clitoral hood are so life-like, I almost went down on her!
However, Alana is also quite sturdy, which means she can endure a bit of rough play. You can thrust into her like there's no tomorrow, and she'll take it like the real champ she is.
I'm also happy to report that Alana responds really well to spanking. Her butt jiggles in the most delightful way. It's almost like the real thing!
Overall, the pleasure seems to be neverending with Alana. But let's move this Thrust Pro Elite Alana review and see what the lady has to offer.
Click Here To Check The Up To Date Price
The Design (of the Rosy Cheeks Left Me Smitten)
Alana's full, god-given name is THRUST Pro Elite Alana Ribbed Vagina and Ass Mega Masturbator. That's a mouthful, but she says we can call her Ms. Alana if we're nasty like that. Thankfully, the manufacturers put even more thought into the design than they did in the name (which, I'm guessing, took some time to come up with).
Alana really is a top-notch product. You can see the level of quality practically as soon as you get her delivered to your door. The (huge) packaging is sleek and sturdy. It also has a picture of the product in all its glory smacked right on the front of it.
Now, this is a double-edged sword for the company, in my opinion. Many people (including myself) would probably appreciate a more discreet box. Sure, Alana's assets aren't visible initially (they ship her to you within another, more discreet box). Still, the fact that the original box has a massive picture of a perched ass on it doesn't really allow for stealth storage.
However, the picture also lets you compare the real thing with the advertised version of the product. And, let me tell you, Alana is picture perfect! As soon as I opened the box, I knew that I made an excellent decision when I clicked on that "add to cart" button.
The Shape of Her (Is Mesmerizing)
You know my favorite part of any review is the one where I talk about playtime. However, with the Thrust Pro Elite Alana review, things are a bit different. So, brace yourself for a few minutes of me gushing about how beautiful Alana actually is.
Ms. Alana is a big, curvy vagina and butt masturbator that's in the perfect, realistic version of doggy style. Her back is arched beautifully, which puts both the vagina and the ass at the ideal level for penetration.
You'll never have to mutter, "Arch that back a bit, baby!" while in the throes of passion or reposition the doll to avoid slipping out. There's nothing worse than that odd angle that makes your beaver basher slide out and lose that precious skin-on-skin (or skin-on-TPE) contact, right?
And Oh-So-Soft
Speaking of TPE, I already mentioned how soft to the touch Alana is. I didn't, however, mention that she's a sight to behold. Her realistic proportions and the bubble butt that's more than inviting are a real work of art. I dare you to look at her without getting horny!
Of course, after looking comes the close, hands-on inspection, right? I couldn't contain myself, and when I got my hands on Alana for the first time, I slipped my fingers inside almost immediately. I just wanted to get a feel for her, so I forgo the lube and just dove right in.
Well, I don't recommend this, by the way, especially if you're hell-bent on inspecting Alana with your lap rocket. Lube is always a must!
Still, as I said, I had to grope her a bit before getting down and dirty with her. I felt the ridges of the internal texture of both her openings and knew I was in for a world of fun! Not to mention, since I unceremoniously shoved my fingers in both her openings at the same time, the enormous difference between them was clear as day! You know me – when it comes to sex toys, I love a bit of variety. So I was more than pleased.
Click Here To Check The Up To Date Price
Thrust Pro Elite Alana Specs – She's All That (And More)
As usual, I'd like my Thrust Pro Elite Alana review to be unbiased. So, I'll stop going on and on about how glorious she is to present you with some numbers.
There are two reasons for that. First, my enthusiasm for this toy is getting to be kind of embarrassing. Second, I really need you to understand that even though Alana isn't a full-sized sex doll, she'll still take up a lot of space. She won't exactly fit into your bedside drawer if you know what I mean.
Thrust Pro Elite Alana – She's a Big Girl
When you take it out of the package, the toy weighs a whopping 15 pounds (around 7 kg). Before you go on yapping about the weight, consider the benefits of this. Thanks to her significant weight, you can use Alana as a standalone toy.
She's sturdy enough that you can thrust in and out as hard as you want, without pushing her around on the bed (or the floor, table, washing machine, etc. Where you do the dirty is no one's business!). Not many realistic butts can provide a hands-free experience, so the significant weight is actually a plus rather than a downside.
With Some Big Assets
If you aren't a fan of hands-free thrusting, you can always grab onto Alana's 27-inch waist and pound away! Alana is a curvy beauty and has 36-inch hips that will also prove to be more than adequate for grabbing purposes.
And, if you want to get really nasty, just grab them cheeks, mister! They are soft, but the TPE will also provide more than enough friction, so your hands don't slip away while you're dipping your rod into that honeypot.
If you're a fan of dress up or like the whole experience of undressing your partner before going to town on their ass, Alana can easily fit into dress size 10 or 12 panties. A pair of lacy panties make Alana look even more delicious, especially when you push them to the side and discover the true gems underneath.
And She Can Do A LOT
Ms. Alana has two openings which means she's a perfect fit for both those who love anal sex and those who enjoy the run-of-the-mill penis-vagina sex. She's also more than capable of entertaining those of us who have monster dongs, given that the internal length of her vagina is 7.5 inches. The width of the vagina is 0.5 inches.
The ass, of course, is much tighter, just like in real life. With 0.1 inches in width, it will be a tight fit for girthier guys. Luckily, there's more than enough room for us all, given that the ass opening is 5.5 inches in length.
Both the vagina and the ass are in the optimal access position. You can approach them from all sides. They are exposed and perched up for your viewing (and pounding) pleasure.
Related
How to Play With the Thrust Pro Elite Alana
At this point of my Thrust Pro Elite Alana review, I usually talk about playtime. Some male sex toys require thorough how-to guides when it comes to using them. Alana, thankfully, doesn't. It's pretty straightforward, man; just lube your rocketman up and get to pumping.
Of course, if you want to draw out the experience, I do have some advice for you. First of all, Alana IS sturdy enough to withstand some rough play. However, make sure you find the perfect spot before you actually begin your play session. Sometimes the might of your manhood can be too powerful for poor Alana to take. So, position her at the headboard of your bed or use something else as a makeshift barrier that will stop her from moving too much.
Even though Alana's biggest assets are the ribbed canals that feel heavenly while rubbing your pocket rocket, I suggest that you do the same thing as I did and feel around with your fingers first. I mean, you'll definitely have to, whether you want to or not (and why wouldn't you want to?). After all, you'll have to lube her up somehow.
Anyway, if you're anything like me, once you feel those ridges of the ribbed canal with your fingers, your excitement (and your beaver basher) will skyrocket. Then all you have to do is pick an opening, slide slowly inside, and let Alana's tight grip on you guide you to Pleasureville.
She's a Dirty Girl (But Only Metaphorically)
No review is complete without my lecture on hygiene. So, let's finish this Thrust Pro Elite Alana review with a bit of fist-shaking at the heavens, shall we?
Alana doesn't have removable parts. This is great because you can rest assured nothing will slip out when you least want it to (that can sometimes happen with removable vagina and ass sleeves). However, it also makes cleaning a nightmare.
As some of you know, I'm not the biggest fan of TPE because you can't sterilize it. However, given that it's single-handedly responsible for the realistic, life-like feel of TPE toys, I'm not against them in general.
That being said, given that Alana is a TPE toy and it doesn't have a removable sleeve, you'll have to pay close attention to cleanup. Dig really deep when cleaning, and make sure both openings are completely dry. Then, apply a coat of renewal powder and put Alana's fine ass away.
So, Is The Thrust Pro Elite Alana Perfect?
One would think that I'd answer this question with a firm "YES." After all, Alana is a dream-come-true with her tight openings and her perfectly arched back. She embraces trouser snakes of all sizes and grips them just tight enough to make them hiss in pleasure.
But is she really perfect? No. I already mentioned that the cleanup is a hassle. However, the part I really mind is that there are no instructions regarding cleanup that come with the product.
Sure, some of us know what to do with a TPE toy that doesn't have removable parts, but others don't. That's why manufacturers should always include care instructions.
Aside from the problematic cleanup that takes quite some time (especially the drying part), Alana also has some other downsides. Some men might find her too big. If you have a shorter dong, you might find yourself slipping out. Alana is positioned in a beautiful doggy-style pose. However, if you're looking to give her ass a dong-beating it deserves, and you have a shorter than average penis, the angle might be a bit awkward.
Finally, the gorgeous rosy hue of her delectable lips can be rubbed off. I'm not a fan of that, as it changes the initial appearance.
A Few Parting Words
Overall, Alana is head and shoulders above her competition on the market. She's one of the most realistic vagina and butt masturbators and offers more than enough value for money. The internal texture and the tightness of both her openings made her a contender. The gorgeous overall look crowned her the winner in my book.
Hopefully, my Thrust Pro Elite Alana review is an objective showcase of Alana's best features that will help you decide whether Alana is the perfect girl for you. I know she has easily climbed to the very top of the list of my favorite toys. Take her out for a spin, and then come here to tell me all about it. I can't wait to hear your impressions!
Click Here To Check The Up To Date Price
Product Specs:
| | |
| --- | --- |
| 🏷️ Name: | ⭕ Thrust Pro Elite Alana |
| 📁 Type: | ⭕ Pocket Pussy |
| ⚙️ Features: | ⭕ Hands-Free Play |
| 🛠️ Materials: | ⭕ TPE |
| 📅 Last updated: | ⭕ November 29, 2023 |
Disclaimer
Our articles feature affiliate links. If you appreciate our content and would like to show your support, you can consider buying your new sex toys using the links we provide. Every purchase made through our links helps us earn a small commission, without any additional cost to you.