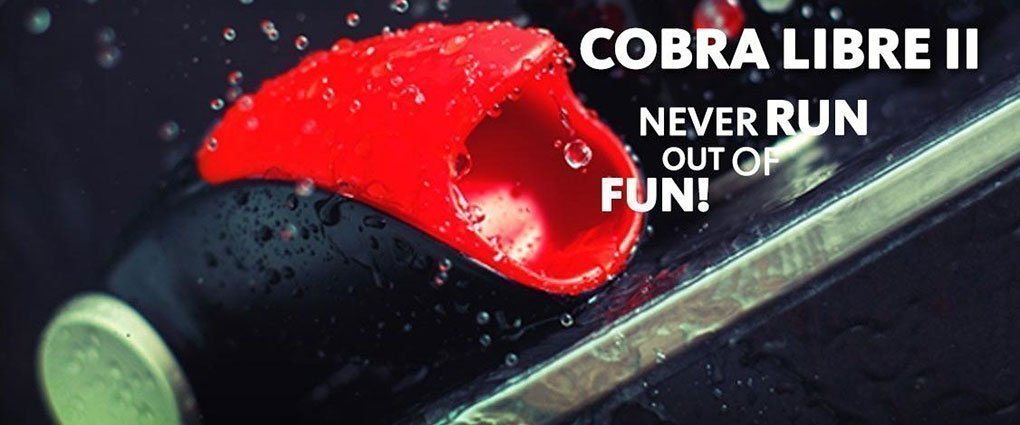 Once upon a time, the only way you could enjoy a blowjob was to convince someone to give it to you. Sadly, this meant that you'd sometimes go weeks or months without one if you weren't in a relationship. Even if you were, your partner wouldn't always be up for it. Luckily though, those tough days are behind you now – as you'll see in my Cobra Libre 2 review!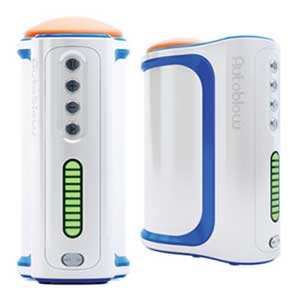 Autoblow A.I.+

Hands free blowjob toy

Heavy duty motor

Powered by artificial intelligence

Interchangeable sleeves

Body-safe materials

Plug it into any electrical outlet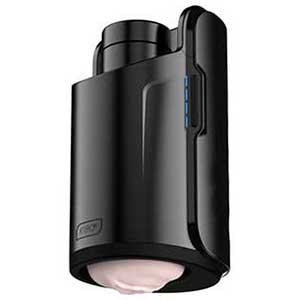 Kiiroo Keon

Automatic stroker

Sliding scale of speed

Elegant and discreet

Real-feel masturbation sleeve

Connects to video chat platform and VR porn

Easy to store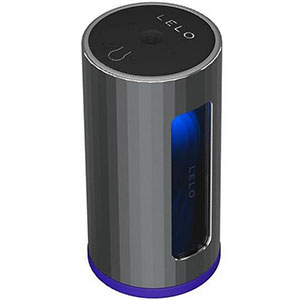 Lelo F1S V2

Hands free blowjob machine

Long-lasting charge

Fully waterproof

Powerful sensations

Realistic artificial skin material

Easy to clean

Promo Code: "HAPPYBF" - 15% Off
Wait, What Is Cobra Libre 2?
When you say the word 'vibrator,' normally the first thing that comes to mind are the ones women use. Usually, no one thinks of male vibrators, and many people aren't even aware these are a thing. But Cobra Libre 2 is here to change that – once you try it out, you'll regret you didn't get it sooner!
With its smooth silicone sleeve and targeted vibrations, Fun Factory's Cobra Libre 2 vibrator is a perfect replacement for a blowjob. It allows you to insert 3.5 inches of your penis into the mouth-like opening, focusing the sensation on the head. This may not seem like much, but believe me, Cobra Libre 2 zeros in on just the right spots and delivers explosive orgasms.
The opening itself has a diameter of roughly 1.5 inches, which should work for most men. On top of that, the upper part of the sleeve is quite flexible, and it can stretch a little if needed. Either way, the idea is that the vibrator should fit snugly around your penis, so as to give you the best possible experience. And boy, does it work!
Click Here To Check The Up To Date Price
What Makes Cobra Libre 2 So Special?
Of course, there are hundreds of blowjob machines out there; so why should Cobra Libre 2 be your first choice? Well, here are a few features that make this vibrator stand out from the crowd:
Eleven vibration patterns and speeds – Different men get off on different things, and Cobra Libre 2 caters to all. Explore all eleven modes to find your favorite and don't forget to lower or increase the speed for a perfect sensation.
Two powerful motors – You don't have to bother with thrusting or moving the vibrator back and forth. The motors create deep and strong vibrations that do all the work for you.
Medical grade silicone – The toy is safe for skin and allergen-free.
Waterproof – Feel free to have fun with your toy in the shower or the tub without worrying that it might stop working.
USB rechargeable – Cobra Libre 2 has a long-lasting battery that can get you through several sessions. But even when it discharges, all you have to do is plug it in and let it charge for a few hours. What's more, it comes with a USB adapter, so you can use it anywhere in the world, and even plug it into your laptop to charge. Pretty handy, huh?
Easy to clean – No need to worry about the vibrator's maintenance. Just wash it with warm water and soap after every use and leave it to air dry.
Sleek design – Sure, the design of your sex toy might be the last thing you care about, but trust me, it does make a difference. You wouldn't want to stick your buddy into a cheap, suspicious-looking device, right? Plus, it comes in two colors – red and black.
Click Here To Check The Up To Date Price
Cobra Libre vs Cobra Libre 2 – What's New?
If the name and some of the features sound familiar, it's probably because you've already heard of or used a similar vibrator – the original Cobra Libre. When it first came out, the original was praised for its design, functionality, and novelty. The second edition is more or less the same, with a few key improvements.
When it comes to the original edition, many users had complaints about the way buttons worked. They weren't quite buttons then – rather, they were touchscreen pads. Sadly, they were difficult to operate; either completely unresponsive or too responsive when you didn't want them to be. On top of that, there was no way to tell if the buttons registered your input at all. For many, that quickly became annoying.
Luckily, Fun Factory cares about its customers, so the new Cobra Libre vibrator comes with regular buttons that are responsive and easy to press. The commands are also much simpler than they were on the original male sex toy – you will barely even need a manual to use it. Although not much else has changed from one version to another, this alone was more than enough to vastly improve the experience.
Related
How to Use the Vibrator
Sure, using Cobra Libre 2 isn't rocket science, but why would you waste time figuring it out on your own when I can tell you all about it in this Cobra Libre 2 review? Here is a little guide to ensure you have the best possible experience!
Prepare for the Big Event
Before you get to the fun part, some preparation is in order. First of all, make sure to charge your vibrator – before the first use, it needs about 8–12 hours to be ready. Don't worry, though; every subsequent charging takes only around two hours.
In the meantime, go and get lube if you don't already have some. Cobra Libre 2 is soft and pleasant, but lubricant is crucial for comfort and it helps the vibrations spread evenly throughout the body. Be careful to use only water-based lubricants. Silicone ones, as well as oils and creams, can seriously and irreparably damage your toy.
Of course, it would be wise to carefully clean it before lubing it up. Even if you've never opened it and it looks pristine, you can't be too careful when using something on such a sensitive body part.
Ready, Set… Go!
Now that everything's ready, it's time to get to the main event. You'll notice three buttons on Cobra vibrator – FUN, plus, and minus. To unlock the toy, press and hold the FUN button for a few moments. After that, you can turn on the device by quickly pressing the same button again.
There are many ways to use Cobra Libre 2 for maximum pleasure – you can pre-insert, use it standing, sitting, lying down, or in any other way you like. That's something I'll let you figure out on your own.
You should know, though, that the blowjob machine starts at a medium vibration level. Using the plus and minus buttons, you can increase or decrease the intensity according to your taste.
Though it may seem that Cobra Libre 2 is made primarily for solo use, it really doesn't have to be. You can get your partner involved – invite them to grind on the toy while you play with it or be creative in other ways. It may surprise you how fun it actually is!
When You're Done
Now, remember – this toy is pretty small. It will fit only the head of your penis and nothing else, so when you ejaculate, it's going to be messy. There's no real way around it. The only thing that could help is withdrawing a little right before it happens. Even then, it's best to just accept things the way they are and prepare for it in advance with a towel… or two.
And once you're done, just press the FUN button again to turn the toy off. For extra security – for example, if you're worried that it might accidentally turn on in your travel bag – hold down the same button for a few seconds. The device will lock and become safe for carrying.
It goes without saying that you should wash it after each use. Luckily, Cobra Libre 2 is waterproof, so you can fully submerge it without hesitation. That makes washing quite easy as well – just scrub it with soap and rinse out.
Related
What I Liked Best
Cobra Libre 2 is an all-around great product and it's absolutely worth the price you pay for it. Some features in particular stood out to me; and what kind of a review would this be if I didn't share those with you?
Variety of patterns – You simply can't get bored. There are two slow 'training' modes, three 'constant' modes of increasing intensity, three 'slalom' modes with a wave-like pattern, and three fast and exciting 'rock n' roll' modes. Pulsations, roller coaster vibrations, strokes – you name it, Cobra Libre has it. And it genuinely does feel like you're getting a blowjob, but from an incredibly skilled person who knows exactly what you like.
Waterproof – I love using masturbators in the bath or shower. It's the time of complete privacy, plus, if things get messy, it's easier to clean. So imagine my delight at finding out that this vibrator can be fully submerged in water without breaking down. What could possibly be better?
Rechargeable and long-lasting batteries – Imagine how frustrated you'd be if your toy became unusable after just one session. Luckily, you can get hours of continuous fun from Cobra. And even when it's empty, just charge it again – no need for extra batteries. Usually, I let it charge overnight and it's ready for a ride on the next day.
Easy to store away – If you have kids or live with someone who might not approve of your orgasmic trips, you may wish to keep Cobra Libre hidden away. This is where its small size becomes a huge advantage – it's incredibly easy to find a discreet place for it. The toy takes little space, so just hide it in a drawer or tuck it under your shirts. Problem solved!
What I Didn't Like
Even the best of products come with a flaw or two, and Cobra is no exception. Since I'm trying to be as objective as possible in this review, here are a few things that need to be improved.
It's messy – I already mentioned this one, but it really does kill the mood when you finish and then have to clean up all the mess you made. In fact, I'd suggest you don't even start without a towel at hand. Alternatively, use it while you're in the shower or don't finish with it.
It's noisy – To produce all those fantastic vibrations, motors have to be quite powerful; and they really are. But with such strength comes a serious drawback – the noise. On lower speeds, it's bearable, though pushing the limits. However, the higher speeds are loud. Cobra Libre 2 is definitely not discreet, which can be a problem if you don't want everyone in your home to know what you're doing.
One size – While Cobra Libre 2 was made to fit most men, it won't fit all men. The toy should be tight around the penis – for strong vibrations and high satisfaction. Unfortunately, some men will find the opening too wide, and won't have the best possible experience. I don't expect the company to cater to every size out there – but one or two more would've been nice.
Switching patterns can be difficult – The buttons are intuitive and easy to use, but cycling through patterns to get to your favorite one can take away from the enjoyment. I think that a separate remote with all the available options would be a less distracting solution. And who knows, one day, maybe Cobra Libre 3 gives us just that!
Final Verdict
The way I see it, this is a no-brainer. Despite its flaws, Cobra Libre 2 is absolutely worth buying. If you're a single man looking for some fun, there's hardly a better male masturbator on the market. It caters to all tastes and needs – whether you like it slow, fast, or anything in between. Once you get used to the toy and find out how you like to use it, it will literally blow your mind!
As for those of you who have a partner, well, even better! If you're both up for it, you could really spice up your sex life with this little toy. Why would you settle for mediocre sex when true ecstasy is so easy to find?
So the last thing I have to tell you in this review is to go get it if you already don't have it. It was one of the better purchases in my life – and I have no doubt it will be the same for you.
Click Here To Check The Up To Date Price
Product Specs:
| | |
| --- | --- |
| 🏷️ Name: | ⭕ Cobra Libre 2 |
| 📁 Type: | ⭕ Blowjob Machine |
| ⚙️ Features: | ⭕ 11 Vibration Patterns And Speeds |
| 🛠️ Materials: | ⭕ Medical Grade Silicone |
| 📅 Last updated: | ⭕ September 16, 2023 |
Disclaimer
Our articles feature affiliate links. If you appreciate our content and would like to show your support, you can consider buying your new sex toys using the links we provide. Every purchase made through our links helps us earn a small commission, without any additional cost to you.