When you're jerking off with your own hand, it's very rare that you'll actually feel like you're being sucked off by a super hot woman, am I right? Instead I would say it feels more like… well, more like you're jerking yourself off with your own hand.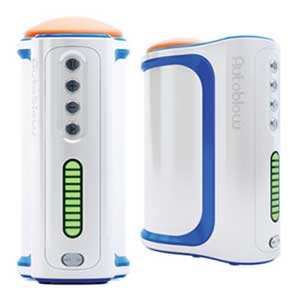 Autoblow A.I.+

Hands free blowjob toy

Heavy duty motor

Powered by artificial intelligence

Interchangeable sleeves

Body-safe materials

Plug it into any electrical outlet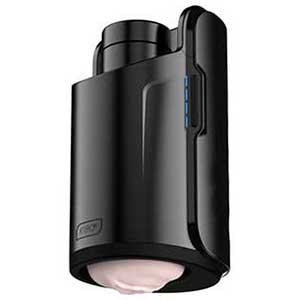 Kiiroo Keon

Automatic stroker

Sliding scale of speed

Elegant and discreet

Real-feel masturbation sleeve

Connects to video chat platform and VR porn

Easy to store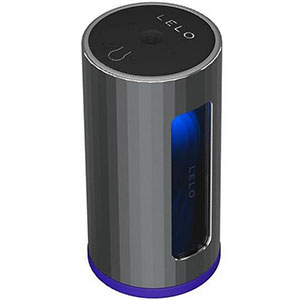 Lelo F1S V2

Hands free blowjob machine

Long-lasting charge

Fully waterproof

Powerful sensations

Realistic artificial skin material

Easy to clean

Promo Code: "HAPPYBF" - 15% Off
But when you use the Tenga Air Tech toy, you're going to feel something a lot more similar to that of a real blowjob because of the unique airflow design. It's a very reasonably priced male sex toy, and it feels great too.
What is the Tenga Air Tech?
If you don't recognize the Tenga name, then you should really look into it. A relatively new company when it comes to male sex toys, Tenga is based in Japan and prides itself on making toys that are engineered for the highest pleasure, incredible hygiene, and sleek & modern designs. They are so focused on hygiene (and convenience) that some of their products are even sold for 'single use only'.
The Tenga Air Tech, however, is a reusable blowjob sleeve for men. It's shaped kind of like an hourglass which makes it easy to hold onto and comfortable to use and the unique airflow structure allows for a super tight suction feeling. The actual sleeve is made out of a stretchy material to ensure that it fits pretty much any size of man, and is ribbed on the inside with varying grips and chambers creating a very satisfying pattern. And while it's not automated and it doesn't vibrate, the soft shell of the toy allows you to very easily change the sensations by increasing or decreasing your grip during play – easy!
There are several different versions within the Tenga Air Tech series which include Gentle, Regular, Strong & Ultra. I prefer the Tenga Air Tech Strong, personally. (And yes, I HAVE actually tried them all because they're fairly cheap). I like the firmness of the strong version, but to each their own of course. And to clean? It's super easy. The toy is made from Thermoplastic Elastomer (TPE) which means that you can simply wash the toy with water and mild soap. Then just make sure you let it air dry completely before storing it. If you store it wet you're likely to create a pretty rank smell inside that thing and you won't be wanting to use it again!
Click Here To Visit The Official Tenga Air Tech Website
How to use the toy for best results
It's always important that no matter what toy you've chosen to play with today, that you choose to play with it properly. What I mean, is that you gotta make sure you get the best bang for your buck. Literally.
And first and foremost, that means using lubricant! I recommend lube with any male masturbation toy that you use. I mean you don't want to screw a chick if she's not wet, why would you want to stick your Johnson inside a plastic cylinder without it being wet? Your penis will thank you.
Use water-based lubricant so that you don't damage the surface of your toys. You want to take care of these pleasure devices, right? So that being said, this is the best way to use your Tenga Air Tech:
Put lube on your own cock and then put a bit at the opening of the toy as well to make sure you've got a smooth landing.
Begin stroking.
If you want, stop just before you climax. Let the sensations dwindle a bit, and then repeat those steps as many times as you can.
Blow your load.
Take a moment to really soak in that feeling.
Clean up.
Despite the fact that cleaning jizz out of a plastic cup isn't the sexiest thing you can do, make sure you clean up soon after climax. Letting all your fluid dry up in there will only make it more difficult to clean fully. So of course, take a moment to smile to yourself about how glad you are that you purchased a masturbation sleeve, and then get up and clean yourself up boy!
Of course, step 3 is totally optional, but it's a fun game! Plus, it will help you last longer in bed when you actually have a partner – not a bad 'side effect', right? And if you need a little extra help, or just want to switch things up, throw on a porn at the same time! But of course, I probably didn't need to tell you that one, did I….
Related
What I liked most
I like a lot of Tenga toys, and the Tenga Air Tech is no exception. I'll admit thought, that when I first came across the entire line of Tenga masturbators, I didn't think I'd like them. They were very strange designs – unlike any other masturbation sleeves I'd seen – and they didn't really look sexy – you know what I mean? Where were the pussy lips? The butt hole? I wanna stick it in something I recognize! You know?
But once I tried the Tenga Air Tech, it did win me over, and here is why:
Simple to use. Definitely one of the simplest toys to use that I have in my arsenal. Just strip away the plastic wrap when you first get it, add some lube, and then stroke to it! No gadgets or buttons to fiddle with.
EXCELLENT for travel. This is a very lightweight toy which of course makes it great to take anywhere, from my carry-on bag when I fly for business trips, to my desk at the office, or even throw it in my gym bag for when I need a quick release in the showers before I continue my day. (being waterproof is also a bonus!) But overall, the size the weight (or lack thereof) means that you can take it pretty much anywhere with you easily!
Great internal textures. They've definitely nailed the feelings inside the sleeve! There are tons of different grips, ridges and chambers that create incredible sensations as you cock slips in and out. Especially with lube, you'll really feel like you could be doing the real deal!
Powerful suction. Okay, so for a masturbation sleeve that's not powered at all, the Tenga Air Tech has remarkable suction! I wouldn't have thought that such a simple toy would be able to create sensations as wild as it does. So I was definitely impressed by that. It's so strong, and it's different than a lot of feelings I get with other toys, so I almost blew a load way too fast the first time because I wasn't expecting that.
Good for couple's play. In my experience, the best toys to bring in the bedroom are small, sleek toys such as this one. Other ones with big buttholes or vaginas, or that plug into the wall and jerk you off at the speed of light – those can often be intimidating for a partner. So if you're interested in introducing sex toys into the bedroom something simple like the unassuming Tenga Air Tech would be a good one.
What I didn't like as much…
Won't last forever. Although the Tenga Air Tech IS reusable, it's not built to last like the Fleshlight, Autoblow or Kiiroo products are. So if you're planning on using just one toy on the regular several times a week – I'd go with something that is built a bit differently.
Wish I could change the suction levels. While you can kind of play around with the hole on the top, in my experience it doesn't change all that much. So basically, other than squeezing for different pressure, it's kind of a one-mode-only masturbation toy.
A few final words to conclude my Tenga Air Tech review
Overall, I'd say that the Tenga Air Tech gets a good review, and that you'd likely have a great time if you were to try it out yourself! (duh!) If you're looking for something that has a nice suction to it, and that won't break the bank then this is a really great option!
I personally use this one (and others from the Tenga line actually) for two main reasons: its ability to go anywhere with me, and for couple's play (when I'm lucky enough to get that). I have tried some others that I also think are great for travel, but when I'm flying I love these guys. They don't really look like sex toys at all (unless of course, you really take a look at the packaging, or if you use them yourself). But overall I feel pretty secure that if they checked my luggage in public I wouldn't be dying of embarrassment while it happened.
Plus, at this price you can't really go wrong. I'd definitely recommend it to someone who's just trying out masturbation sleeves too – because it's a great way to get your feet wet without making a big financial commitment!
Click Here To Check The Up To Date Price
Product Specs:
| | |
| --- | --- |
| 🏷️ Name: | ⭕ Tenga Air Tech |
| 📁 Type: | ⭕ Tenga Sex Toy |
| ⚙️ Features: | ⭕ Increased Suction Strength |
| 🛠️ Materials: | ⭕ PE / TPE |
| 📅 Last updated: | ⭕ November 29, 2023 |
Disclaimer
Our articles feature affiliate links. If you appreciate our content and would like to show your support, you can consider buying your new sex toys using the links we provide. Every purchase made through our links helps us earn a small commission, without any additional cost to you.