Did you know that over 30% of men ages 18–56 ejaculate prematurely? Does that sound familiar? No, of course it doesn't, because 85% of men don't say a word about it to a living soul. But why am I starting my Myhixel MED review by telling you this? Well, because it's important and, given that the Myhixel is a training device that could potentially help those men, it seemed pertinent.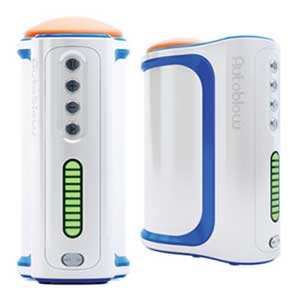 Autoblow A.I.+

Hands free blowjob toy

Heavy duty motor

Powered by artificial intelligence

Interchangeable sleeves

Body-safe materials

Plug it into any electrical outlet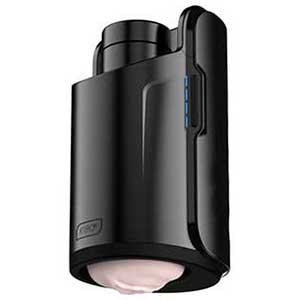 Kiiroo Keon

Automatic stroker

Sliding scale of speed

Elegant and discreet

Real-feel masturbation sleeve

Connects to video chat platform and VR porn

Easy to store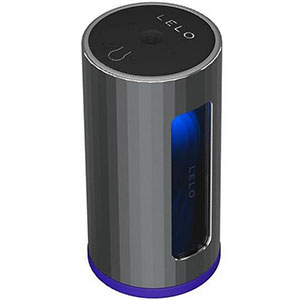 Lelo F1S V2

Hands free blowjob machine

Long-lasting charge

Fully waterproof

Powerful sensations

Realistic artificial skin material

Easy to clean

Promo Code: "HAPPYBF" - 15% Off
Look, I get it. We all want to talk about our cum guns when they are outperforming the competition. However, as soon as they stop working or even show the slightest inkling that something might not be right, we adopt the motto, "Silence is golden."
Premature Ejaculation Is A Complicated Topic
That's no way to live, my friends. Sure, premature ejaculation is a complicated topic. No one wants to be the first one to stand up and say, "My mighty sword is neither mighty nor a sword; it's more of a switchblade that pops up too soon."
But someone has to. Do you know why? Because there are stellar solutions out there. And, because this is a safe space that has no place for judgment, I decided to talk (or rather write) about it. Premature ejaculation doesn't have to be your biggest shame or the boogeyman we all made it out to be, thanks to the Myhixel MED device.
OK, Sounds Great So Far? But What Is Myhixel MED?
Myhixel MED is a two-for-one deal. You know me, I rarely refuse a toy that has more than one purpose. I love me some extras! That was one of the reasons I decided to do a Myhixel MED review.
The other (more important) reason was that it's supposedly a great way to deal with premature ejaculation. Myhixel is a masturbator and behavioral training unit that offers everything that science and technology have to offer, with the goal of making men last longer in the sack. Well, hey, if we can't make science fix that problem for us, why even bother with it, right?
Anyway, let's get back to the product at hand. This two-in-one male masturbator and aid is actually a combination of a product (the masturbator) and an app that offers you training exercises. It's an excellent product for those who can't last longer than 3 minutes in bed (on the regular, not occasionally).
The Play MED app has an exercise program that slowly builds up your stamina and self-esteem. How does it do that? Well, the app-controlled exercise regime helps you to acclimate to different levels of friction. The actual masturbator has a highly realistic inside, which resembles a real vagina more than any other product on the market (at least as far as I've seen, and I've seen a lot). This combination simulates real-life sex and builds up endurance.
Click Here To Check The Up To Date Price
What Makes Myhixel MED So Special?
Myhixel MED is supposed to increase your stamina by seven times. That means that a one-and-done man who usually finishes in three or four minutes can now squat in the cucumber field for almost 30 minutes! That's an impressive improvement, you'll admit.
But it's not just the how long. This toy is unique because of the techniques it uses. In short, Myhixel is a brainchild of behavioral therapy and the sex toy industry. The Play MED app has exercise programs that are based on famous behavioral therapy techniques that sex therapists have used for decades.
For example, those who have sought the help of therapists for their trigger pulling problem probably know about stop-start and pause-squeeze methods. Well, Myhixel MED uses those as the basis of its training regime. However, it also uses the device itself to replicate the actual feeling of bumping uglies with someone.
Changing The Therapy Game
The standard premature ejaculation techniques are adequate; there's no doubt about it. However, you're supposed to use them when you're either giving yourself a much-needed handshake of the personal variety or with a partner. Your hand will never be able to replicate the feeling of a real partner.
Therefore, although effective, those techniques can't solve the problem completely when you're using them during solo time.
On the other hand, if you use them with a partner, you'll be under a more significant amount of pressure to perform. So, they'll work, but not as much as they would when you're alone.
If this seems like a lose-lose game to you, don't worry; the Myhixel people thought the same. That's why they made the Myhixel MED – to give you both a realistic experience and an exercise regime that will help with you blowing your load way too early.
Related
Why It Looks Like An IKEA Lamp (Or, Let's Talk About The Design)
I'll be the first to admit; the Myhixel MED doesn't look that great. When it comes to the design of the app, it's a great piece of software. The hardware, however, leaves quite a bit to be desired, design-wise.
First of all, the device is military green. Now I love all things green, but this is such an unfortunate shade of green that I simply don't have any words for it. The bronze sleeve cover somewhat saves the day, though. So, not all is lost.
The outer shell also has a grid-like texture, making it super easy to grip and hold on to. Playtime can sometimes get slippery, as we all know, so this feature. It might seem like an afterthought to some, but I like seeing that the company thought of everything, even the most minor details.
So, the outside isn't that great-looking (although that's a matter of taste, I guess. Luckily, it's what's inside that matters. The opening itself is pretty neutral (with good reason). Since we're all complete horndogs, we don't need additional stimulation when we're trying to improve our game, do we?
Overall, I actually appreciate the everyday look of the toy (or should I say aid?). Sure, I'm not the biggest fan of the color, but I always complain about all of my toys being black, so it seems as if there's really no pleasing me.
The Specs
Myhixel MED is a rechargeable, splashproof toy. I'd prefer it to be completely waterproof, but you can't have everything in life. After all, the Myhixel MED wasn't made so we could all have a grand old time in the shower. It's supposed to help us improve our stamina (as it does).
So, I'll gladly forgive that it isn't waterproof, especially given how many other features and capabilities it has.
The Size
Overall, Myhixel MED is a one-size-fits-all type of toy. The soft plastic outer shell is 8.5 inches long, while there are around 7 inches of insertable length. The inner sleeve is just under 7 inches long, and it has a realistic, vagina-like texture.
The sleeve really does emulate real-life penetration, just as promised. It's not the tightest on the market, but then again, neither are real vaginas, are they?
The toy is a bit on the heavier side. That's not that surprising, considering how much hardware it has. I don't actually mind it being a bit heavier because that helps with the grip. Lighter toys sometimes tend to slide right off and onto the floor if I really get into it and pump them more vigorously.
The Capabilities
Have I mentioned that Myhixel MED is a vibrating masturbator? Oh, I haven't? How reckless of me! But I had to save the best bit for last.
Vibrations are a vital part of the Myhixel MED training regime. Yes, they aren't exactly realistic, but they, along with the suction levels, are what actually improves your stamina. As some of you may know, using male sex toys, especially masturbators, can desensitize you. That is usually a bad thing. However, when you have the issue of blowing your load too early, a bit of desensitization can only help.
The synergy of the masturbator and the app is made with fixing premature ejaculation in mind. However, the company offers two different solutions.
Myhixel MED
The main option is the Myhixel MED which has a specific audience – men who ejaculate in three minutes or less. As I mentioned, it's a training regime with roots in some behavioral therapy principles that will help you prolong the bursting point (with time, of course). The program increases both the vibrations and the suction while it guides you through the motions. With time, it can up your durability by seven times.
What makes the Myhixel MED program special is that it's tailored for each individual. It starts both by you installing the app and sticking the masturbator onto your schlong but by a consultation with a psychologist. By pinpointing your troubles and capabilities, Myhixel then adjusts the program to you specifically.
Myhixel TR
If you don't have a problem with blowing your load in three minutes or less, but you'd still like to last a bit longer in bed, Myhixel offers its second solution – the TR program. This is the less expensive and less extensive version of the durability training programs I've mentioned before. It doesn't include a consultation, though, so it won't be as tailor-made for you.
Is There Anything Extra?
To ensure the highest levels of that real-life feel, Myhixel has a self-heating feature. Now I know there are plenty of masturbators that have that feature. So what makes it extra?
Well, a real vagina is warm, wet, and welcoming. Masturbators, especially those we use as aids rather than toys, can often feel uninviting and fake. So, the heating feature actually plays a lot into that feeling of fucking into a real vagina.
If nothing else, it makes the entire experience of training yourself to hold in your load as much as possible more bearable, pleasant, and fun.
Click Here To Check The Up To Date Price
How Do I Use Myhixel MED?
In order to make sure your training program isn't dull or depressing, Myhixel made it into a game. There are nine levels of exercises you need to pass in order to get your stamina where you want it to be.
However, before that, you need to open up your package and download the app. Then, scan the code on the box to connect the app and the device. But don't get all riled up to try the masturbator up just yet! First, you have to answer a few questions about yourself, your sex life, and, of course, your stamina.
OK, there are more than a few, and going through them will take a while. But the answers are important because the device needs them to set up a baseline for you and create your program from there. After the baseline is set and your device is connected to the app, you can (finally) lube up and go to town!
Is It Really The Cure-All, One Toy To Rule Them All?
Now, my Myhixel MED review has been candid so far, and I don't intend on changing that at the very last minute. Sure, it's a great tool that will potentially help you improve your stamina and please your lady (or gentlemen) friend. But is it really perfect?
In all my years of trying out and reviewing toys, I've never come across one that didn't have a flaw. Sometimes it's a small, minor thing that other people overlook. Of course, other times, it's a glaring error in design or functionality. Luckily, Myhixel MED doesn't have such massive downfalls, but it does have flaws.
My Main Concerns Are:
It doesn't look that great or like a high-quality toy (this is a matter of opinion).
Depending on the type of phone you use, you might experience connectivity issues with the app. That will usually happen when you're just starting your session (meaning the toy won't get disconnected while you're in the middle of training).
It's not waterproof (I already mentioned this, but it bears repeating).
Finally, it might not work for you. Now, I know it isn't exactly fair to put this in the "what's wrong with the toy" section, but I just want you to be aware that, although great and highly functional, the Myhixel MED isn't the perfect choice for everyone.
If your premature ejaculation problems go beyond psychological and sensitivity issues (meaning, if there's something physically wrong), then I have to advise you to visit a doctor. Myhixel MED was designed by a team of doctors (urologists and psychologists) as well as sex toy experts, but it's not a substitute for a visit to the doctor's office.
A Few Parting Words
There you have it, folks, that was my Myhixel MED review! I don't often review sex aids as I'm more focused on the pleasurable side of the sex toy industry, but given how prevalent premature ejaculation is and that men refuse to talk about it, I had to speak up. Of course, I also had to find the perfect solution! Have you tried Myhixel MED out yet? What did you think of it? Message me, you know I love hearing from you!
Click Here To Check The Up To Date Price
Product Specs:
| | |
| --- | --- |
| 🏷️ Name: | ⭕ Myhixel MED |
| 📁 Type: | ⭕ Male Masturbator |
| ⚙️ Features: | ⭕ Self-Heating Mode |
| 🛠️ Materials: | ⭕ TPE |
| 📅 Last updated: | ⭕ September 16, 2023 |
Disclaimer
Our articles feature affiliate links. If you appreciate our content and would like to show your support, you can consider buying your new sex toys using the links we provide. Every purchase made through our links helps us earn a small commission, without any additional cost to you.