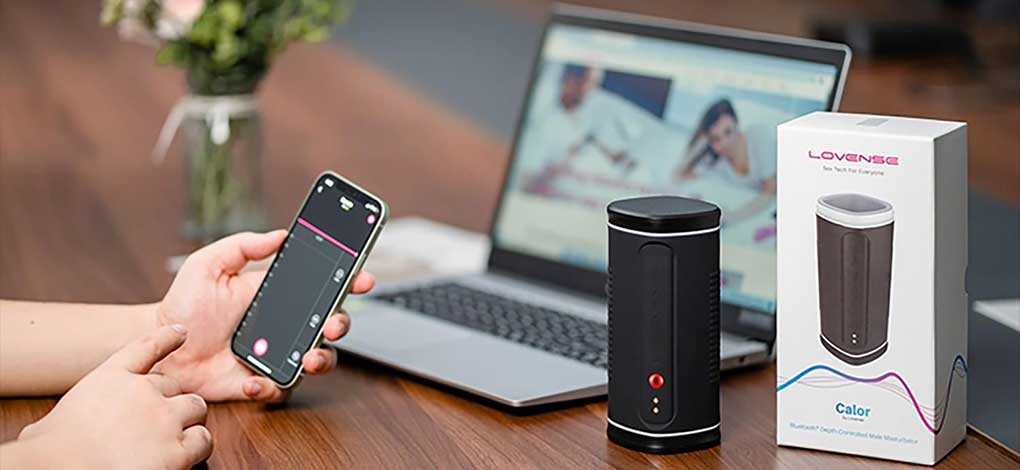 Today, we're doing the long-awaited Lovense Calor review. You've asked for it, and I've finally gotten my grabby, horny little hands on it (and my Sexcalibur in it), so I can tell you all about it. Strap in, everyone; it's going to be a wild ride!
Lovense Calor is the newest male masturbator on the market that offers many features. Some of you know that I prefer to have toys that only have a few functions because I doubt any sex toy maker's ability to make a toy capable of delivering on ALL promises it makes.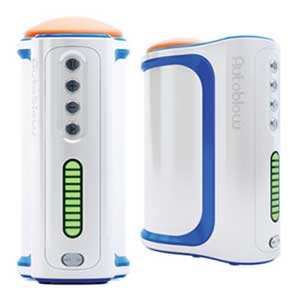 Autoblow A.I.+

Hands free blowjob toy

Heavy duty motor

Powered by artificial intelligence

Interchangeable sleeves

Body-safe materials

Plug it into any electrical outlet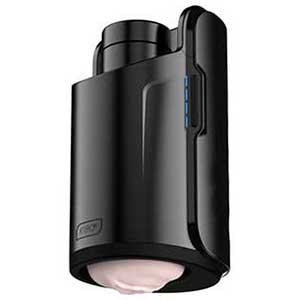 Kiiroo Keon

Automatic stroker

Sliding scale of speed

Elegant and discreet

Real-feel masturbation sleeve

Connects to video chat platform and VR porn

Easy to store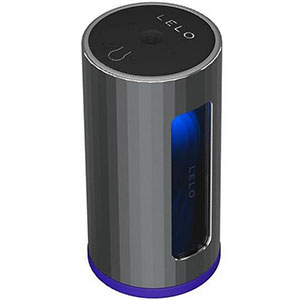 Lelo F1S V2

Hands free blowjob machine

Long-lasting charge

Fully waterproof

Powerful sensations

Realistic artificial skin material

Easy to clean

Promo Code: "HAPPYBF" - 15% Off
Well, color me surprised, ladies and gentlemen, because Calor consistently delivers. It has four main functions that are entirely different from each other, and each of them is a dream to use. As you'll see in my Lovense Calor review, I am fully prepared to admit when I'm wrong. A toy CAN be great even when it's made as an all-in-one toy!
So, let's get to it, shall we?
What Is the Lovense Calor?
Lovense Calor is a sleeve masturbator. However, just saying that it's a sleeve is quite an understatement if you ask me. Calor offers various different features and, unlike all other sleeves that I've used, consistently delivers with each one.
The sex toy market is full of sleeves, as they are the top male masturbator toy. That's why the new stuff that hits the shelves is usually designed to look or feel different. That's also why some manufacturers try to add extra features to their toys (so they would stand out). Sadly, a lot of them miss the mark because the features aren't well designed or make no sense together.
Calor isn't one of those toys. As you'll see in my Lovense Calor review, this toy is thoughtfully designed, so it hits all your sweet spots and gives you an array of options of how you'll pleasure yourself.
What Makes It Special?
Oh, so much! The Calor was made thanks to the latest technology, which allowed for many advances in the sex toy industry. That technology also allowed for the integration of various features. Calor's motor is strong enough to support four different features that can work together in harmony.
Honestly, not many toys can say the same. Calor can vibrate, heat up, and it offers you the option to squeeze your pocket rocket while you're playing. Now, that says a lot about the design. Toys that are squeezable usually don't have a vibrating or heating function, given that they require a firm outer shell. Calor offers the best of both worlds, thanks to its design.
Click Here To Check The Up To Date Price
Small but Mighty – The Design
And, speaking of the design, let's see what the Calor really has to offer. Overall, it looks like a very inconspicuous toy. As all sleeves, it's slightly reminiscent of a shaker, but that's pretty much all likeness it shares with the item. In other words, shaking it won't really get you anywhere (unless that's your thing, I don't kink shame).
Calor is matte black and made out of strong, durable plastic. The inner sleeve is completely made of silicone, and it's white. The combination of the two colors gives the toy an elegant look.
Lovense is a high-end manufacturer, so all their toys look like (and are) premium products. Calor is no different. But despite its great looks, Calor's strength lies in the features. So let's move on with this Lovense Calor review and check them out, shall we?
Give It to Me Good – The Specs
Once your brand new Calor arrives at your house, it will do so in discreet but elegant packaging. Within the box, you'll find the toy itself, a magnetic charging cable, a guide that will help you understand all the features the toy offers, and a storage pouch. Considering that the silicone sleeve of the toy is exposed to air, having a storage pouch is a major plus.
The Size
The first thing you'll notice about the Calor is that it's compact. It's not huge like some other sleeves, but it's not tiny either. If I had to describe it in one word, it would be travel-size.
I appreciate that because huge masturbators seem like a waste to me. What am I going to do with a masturbator that's 9 inches long when I can only use some of those inches?
Calor is 6.2 inches long, and most of that length is insertable (6 inches). It has a diameter of 2.75 inches. Because it has a squeezing feature, the toy has a slightly oval shape (unlike other male masturbators that are mostly round).
The Features
As I mentioned at the very beginning of my Lovense Calor review, this toy has four main features. It vibrates, heats up, allows squeezing, and has depth control. But what does that mean for you, in the practical sense?
Those Good Vibrations
Calor is an open-ended masturbator, which is an important feature that's worth mentioning here. Because it's open-ended, it can accommodate any Juggernaut, no matter its length. However, it also allows the user to control the sensations he feels.
Calor offers pretty strong vibrations. You can control them manually, via the buttons on the toy, or via the app. But, if you don't like a lot of sensation on your tip when you masturbate, the open-ended design will come in handy.
Vibrations are the most basic feature that Calor offers. However, they work great with the others. It's also worth mentioning that you can control the vibrations or customize them via the app. Calor is completely adjustable as well, but we'll get to that a bit later.
Click Here To Check The Up To Date Price
Squeeze Away
While the Lovense app allows you to create an unlimited number of vibration patterns and combinations, the toy itself allows you to squeeze your own pocket rocket as much or as little as you want. The upper part of the toy is soft, which allows you to grab onto your dick if you so choose.
Some other Lovense toys offer the option of automatic contractions. Calor isn't one of them because here, the sensation of contractions is in your hands (literally). Paired with the vibrating feature, it makes Calor a stellar masturbator. But, of course, that's not all.
Heat Up!
Calor's most attractive feature is the heating mechanism. It takes a while to power up, but once it does, you'll be able to enjoy the realistic feeling of dipping your meat flute into a warm, wet orifice.
The heating function works in tandem with all others, which means you don't have to pick which sensation you want to feel. Calor does it all!
Depth Control
Last but not least, Calor also offers depth control. What is that, I hear you ask? Well, throughout its length, Calor has three small sensors that detect how deep into the toy your beaver basher is. The toy then adjusts the strength of vibrations according to your depth. If you thrust into the toy shallowly, the vibrations will be mild, but if you go balls-deep, you'll feel the toy pump up the jam and go all out with the vibrations.
As I said, Calor adapts to the way you masturbate. So, if you're one of those men who like to ease themselves into an orgasm by going slowly and then upping the speed and strength of their strokes, Calor will follow your lead and adjust the vibrations accordingly.
Any Extras?
Surprisingly, yes. The sensors I mentioned also serve as a way for the Calor to connect and send information to the Lovense Remote app. That means that the toy is fully compatible with other teledildonics from the Lovense selection.
You didn't see that coming, did you? Yeah, I buried the lead there and wanted to surprise you with the fact that the Calor isn't just a "toy for him", given that it can easily become a part of a pair.
Aside from that, the Calor is also completely waterproof and has a battery life of 1.5-2 hours. That's more than enough both for solo and partnered play.
I also think another great feature is worth mentioning in this Lovense Calor review. The toy offers you the option of saving vibration patterns and combinations you used. It often happens that I try out something new with these app-controlled toys and bust a nut like never before. However, once the post-nut clarity hits, I kind of forget what I did, and the knowledge of how to achieve the perfect orgasm is forever lost on me.
Related
Well, not with Calor! You can save all combos you try out and use them again in the future. The toy will do the work for you!
Calor Me Surprised, There Are Downsides?
Well, of course, every toy has a few downsides. This wouldn't be a completely honest (or usable) Lovense Calor review if I didn't tell you about the flaws. Luckily, there are only a few of them!
But first, let's check out what the toy has going for it!
Pros:
Of course, the number one pro is definitely the variety of features it offers. You can pick just one of the four main ones or go for the quadruple whammy and try them all out at the same time.
Interconnectivity and the ability to be paired with other remote-app Lovense toys is a huge benefit. Even though Calor is a toy for male masturbation, it's great that it also has the option to transform itself into something you can enjoy with your partner.
The depth sensor is out of this world. It works so well, and it's extremely sensitive, which will surely come in handy during playtime.
Calor isn't too big, so it's easy to travel with.
Thanks to the silicone sleeve, maintenance is a piece of cake.
Cons:
The heating feature is amazing, but it takes a while before the toy is fully warm.
There's no hands-free option, and you have to hold the toy throughout the entire session.
Calor is not USB rechargeable. It has a magnetic cable instead that you'll use to charge it.
Click Here To Check The Up To Date Price
Product Specs:
| | |
| --- | --- |
| 🏷️ Name: | ⭕ Lovense Calor |
| 📁 Type: | ⭕ Male Masturbator |
| ⚙️ Features: | ⭕ Great Sensations |
| 🛠️ Materials: | ⭕ TPE |
| 📅 Last updated: | ⭕ September 16, 2023 |
Disclaimer
Our articles feature affiliate links. If you appreciate our content and would like to show your support, you can consider buying your new sex toys using the links we provide. Every purchase made through our links helps us earn a small commission, without any additional cost to you.