At first glance, you might actually mistake the Kiiroo Onyx 2 for a sexy, elegant speaker or other high-end tech device. It's got a sleek metal grey colour, and it's shaped like a long rectangle with barely any external evidence that it's actually a pleasure-inducing blowjob machine. It's perfect for those who are need of something that can be hidden in plain sight, or are just looking for something a little more discreet overall.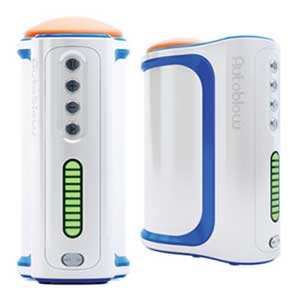 Autoblow A.I.+

Hands free blowjob toy

Heavy duty motor

Powered by artificial intelligence

Interchangeable sleeves

Body-safe materials

Plug it into any electrical outlet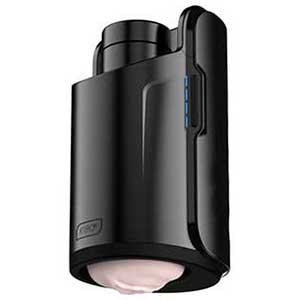 Kiiroo Keon

Automatic stroker

Sliding scale of speed

Elegant and discreet

Real-feel masturbation sleeve

Connects to video chat platform and VR porn

Easy to store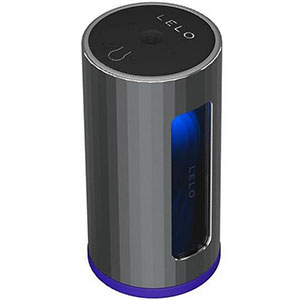 Lelo F1S V2

Hands free blowjob machine

Long-lasting charge

Fully waterproof

Powerful sensations

Realistic artificial skin material

Easy to clean

Promo Code: "HAPPYBF" - 15% Off
Hold up, what is the Kiiroo Onyx 2 Anyways?
I'm glad you asked. It's a divine little machine that has been made to simulate the feeling of getting your cock sucked. And all the while looking like something that could have come out of the Apple store. Don't let its elegant exterior fool you. Inside this rectangular block is a powerful masturbation machine. Kiiroo didn't hold back when they made this device. I have no way of counting this, so I can't say whether it's accurate or not, but they claim that the Onyx 2 sex toy can reach speeds of up to 140 strokes per minute! Like I said, I don't know if that exact number is true, but what I CAN tell you, is that it's pretty powerful. And I definitely wouldn't say that I need it go to any faster.
But here's where it gets crazy. The Onyx 2 masturbator actually comes with its own app that you can download to your phone so that you play with this device interactively. Pretty crazy, right?
Visit the official website and get 15% Off - Use 'BESTBLOWJOB' Promo Code
Kiiroo Onyx 2 Technology
The first thing the manual tells you to do when you open the toy is to plug it into the wall to get it charging. Apparently it takes 4-6 hours but I didn't really count – I'm just going to assume that's true.
Next, they tell you download the apps. There is the "Feel Connect" and "Feel VR" apps. Feel Connect actually lets you sync up to your Onyx 2 sex toy to other sex toys. So if you've got a partner that has a kiiroo sex toy, then you can make them work together. That means you're going to experience similar vibrations and speeds so that you can get in sync with each other.
Feel VR on the other hand, is an app that allows you to watch porn videos that are actually connected to your masturbation machine. So when you're watching a POV video, instead of just imagining that you're really sticking it in her, it's going to kinda feel like you are! When you see her riding "you" hard on the screen, you're going to feel the pressure and speed of the Kiiroo Onyx 2 increase automatically. If the woman on screen slows down, you're going to notice that too. The male masturbator is designed to correlate its movements with what's happening on the video. Pretty cool, right?
Related
How to use the Kiiroo Onyx 2
It's not rocket science, but because of the technology it's slightly different than some of the others.
Step 1: Make sure the device has been charged, and then turn it on!
Step 2: Sync to your bluetooth device if desired. The machine can also be used manually by using the controls on the side of the device.
Step 3: Choose to sync with a partner, or find and download a porn video that turns you on.
Step 4: Use lubricant. I cannot stress how important this step is if you want to have a really good experience.
Step 5: Stick your member inside, and have at it. Whether you've chosen a VR movie, or you're doing it manually it will be fun to see how long you can last. Likely not long with this thing plugging away.
Step 6: Clean up – both yourself and the Kiiroo.
Click Here For More Information About The Kiiroo Onyx 2
What I Liked
I was a bit skeptical about all the technology in this gadget when I was first introduced to it, but I guess it was mainly because I thought things were good enough as they were – why is everyone always trying to improve on things that aren't broken? However, it turns out that I really did enjoying trying this toy out for the following reasons:
Realistic sleeve. The material that the inner sleeve is made from is very nice. With some lubricant it really gives that realistic feel that everyone so desires.
Sliding scale of speed. I like that the Kiiroo Onyx 2 has a sliding scale for the speed so that you're not just left with one or two different options. It makes for a more customizable experience, and the ability to get the speed to EXACTLY where I need it for the most amount of pleasure.
The sleek design. It's really discreet which is a major bonus, because I don't always want people to know that I've got a closet full, or bedside drawer full of male sex toys. At first glance you'd have absolutely no idea what this is, so I feel comfortable just leaving it at the top of my closet and even if someone does see it, they'll have no idea what they're see.
Unique internal movement. The internal automation is very unique, and it's quite enjoyable. I can't decide whether it's more or less realistic than some of the other styles, but perhaps it's just different right? Just like getting a blowjob from different women – no two are the same.
The Not So Good …
While I would say that overall the Kiiroo Onyx 2 is a pretty good investment, there are some downfalls that I must mention which are as follows:
The sound. To start, it's definitely not discreet when it comes to the noise levels, but most of these robotic blowjob machines aren't, so I can't knock it down too hard for that. However, it sometimes sounds to me like chomping. Like teeth chomping. I asked a friend of mine, and he said he could hear what I was talking about, but it didn't bother him – so I guess to each his own.
The controls can be difficult. While I do love the fact that there is a sliding scale for speed that you can control on the side of the device, I find the actual controls, which are just flat on the side, difficult to use at times. The good thing is, you can also control it from your smartphone, so I don't have use them if I'm getting frustrated with them.
The VR videos cost money. I didn't realise when I first got the Kiiroo Onyx 2 that I would have to pay for each individual movie. You can also get a membership, but I figured they'd be free with the purchase of the Onyx 2. So after a while, I got tired of purchasing new ones, and got bored of the ones I had.
The VR videos have room for improvement. While the Virtual Reality videos are amazing, I still think that technology-wise we are just at the beginning, and that waiting a few years to invest in something like might ensure that you get a much better quality of video and corresponding movements. Just like anything, it takes a while to work out all the kinks, right?
No size variance. The sleeves are just one-size-fits-all which is fine for me, but I don't think it would be good for all. You'd have to try it to see, if you're either on the very large or very small side of the penis size range.
My Final Kiiroo Onyx 2 Review
Alright so… how would I rate this overall? It's a great machine. Really, I have had endless hours of fun from this gadget. I do like that it doesn't plug into the wall for the reason that I can use it outdoors as well as indoors, but at the same time I often forget to recharge toys when I'm in the afterglow of my release. So that always frustrates me when I go to use it the next time. However, that's really on ME, and not the product.
So that being said, I'd say the Onyx 2 masturbator is definitely one of the best blowjob machines on the market these days. And all the added technology is really quite exciting – at least at first.
Compared to many other toys on the market, you won't be disappointed with the way this feels. It's got the power, it's got the realistic skin-like material for the sleeve, and it's got many different settings – including virtual reality and partner-syncing – for extra pleasure. If you're willing to invest a bit of cash into a life-long pleasure partner, and are keen on the technology aspects of it, then I'd say this would be a great option for you. If you don't think you'd use the technology, then I think there are other toys on the market that would be better, such as the Autoblow 2.
Use Promo Code 'BESTBLOWJOB' To Get 15% Off Your Order - Click Here
Product Specs:
| | |
| --- | --- |
| 🏷️ Name: | ⭕ Kiiroo Onyx 2 |
| 📁 Type: | ⭕ Blowjob Machine |
| ⚙️ Features: | ⭕ Sliding Scale Of Speed |
| 🛠️ Materials: | ⭕ ABS / TPE |
| 📅 Last updated: | ⭕ September 16, 2023 |
Disclaimer
Our articles feature affiliate links. If you appreciate our content and would like to show your support, you can consider buying your new sex toys using the links we provide. Every purchase made through our links helps us earn a small commission, without any additional cost to you.