I've tried so many different blowjob machines, and some of them were really freakin' good. But I always find myself coming back to the Autoblow 2+ XT. It's my go-to. It's my trusted partner. When I bring this toy out, I KNOW I'm going to have an amazing time. And so while I still use other toys to bring in some variety here and there, (variety is the spice of life, right?) this is by far the most-used toy in my sex toy arsenal.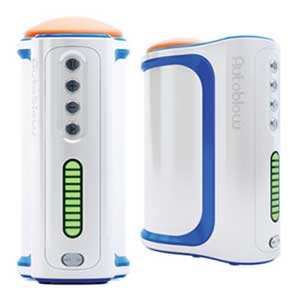 Autoblow A.I.+

Hands free blowjob toy

Heavy duty motor

Powered by artificial intelligence

Interchangeable sleeves

Body-safe materials

Plug it into any electrical outlet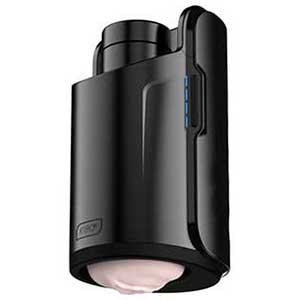 Kiiroo Keon

Automatic stroker

Sliding scale of speed

Elegant and discreet

Real-feel masturbation sleeve

Connects to video chat platform and VR porn

Easy to store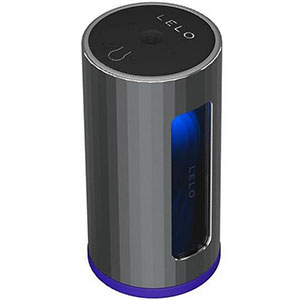 Lelo F1S V2

Hands free blowjob machine

Long-lasting charge

Fully waterproof

Powerful sensations

Realistic artificial skin material

Easy to clean

Promo Code: "HAPPYBF" - 15% Off
What is it
If you're not familiar with this (mind) blowing toy, let me help you get acquainted. It's marketed as a hands-free blow job simulator. And it does a pretty damn good job at living up to its claim.
The toy itself is like a fairly large cylinder, of which you put your member inside. I won't lie, it's nothing really exceptional to look at. It doesn't look fancy, it's not sleek and sophisticated, but does that really matter if it gets the job done? And it's really the inside of the machine that counts, not the outside aesthetics, correct? So, on that point… There is a very soft, smooth sleeve that fits inside the cylinder inside which you insert your manhood. Of course, don't forget to use a bit of your favorite lubricant so that you get the best sensations, and so that you don't get any discomfort from sticking or anything like that.
Once inside, you can just adjust the speed settings and you're on your way to the races! The idea behind the blowjob toy is that it's completely hands-free, meaning that you don't have to do any of the work. The automated system does it all for you, so you can sit back, relax, and enjoy one of the very best blowjobs of your life.
Using the blowjob toy the best way possible
Okay, so first off it's important that you choose the correct sleeve so that you can get the most pleasure out of your newfound companion. The sleeve comes in three different sizes – A, B, C – or otherwise known as small, medium and large. However, choosing size A instead of small really makes the ego feel better when you're talking about your own member, right?
So just follow the guidelines on the website, which are super easy to understand, and the correct size of sleeve will show up with your order. Then, make sure you use lubricant! I can't stress this enough. I've seen reviews of this product online where guys have said that it doesn't feel very good, and it's sticky and uncomfortable. Well guess what – these guys openly admitted that they didn't use lube! I mean, even most of the women out there require a bit of assistance in that area, so why would you think that a man-made device WOULDN'T?! But that being said, make sure you still with water-based lube so that it doesn't damage the incredible skin-like material that the sleeve is made of.
Related
The process goes a little something like this:
Step 1: Plug the machine into the wall. (That's right, men. No batteries. No forgetting to charge it.)
Step 2: Add my favorite lube to my penis.
Step 3: Stick it in.
Step 4: Adjust the speeds and play around a bit. Try to find that perfect spot, that perfect speed. If you're like me, you're going to want to ease into it to make sure you don't blow your load in the first 20 seconds.
Step 5: Just when I'm about to finish, pull back and slow down a bit.
Step 6: Repeat step 5 as many times as I can to increase the intensity of my orgasm when it finally comes.
Step 7: Clean myself. Clean the device.
Step 8: Do it again?
Okay, so I think you get the picture. Steps 5 & 6 are totally optional, but in my opinion they really add a little something to the pleasure factor, so I recommend adding in those steps whenever you have the time to do so. Obviously, a quickie works too, but it's great to see how long I can last, and to see what kind of explosion comes of it.
I also would like to recommend that you throw on some porn. That to me really makes the entire experience that much more realistic. I mean, I can imagine a lot of great stuff in my mind, but seeing the images of beautiful women while having this machine just going at my cock – it seriously makes me forget that I've got a machine down there! I most definitely suggest that you give it a try!
What's the difference between the Autoblow 2+ and the Autoblow 2+ XT?
Up until recently, my favorite male masturbator was the 2+. Then they came out with the 2+ XT… and I had to try it out. After all, how could they improve on perfection? This is how:
It's Tighter (read: better). It always had these kind of… rows of beads that wrap around the soft sleeve you insert your manhood into. And they move up and down mimicking the stroking or sucking action on the shaft of your member. And they always felt good. But now they've built them with some sort of spring-loaded action which makes the grip just that much tighter. And it's amazing how good that extra bit of pressure feels!
There's more stroking action. Not only did they add the spring-loaded action, they upped their grips from 3 to 5 so you get a fuller stroking experience on your cock. Again. Need I say how much better it feels?
It's (slightly) quieter. They've always had an industrial strength motor, but they've upgraded to an all metal motor and it does seem to me that it's quieter than the previous version.
All in all, they took my absolutely favorite male sex toy and made it my even more absolute favorite male sex toy? If that makes sense?
PROS
As I said, I've tried many different machines, but I always come back to this sex toy, and here are the main reasons why:
It feels incredible. Whatever they did when they added the spring-loaded grips (and increased the number of grips) it REALLY made a difference in how it feels – in the most incredible way!
It's simple to use. Really, you just plug it in whenever you want and don't have to worry about remembering to charge it, or buy batteries. Plus, the controls are very straightforward and easy to use, even in 'the moment'.
It's incredibly powerful. It comes with an improved industrial strength motor and so it's able to go incredibly fast, and it won't burn out even after hundreds of hours of use.
It has different sizes of sleeves. I mean, I'm not the biggest man out there by any means. In fact I'm pretty average. But even I have had trouble with different sex toys being too loose or too tight, which is why I like that the sleeve can be customized to make sure that every guy gets the perfect fit!
It's easy to clean. This is so important to me, since I've tried many different toys in the past that are just so difficult to clean that it actually deters me from using the toy at all. With the 2+ XT I can simply remove the sleeve and wash it in some warm soapy water and leave it to dry. It's super simple, and it cleans very well with ease, so I never have to think about whether or not I'm up for a giant cleanup after my release session.
The 'not as good'
Nothing is perfect, right? And although the Autoblow 2+ XT comes pretty close, there is still room for improvement in my eyes. And those areas include the following:
It's not quiet So they've improved their motor, but I still wouldn't feel comfortable using this when I know my mother is just in the next room. If you're looking for industrial strength though, you're not going to getting something that's quiet as a mouse.
There are just two speeds. Trust me, both speeds will get the job done, but it would really be great to have a slider scale, or at least a few more speed options. This would make the entire experience more customization which I think would be a great addition to the product.
It's not waterproof. It plugs into the wall, so obviously it should not be taken into the water. Just a bit of a shame though, since I do love to have some fun in the hot tub or shower.
My final thoughts
With all the pros and cons laid out, I think it's pretty obvious that the pros far outweigh the cons. This toy was one of the very first automated penis sucking machines, and I thought it might be impossible to top! (Although, looks like they topped themselves when they made the upgrades this past summer). The price, the feeling (oh, the feeling!) and of course the quality are hard to beat!
If you're looking for a male masturbation toy that's sure to make you blow your load, then you're in the right place! The Autoblow 2+ XT is what you need. It is the closest thing I've felt to getting a real blowjob outside of course, the real thing. And many times I actually find this way more satisfying. There's no stress is wondering if she's enjoying herself, or wondering if you're taking too long, or not taking long enough. You can just literally sit back and enjoy the ride. No gagging, no choking, no disgusted looks when you try to get her to deep-throat you. Just pure, incredible sensations that feel like the best blowjob of your life.
And if that doesn't convince you, then I sincerely encourage you to give it a try yourself! Have a partner already? No worries. I've used it many times while I've been in relationships, both on my own in private, and also a few times with her in the room. I was surprised to see how much pleasure she got out of watching me make myself cum. It's become a real staple in our sexual routine.
Click Here To Visit The Official Website
Product Specs:
| | |
| --- | --- |
| 🏷️ Name: | ⭕ Autoblow 2+ XT |
| 📁 Type: | ⭕ Blowjob Machine |
| ⚙️ Features: | ⭕ Quieter Stroking Experience |
| 🛠️ Materials: | ⭕ Skin-Like Material |
| 📅 Last updated: | ⭕ September 16, 2023 |
Disclaimer
Our articles feature affiliate links. If you appreciate our content and would like to show your support, you can consider buying your new sex toys using the links we provide. Every purchase made through our links helps us earn a small commission, without any additional cost to you.