Is it just me, or is there something about the word 'ripe' that sounds a bit off? It's kind of like the word moist I think – you either love it or you hate it, but there are very few people that are just indifferent. Sorry, moving on. Despite the fact that I'm not a big fan of the name, I have to admit that the Vulcan Masturbator Ripe Vagina feels pretty damn good!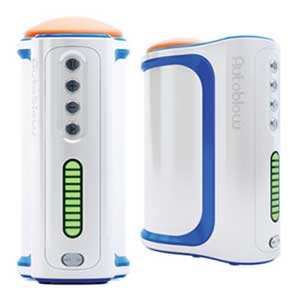 Autoblow A.I.+

Hands free blowjob toy

Heavy duty motor

Powered by artificial intelligence

Interchangeable sleeves

Body-safe materials

Plug it into any electrical outlet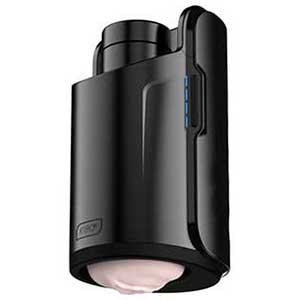 Kiiroo Keon

Automatic stroker

Sliding scale of speed

Elegant and discreet

Real-feel masturbation sleeve

Connects to video chat platform and VR porn

Easy to store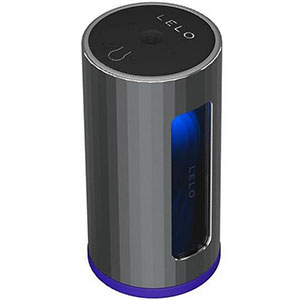 Lelo F1S V2

Hands free blowjob machine

Long-lasting charge

Fully waterproof

Powerful sensations

Realistic artificial skin material

Easy to clean

Promo Code: "HAPPYBF" - 15% Off
What is the Vulcan Masturbator?
The Vulcan Masturbator Ripe series includes three different versions: The Vulcan Masturbator Ripe Vagina, Ripe Anus, and Ripe Mouth. Each one comes in a brightly colored cylinder, that if it weren't for the words "Ripe Vagina" on the side, one might think was a shampoo bottle or even sunscreen. Once you flip the top off though, you're in for a surprise.
Screw off the top and you'll find a pretty little vagina staring back at you. Of course, this is where you insert your manhood if you're ready to have a little fun. The Vulcan Masturbator is a pretty simple masturbation sleeve, so you don't need to worry about batteries or hooking up to an electrical supply. All of the power you need comes from your own hand as you change the tightness of your grip to change the way that it feels during your masturbation session. Squeeze if you want it tighter, and release of course if you want it to loosen up.
The holes in the side of the casing are designed to create some added suction for a more realistic feel. The pattern on the outside (in the case of the Ripe Vagina it's a series of repeating lines) indicates what the texture is on the inside of the masturbation sleeve – and it feels real good!
And once you're done, clean up is really simple! You simply remove the sleeve from the casing and wash! The sleeve is open on both ends which makes washing (and drying) the toy incredibly easy, and you won't need to worry about much about it getting any mildew or weird smells inside.
Click Here For More Information About The Vulcan Masturbator
A quick review on how to use the Vulcan Masturbator for best results
So like I said, the Vulcan masturbator is a pretty standard masturbator. There are no buttons, modes, or automated parts – BUT you still want to make sure you get the most out of your experience, right? So here's what you do:
Using a water-based lubricant, lube up your own Johnson, and then put some lube at the opening of the Vulcan Masturbator to ensure a smooth entry.
Put on a good porn flick, or pull of a photo of that girl you think is super hot.
Insert.
Stroke away.
Climax. (aw yeah!)
Clean up.
Repeat.
Okay, so number 2 and 7 aren't technically necessary. But number 2 is highly recommended, and number 7 might be inevitable once you see how fun this thing is. Just be sure to remember to play around with different pressures during your session to make sure you're getting the most out of it. And avoid any silicone or oil-based lubricants which can begin to deteriorate the realistic material that the sleeve is made out of.
The toy is also waterproof, and it doesn't require any power, so feel free to try it out in different places to add some variety to your play! After all, this is your own solo session. You're calling all the shots!
Related
The PROS
It sucks. No, like it literally sucks. My dick. (aw yeah!) Many toys, especially in this price range, don't offer any suction at all – so for what you're paying this is definitely decent. Keep in mind that there are better suction masturbators, but for the price the Vulcan Masturbator is pretty good.
Good size for travel. This thing doesn't weigh much, and it's small enough to throw into my toiletries case if need be. I've brought automated toys with me before, and it's just too much stress worrying about whether or not I'll get them through security, if they turn on and create a scene, etc. So it's nice that with this one I don't have to worry about any of that.
Can fit pretty much all sizes. This is actually a pretty sweet feature for the Vulcan Masturbator is that it fits pretty much any size of man. If you're pretty long, you can just take the inner sleeve out of the casing. The sleeve is open on both ends so even if you're super long (congrats man!) then you can still use – just you'll be sliding right out the other end. I have never had to use it this way, but that doesn't mean I'm not blind to its benefit.
Comfortable to use. It's shaped well so that it's easy to grip and your hand doesn't cramp up or anything if you're using it for a while. Like I do with a lot of my sex toys, I like to prolong my sessions so that when I'm bed with a partner I can last a long time to make sure they have a good time. That's why it's important to me that it's comfortable to hold and easy to use over a long period of time.
Discreet. Like I mentioned in the beginning, other than the words on the side of the Vulcan Masturbator, I would never guess it was actually a male masturbator just by looking at it! The bright colors make it look more like it belongs in a surf shop or something, rather than in a sex toy store.
The not so good part of the Vulcan Masturbator review
Strange sucking noise. This is definitely something that turned me off the toy a bit. The holes in the case are there to create a sucking sensation which they do – but it also makes a bit of a weird noise that can get louder and softer depending on what you're doing. So I can't use it if someone is nearby which isn't a problem most of them time, but sometimes it is. In those cases I can just take the sleeve out of the case, but that eliminates a lot of the suction. It still feels good, but it's not the same.
Not intense enough for all. I have a bunch of toys, so for me this is a great addition to spice things up. However, it's not overly stimulating. The ribs are good on the inside of the sleeve, but there are toys out there with much better texture inside.
Low quality. Yes, this toy is meant to be reusable, but it's not built for life like The Autoblow or Fleshlight. You can count on those products lasting a very long time. This one you must be sure to take good care of after each use to prolong its use.
In conclusion…
Overall, the Vulcan Masturbator is a really great blowjob toy… for its price! Usually coming in around 20 bucks, you'll definitely get enough fun out of it to make your money back! But like I said, if you're looking for a toy that's going to last you for years, then you're likely looking in the wrong place. I mean I've had mine for a while, but I don't use it every day. So if you're new to male sex toys and just want to give it a try (solo or with a partner) then this is a great place to start! Because if you don't end up liking it (I bet you will) then it won't be a big investment wasted!
Just make sure that you're using it where the sucking noise can't be heard. I like to be able to use my travel sex toys in plane bathrooms or wherever I may need a release so the noise did bother me a bit, but if you're not into public sessions, and don't have a roommate sleeping next to you, then it shouldn't be a problem for you.
That being said, you can't really go wrong for the price, can you? It's comfortable, it fits easily into your suitcase or desk drawer, and it's easy to use. No worrying about power supply or button controls, etc. Just stick it in, squeeze and stroke. Simple!
And it's simple design also means that it's waterproof (bonus!). If you haven't tried using masturbation sleeves while in the shower, it's about time that you do! Something about the water, the soap, the slickness, that just adds an extra element making your playtime even more exciting! So what are you waiting for? Screw the rubber ducky… you're gonna want the Vulcan Masturbator Ripe Vagina for your next bath-time!
Click Here To Check The Up To Date Price
Product Specs:
| | |
| --- | --- |
| 🏷️ Name: | ⭕ Vulcan Masturbator Ripe Vagina |
| 📁 Type: | ⭕ Male Masturbator |
| ⚙️ Features: | ⭕ Waterproof And Travel Friendly |
| 🛠️ Materials: | ⭕ TPE |
| 📅 Last updated: | ⭕ September 16, 2023 |
Disclaimer
Our articles feature affiliate links. If you appreciate our content and would like to show your support, you can consider buying your new sex toys using the links we provide. Every purchase made through our links helps us earn a small commission, without any additional cost to you.