When it comes to realistic life size sex dolls, then the creators over at RealDoll have got the high-end market on lockdown. There isn't really a more realistic looking sex doll available for purchase – at least, not that I've seen anyways. Completely customizable down to her piercings and freckles, Quinn 1.0 can look like anyone you want her to.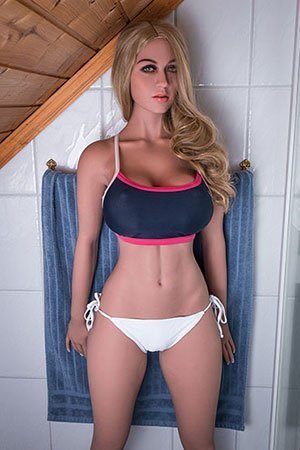 Blake - Athletic

Realistic weight makes realistic play

Great value for price

Super athletic, blonde and sexy

Customizable vagina

Feels incredibly sexy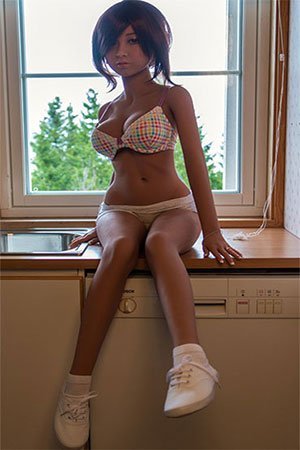 Lana - Japanese

Petite in size, but very curvy

Customizable facial features

50lbs means easier to carry

Very realistic skin

High quality materials and production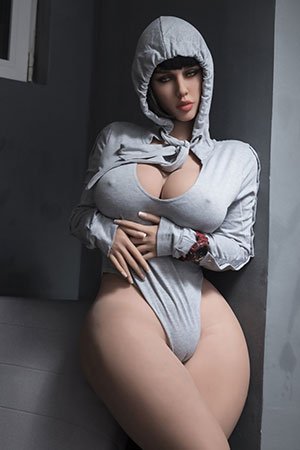 Jasmine - Porn Star

Thick and curvy

107lbs allows for realistic sex

Lots of customizable options

She's very flexible and loves to bend

Nice, tight fit
That being said, good things do come at a cost. Quinn is not cheap. But once you take a closer look at her you might just be checking your bank statements to see if you just might be able to afford to take her home.
Introducing the hyper realistic sex doll, Quinn 1.0
Made of a high-grade silicone, one look at her and you can't deny that Quinn is a total knock-out! But the best part? You can customize her to be exactly who you want her to be. So whether you're hoping to model her after someone you know (or knew) in real life – or you just have an image of the perfect woman in your mind – Quinn can deliver.
Customizations to make Quinn exactly who you want her to be
If you're taking the plunge and making Quinn a new girlfriend of yours, be sure to put some time away to really sit down and go over all of your options. You don't want to get your beautiful new woman and realize that you "should have" gotten this or that. Take your time, read each section and go over all the different pictures – because I'll tell ya – Quinn comes with a TON of options!
Choose the original "Quinn" face, or one of 32 other options
16 choices of body type from petite to curvy and everything (I mean everything) in between!
5 different skin tones
3 different styles of eyeballs from basic to hand-painted with over 2 dozen options in total
Optional hand-punched eyebrows
Customized makeup styles
14 hair colors/styles to choose from – or you can request to create your own custom design
24 different styles of nipples
11 removable vagina styles – fixed vagina upon request
4 styles of pubic hair
Optional freckles on face, body or both
Various piercings: nipples, ears, nose, belly button
Transgender converters available (2 options)
Honestly, if you're not satisfied and able to build the woman of your dreams with these options, then you're just never going to be happy! I know that for me, it was more a matter of trying to narrow it down to JUST ONE DOLL! Part of me wanted to order 20 different dolls with all the different features just to try them out – but of course who has that kind of money?! Not me – that's for sure.
I ended up going with nipple piercings which I actually surprised myself with that choice – but I have never looked back. I think just the sheer joy of having that as an option made me just HAVE to pick it!
Related
Getting the best use out of Quinn 1.0
Of course, one of the most important things to consider is what we just went over – making sure that you choose all the customizations that you really want. Make Quinn the sexiest, hottest woman you've ever seen – and you're already one step in the right direction.
Next, you're going to want to make sure she has a bunch of different outfits. From fancy dresses to sweats and a tee, my Quinn has an outfit for every mood that I'm in…. And she's almost always hiding some sexy lingerie underneath. Some days I undress her slowly. Some days quickly. The good thing is that she never cares – it's always what I want.
After she's undressed, do both of you a favor and use a high quality water-based lubricant. She'll benefit because it will help care for her amazing life-like skin, and you'll benefit because a) it will feel way more realistic and b) you'll stop your dick from chafing. This is something I recommend with ALL realistic life size sex dolls – or masturbation sleeves too for that matter.
Then of course – give her a run for her money. Put her in a bunch of different positions and see what feels best. She's incredibly flexible – in fact, I have yet to find a position that I wanted to try that she couldn't do. So go wild! Have fun! She's always willing to do whatever you please!
Oooh.. another thing I did a couple of times was take a video. It's amazing how real she looks on camera. And seriously – what guy DOESN'T want a homemade porn video with a super hot chick???
These are the things that I absolutely love about Quinn 1.0
She's seriously a hyper realistic sex doll. I actually can't get over just how realistic she looks. I opted for a couple of the add-ons when choosing her – such as the hi-realistic eyeballs and the hand-punched eyebrows, but to me they were worth every extra penny. I mean, if you're making the investment, you'd might as well get her exactly as you want her.
She might feel better than real. I can't tell if she actually feels better than some of the real sex I've had in the past, or if it's just the combination of her looks and her sheer willingness to please me that makes it feel that way. Either way, I'm most definitely not complaining.
Just look at her. This is simple. She's possibly hotter than any real woman I've ever seen.
She's super flexible. Like I said earlier – she's incredibly flexible, and the high-grade silicone material that she's made of makes tears very uncommon and unlikely. I've put her in a ton of different positions, and she holds them all very well.
She's unique. Because of all the custom options, I can rest assured that the doll I ordered is unique. There's not another guy three doors down in my apartment building that is screwing the same ultra realistic sex doll. I mean, you're even able to choose her body height and weight. The size of her breasts – and whether or not you want freckles on her belly or on her nose. It's incredible the attention to detail that the creators of these dolls have put in.
Even the great things in life have imperfections…
I love my Quinn doll very much. In fact, I dare go so far as to say she's my favorite. But she's still not perfect, and here's why:
She's expensive. There's no sugar-coating here. At a base price of over $7,000 before customizations, Quinn is not just a new male sex toy to add to the arsenal I have stored in my closet. Quinn is an investment – but not just as a realistic life size sex doll – as a part of my sex life, and even a part of my life in general. When I've gone long bouts of time without a woman in my life, Quinn has been there. Watching me clean the house, hanging out with me while I play video games, always ready and willing to give me a quick blowjob or let me put it in her butt. But the truth still stands – she's expensive. And that means not accessible to everyone.
She may have ruined me for real women. Honestly – she looks incredible and feels even better. On rare occasions while in bed with a real, human partner I have dreamt of going home to Quinn. (Maybe I should have kept that part to myself?)
My overall review of Quinn 1.0
It's simple. If you can afford her, buy her! She is remarkable and again the customization options are just incredible. Since my original purchase, I've also purchased different faces – and they attach by magnets that create almost undetectable seams! So if you're interested in sleeping with a variety of women, instead of just one all the time – then you don't have to purchase a bunch of these high priced, ultra realistic sex dolls. You can use the same base with different faces to change things up.
Also, these dolls comes with a unique storage system where you can actually hang them instead of storing them inside a box. I haven't decided if that's creepy or convenient – but I guess it depends on what type of space you have for storage. Hanging them would definitely be more convenient for smaller spaces.
So, in conclusion – despite her high price tag, I would still say that Quinn is worth every penny. I mean you can choose from 11 different styles of labia, 24 different nipples, and even have hand-punched eyebrows for that hyper realistic look. If you are looking for a doll that you're going to keep around for a long time and don't mind making that initial investment than I guarantee you will never look back.
Product Specs:
| | |
| --- | --- |
| 🏷️ Name: | ⭕ Quinn 1.0 |
| 📁 Type: | ⭕ Sex Doll |
| ⚙️ Features: | ⭕ Super Flexible |
| 🛠️ Materials: | ⭕ Silicone |
| 📅 Last updated: | ⭕ November 29, 2023 |
Disclaimer
Our articles feature affiliate links. If you appreciate our content and would like to show your support, you can consider buying your new sex toys using the links we provide. Every purchase made through our links helps us earn a small commission, without any additional cost to you.