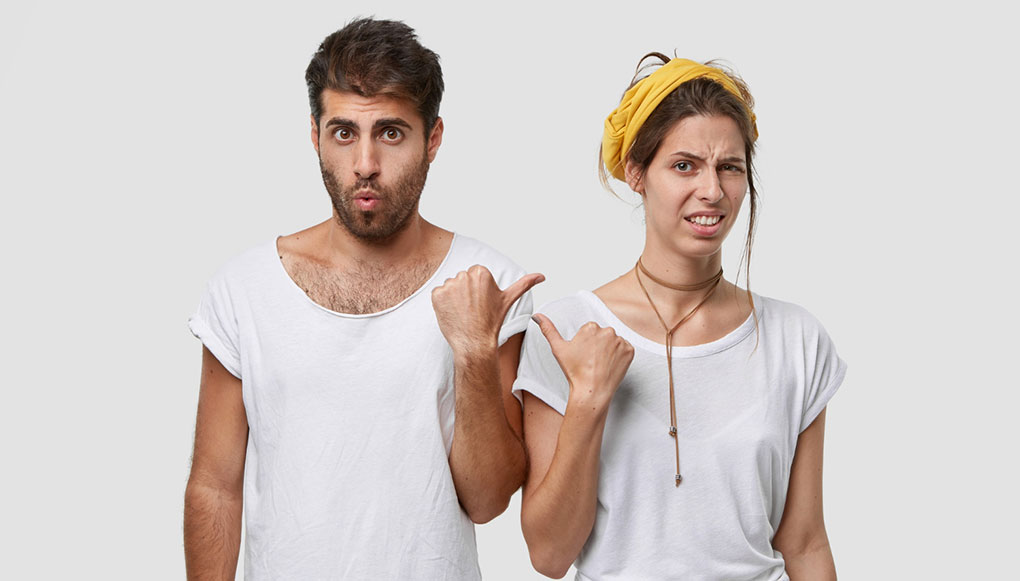 Take This Quiz To Determine If You And Your Partner Are Driving Others Crazy!
An annoying person is awful. But you know what's worse? Two of them. When two individuals date one another, they become an entirely different entity: the annoying couple. If you and your partner can claim one or more of the seven relationship traits below, you might just be an annoying couple:
Bailing On Plans
Being in a super-duper happy-comfy or hopelessly love-stricken relationship is a beautiful thing, but it doesn't give you license to start flaking on your friends.
Don't be the kind of person that was more fun when they were desperately single – making "plans" with others will lose all meaning if you become part of a couple that doesn't make an effort.
Becoming One Person
Starting every sentence with a self-satisfied "we" is going to alienate you. It's okay to be part of a couple – but don't lose your individuality! Haven't you heard the old adage "absence makes the heart grow fonder"? Go ahead and give yourselves the opportunity to miss each other by thinking and acting on your own sometimes. A little time apart can be a gift no matter how much you like / love / lust after each other.
Showing Off
Weird inside jokes are great – but when the punch lines become major staples in your everyday vocab, you may have a problem. The same goes for subtly brandishing your engagement ring in every photo or bragging about how well the two of you "always get along no matter what". There are other ways to enjoy yourselves and show others how deep your love goes without making it uncomfortable for others.
Playing Social Media Tag
Most of us knew this already, but now you do, too: the more you publically post on the internet about your relationship, the more insecure you actually are about it. Playing comment tag on Instagram while in the same room as your partner or constantly extolling your love for each other in a Facebook post are grounds for your friends to "unfollow". Save the public e-love for special milestones and important occasions.
PDA / TMI
Whatever tush-patting, cheek-nuzzling, hipbone-stroking, forehead-pressing, torso-merging nonsense you're engaged in around your poor friends, stop it. Gauge the discomfort in the room and reevaluate just how flirtatious your public appearances should be (hint: limited). Same goes for revealing to your friends private information about your sex life or physical attraction to your partner. Before you act, ask yourself: "Would I want to see / her my parents do this?".
Arguing Freely
It's great that you feel comfortable enough with yourselves and everyone within earshot to have a blow-out fight or an intensely awkward power struggle, but the only place in which it's appropriate to argue freely is behind closed doors with the shades drawn. No one wants the noise pollution, nor the awkward role of playing referee.
Offering Unsolicited Advice
Some people are content being single (gasp!), and others aren't. As a happy couple, you may feel compelled to help those who haven't found love yet – and if your advice thoughtfully balances logic with emotion, you each may have something great to offer. However, lecturing a single person alongside your significant other will likely feel more like ganging up. Be mindful by first asking if your friend is interested in your thoughts – and never forget that what works for the two of you might not be what the other person needs or wants.
Bottom Line
So, how'd you do? Here's what it means if you recognize your own relationship in one or more of the previously described scenarios:
0: Congratulations! You are not an annoying couple. Feel free to give each other a high-five, a pat on the back, and a congratulatory fist-bump.
1-3: You're riding a fine line between being a couple that others love to be around, and one that makes them cringe. You might have some reeling in to do, but thankfully, you already naturally tend to operate within the tolerable limits of proper couples conduct.
4-6: It's great that you're in love, but take a step outside yourselves to recognize the hulking relationship beast you've become. Bring it down a notch! … And get a room!