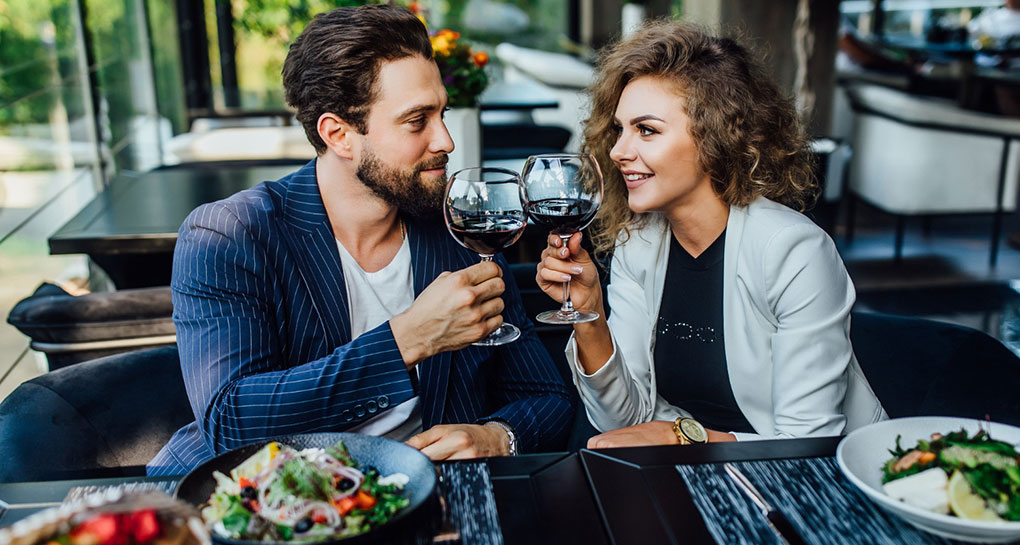 Don't Settle For Awful Canned Openers – Break The Ice With These Suggestions
We've all heard the worst: "Come here often?", "What's your sign?", "Are you an antiquer? Cause I have some junk that hasn't been touched in years". But the truth is, any of these clichéd, cheesy openers will get you little more than a groan (if you're lucky) or a kick in the crotch (if you're not). Using any variation of one of the following pickup lines, however, will not only protect your nether parts from attack – it'll actually greatly increase your chances of landing a date.
1. "Any idea what's good here?"
If you're at a restaurant or bar, one of the best ways to strike up a conversation with someone is to ask for a recommendation of what to eat or drink. It shows that you value someone's opinion, and have the confidence to ask for it outright. Most importantly, this line allows you to talk innocuously about your surroundings for a bit before transitioning into more personal talk. It's the perfect gateway to more intimate discussion! Just be sensitive to the type of establishment you're in – you won't want to try this at a McDonald's.
2. "Wow, that _____ was crazy."
Using your environment to initiate convo indicates that you're a genuine person who doesn't just show up to venues with an arsenal of pick-up lines to get laid. And there is no better topic of in-the-moment conversation than an unusual event that transpires in front of you and the person you wish to speak to. Is the bartender obviously exhibiting bizarre behavior? Perhaps a fight has broken out nearby.
Or maybe an especially drunk stranger is loudly quoting Ron Burgundy from Anchorman. If (and only if) the other person is noticeably reacting, engage with him or her about it.
3. "That's a really nice ______."
Sometimes it's best to go straight for the compliment, letting a potential dater know that you admire their style or smile. Careful, though: temper your excitement. Gushing over how amazing you think this person is will be perceived as aggressive and possibly creepy – soften your language with descriptors like "cool", "sweet", and "nice", rather than employing words such as "gorgeous", "beautiful", or "sexy-as-all-hell-mmmmm". And if you've busted out the positive remark off the bat, leave the oozing there. You don't want to continue fawning all over the person like you've never seen a member of the opposite sex before. It reeks of desperation, and will do more harm than good.
4. "Hey, I'm _____."
Once in a while, nothing works better than a simple introduction. From here, the possibilities are endless. But I don't recommend getting right into your ultimate intentions immediately after shaking hands (i.e. "Hey, I'm Ethan. Can I take you out / home / to bed?") Try to bridge into a more casual interaction by asking the person how he or she is doing, what brings them to this venue, or why you "just had to" come over and say hi. Take note, though: succeeding with this method is harder than it sounds, as converting to a meaningful conversation requires more skill than you might realize. Be sure you have some follow-up topics and questions to fall back on after the groundwork has been laid.
Ultimately, nothing breaks the ice better than comedy. And I'm not talking about some canned pick-up line your Grand-uncle Harry taught you fifteen years ago. I'm talking about an original, clever, spur-of-the moment joke delivered with subtlety and tact, again, preferably in reference to your surroundings. Using an authentic-sounding foreign accent is a bonus. But if you're not the comedic type (or if you think you are, but have received dozens of reviews from family and friends who disagree), I'd highly recommend leaving this one to the professionals. Instead, be your most confident, genuine self, and you can't go wrong when approaching a great potential match.