Tip #1: Learn the ABCs of oral sex on her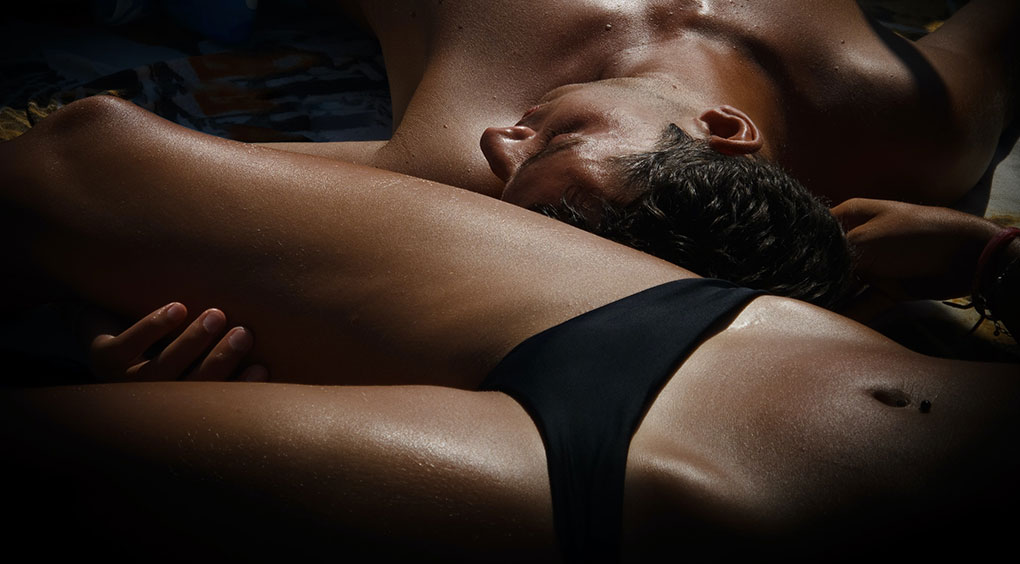 While everybody is different, a few basic things remain the same. Here are some tried and true tips for before, during and after performing cunnilingus:
Share a shower together before you begin so neither of you have to worry about possible unpleasant tastes or odors.
Ask your partner what she likes. At the very least, she can say things like "harder" or "slower" or "more circles".
Fill your own mouth with saliva first. Never touch or lick the clitoris with a dry finger or tongue.
Know where the clitoris is but don't dive straight for it. First try gentle kissing and licking around the upper thighs and vulva.
Tell her how good she looks, smells and tastes.
Think variety. If you repeat the same motion, your partner may become temporarily insensitive to it, so be sure to vary your stimulation.
Let your hands roam. As she becomes more aroused, insert a finger or two into her vagina.
Some women like to have a finger gently inserted into their anus. If she doesn't like it, don't do it.
Continue to fondle and hold her as she orgasms and after.
The clitoris has more nerve endings than the entire head of the penis. Be gentle.
Unlike men, many women enjoy strong stimulation while having an orgasm. Keep it going until she asks you to stop.
These suggestions should give you a start, but experiment with different techniques and adult toys to see what you and your partner enjoy. The greatest tip of all is to relax and enjoy yourself. Enthusiasm goes further than even the best of techniques!
Tip #2: Create an oral pleasure scenario
Again, everybody is different. However, some variation on the following plan should work wonders.
Set the scene with candles, fresh flowers, incense, soft music… whatever she prefers. Your thoughtfulness will surprise and delight her.
Make sure she's comfortable. Encourage her to recline on the bed. Place a few pillows behind her head. Make sure she isn't cold.
Don't dive directly for the genitals; spend some time kissing her lips, shoulders, breasts and belly. Stroke her lightly with your fingertips. Tell her how beautiful she is. Move down between her legs and gently kiss, blow, stroke and nibble her belly, inner thighs and hips.
When she's breathing heavily, gently spread her legs and kiss her pubic mound. Nuzzle around for a few minutes, spending time with the different parts of her vulva. Pay attention to her breathing; when she breathes faster, she's enjoying herself more. Take note of what she likes and repeat it.
When she sounds highly aroused – she may be wiggling around a bit, as well – spread her labia and gently kiss and tongue her clitoris. Don't hold the clitoral hood back unless she instructs you too – the clitoris is highly sensitive.
Lick and nuzzle the entire area: vaginal opening, perineum, inner labia and clitoris. If she says or otherwise indicates that she particularly likes what you're doing, spend a little time there.
Wrap your arms around her hips, cupping her buttocks, and get to work on her clitoris. Apply firm pressure with the tip of your tongue in a circular motion. Be patient: you might be here awhile. If she's not responding to the clitoral pressure you're exerting, try some variations. Try tracing the letters of the alphabet across her genitals and clitoris. Try inserting your tongue into her vagina (some women dislike this, so pay attention to her response or just ask her if she likes it). Vary speed, pressure and intensity. Try inserting your fingers or a sex toy into her vagina. Be creative.
When you hear rapid heavy breathing and feel her body start to tense up, she's really enjoying the stimulation you're giving her. Whatever you do, don't stop doing what you're doing. She's probably about to have an orgasm.
Continue to stimulate and hold her while she climaxes. Be warned: women can have much longer orgasms than men and can experience waves of orgasms that last several minutes. Let her enjoy herself and continue to stimulate her until she lets you know you can stop.
Tip #3: Learn how to request (and receive) cunnilingus
While studies show that the majority of men (and lesbian women) enjoy performing cunnilingus; some may still need a little coaxing from you. Hint that if your partner pleases you, you'll take care of them too. Suggest a "69" position. Work cunnilingus into your regular sexual program, but don't expect it every time you have sex. Thank your partner by reciprocating or indulging them in one of their fantasies.
While you're on the receptive end, try to relax. One of the reasons it can take some women so long to reach orgasm is that they don't relax enough to climax. Try not to think about how you smell or taste. Don't worry that you're taking too long; it naturally takes most women longer than men to reach orgasm. Try to relax and enjoy the stimulation your partner is giving you. If you prefer, try closing your eyes and fantasizing. When you're getting ready to have an orgasm, let your partner know so they can concentrate on providing you the rhythmical stimulus you need. Ride the waves until your body is done climaxing. Then thank your partner with a long, juicy kiss.
Tip #4: Surprise her with oral sex props
You don't have to rely solely on your mouth or fingers when "going down south" on your woman. Our tongues and fingers were not made to vibrate, pulsate or gyrate and most of us can't provide unlimited stimulation with them. And, sometimes orally pleasing your partner can be downright tiring. Never fear, there are some special oral sex props that can assist you.
Try the following to enhance your oral play repertoire:
When your tongue gets tired of flicking and licking her "love button", try using a clitoral stimulator as a stand-in. A bullet vibrator works best, giving you lots of room to continue stimulating the rest of her vulva with your mouth and/or fingers.
Some women enjoy vaginal or anal penetration while having their clitoris stimulated. As mentioned above, you can try inserting a finger or two to stimulate her internally. Next time, try inserting a well lubricated small sex toy that vibrates. Some even have a special curved tip ideal for G-Spot stimulation.
Finally, try using some Sex Tarts (for your benefit) or a warming lube (for her pleasure).
Remember that everyone's body is different. What one woman loves, another woman hates. Talk to your partner about what she likes and dislikes. The more comfortable you are discussing cunnilingus, the more you'll enjoy performing it – but the best way to excel at cunnilingus is lots of practice. Fortunately, your partner should be more than happy to help out!