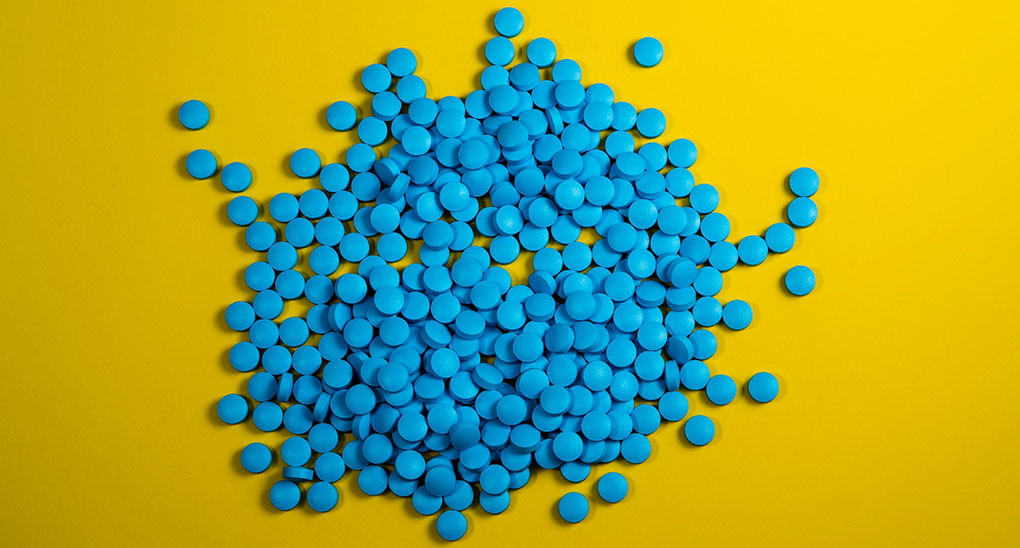 Viagra (Sildenafil) was the first oral medication approved by the Food and Drug administration (FDA) for the treatment of erectile dysfunction. Introduced into the market in 1998 Viagra has arguably had the largest social and cultural impact (in terms of sexuality) of any prescription medication since the birth control pill.
Viagra is a common cultural reference for anything from a quick sexual thrill to the complicated ways that large companies can manipulate the media and individuals to purchase products they design.
Viagra has also had a significant impact on the sex lives of individuals taking the drug (and those who have sex with them) but this impact is less straightforward than marketing materials lead one to believe.
How Viagra Works
Viagra works by relaxing muscles and increasing blood flow to particular areas on the body. Viagra was originally studied for the use in people with high blood pressure and cardiac problems. The studies uncovered an interesting side effect, which was that men who were experiencing erectile dysfunction reported that their erections were returning. Viagra only works with sexual stimulation, so taking a pill will not give a man an erection, but it will increase the likelihood he'll get an erection once he is sexually stimulated.
How To Take Viagra
Viagra comes in three doses, 25mg, 50mg, and 100mg. The manufacturer recommends the 50mg pill as the dose for most people. While online Viagra is widely available, I strongly recommend talking to a real live doctor, preferably one you know, before taking Viagra.
After you take a pill it should work within 30 minutes to 1 hour, and lasts about 4 hours. You should not take more than one pill in a 24-hour period.
How Much Does Viagra Cost?
Viagra you purchase from a pharmacy using a prescription you get from your doctor should cost between $4 to $5 per pill. However you can get online Viagra at a significant discount. The problem is that online pharmacies may not be trustworthy, and it is never recommended that you start taking Viagra without first talking to a doctor.
Viagra Side Effects
The most common side effects of Viagra are:
headache
facial flushing
dizziness
upset stomach
visual problems (bluish vision, blurred vision, sensitivity to light)
Viagra Hazards
Do not take Viagra if you use nitrate drugs, which are used to treat cardiac problems. If used in combination with Viagra, these types of drugs can cause the blood pressure to drop to unsafe, sometimes even life-threatening levels.
People with cardiac problems, anatomical malformations of the penis such as Peyronie's disease, multiple myeloma (a form of cancer), leukemia, liver problems (especially severe liver disorders), kidney problems men with a predisposition to prolonged erections caused by sickle cell anemia, and people taking certain medications used for HIV or those over 65 should NEVER take the drug unless prescribed by a medical practitioner.
In the event of an erection lasting more than 4 hours, seek immediate medical help to avoid long-term injury.
There have been a few cases of men reporting sudden vision loss or hearing loss. If either of these occur you should stop taking Viagra and see your doctor.
The Importance Of Talking About Viagra Before You Use It
Before you use Viagra or other erectile dysfunction drugs you should talk about Viagra with both your partner and your doctor. Talking about it isn't just important from a safety perspective (although this is key to making sure that you can safely use and tolerate the drug), it's important if your goal in using Viagra is to have better sex.
One of the problems with Viagra's marketing campaigns is that they imply that Viagra will fix your sex life.
Viagra won't make you a better sexual partner, it won't increase your ability to talk with a partner or to get what you want in bed, it won't, in fact, make you happier. All Viagra will do is increase your ability to get an erection. This is something that's meaningful to many, but it's not a sexual panacea. Viagra does one thing very well, but great sex is much more than one thing.
If you talk about Viagra with your partner and with your doctor instead of getting a prescription online and keeping it a secret, you improve your chances of making your sex life better. Talk about Viagra and make that conversation about more than your erections, make it about your sexual goals, fantasies, and desires. Talk about Viagra as just one part of whatever changes you want to make in your sex life. Talking about sex isn't easy, but it's worth it.
Before you talk about Viagra with your partner and doctor, here are some questions to ask yourself that might help you start a conversation:
Are firmer erections really all I need to be sexually satisfied?
If I'm feeling like something is missing in my sex life, will I find it with a firmer erection?
How does my partner feel about me wanting to use Viagra? If they had a choice, would I ever use Viagra? Occasionally? All the time?
If I could have more of something in my sex life, what would it be? If I could take something out of my current sex life, what would it be?
These are just a few questions and they may not feel relevant to you. The point is that by using Viagra to start a conversation you make it much more likely that your sex life will improve, whether or not you end up ever actually using Viagra or another erectile dysfunction drug.