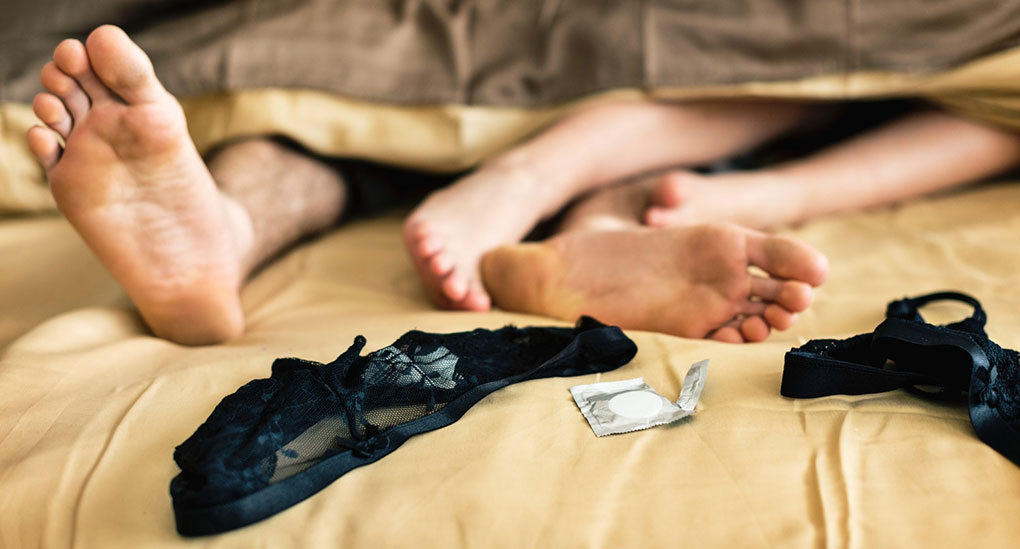 People who are candidates for total hip arthroplasty (also known as hip replacement surgery) have usually been living in some pain for some time. Living with that kind of pain has an effect on practically every aspect of one's life. Including sex.
In fact for people living with chronic pain sex is often one of the first things to go.
Not that the desire to have sex disappears. For people who enjoy sex and think about it a lot, it doesn't.
But the physical experience of pain and discomfort in your body simply makes having sex, alone or with a partner, seem less feasible and less enjoyable.
In one study, 64% of patients who were preparing for either hip or knee replacement reported physical problems related to sexual activity and 91% reported psychological issues which made sex difficult or undesirable.
Several studies have demonstrated the benefits of total hip replacement on sexual satisfaction and sexual function. Even so, it is a topic that surgeons rarely bring up with patients before or after surgery.
In a 2004 survey of members of the American Association of Hip and Knee Surgeons, 80% of surgeons reported rarely or never talking with patients about sexual activity following hip replacement surgery. Of the surgeons who did talk about it, 96% said they spent five minutes or less on the subject.
This may be partly the result of the doctor's own discomfort with the topic. But part of the problem is how little research there is on the actual mechanics of hip function during sexual activities.
A 2013 study, the first of its kind, used motion capture technology specifically to address this gap in knowledge.
The researchers began by creating digital 3D models of the hip joints of two volunteers. They then had the two simulate twelve common sexual positions while using motion capture technology. This allowed them to watch in minute detail the movements involved in each position and how the hips are involved. Using computer algorithms they were able to make initial assessments about which positions would be best for people who have had hip replacement.
The authors are quick to point out that this is an exploratory study at best, relying on limited data. But given that such information has never been captured before, it's a huge step toward providing information to both doctors and patients that will support healthy and pleasurable sex after hip replacement.
In their study they only considered sex positions for intercourse between a man and a woman. But Caecilia Charbonnier, the first author of the study, has said that the results are valid with couplings of different gender configurations. What matters isn't so much the gender of the person, but which partner is doing the penetrating and which partner has had hip replacement surgery.
If you had a hip replacement, and are penetrating your partner during intercourse, recommended positions include:
Rear entry: this approach works whether you and your partner are on your knees or are lying down, with your partner on their stomach and you lying down on top of them. Your legs can be between theirs, or criss crossed in a scissors style.
Edge of the bed: you kneel on the floor at the edge of the bed while your partner lies on the bed, on their back, with their hips at the edge.
Modified spooning: you are on your side and your partner is on their back with their torso positioned at a right angle on the bed to yours.
Missionary: you are on top of your partner, their hips can be raised by a pillow, knees bent, and legs up in the air, or on the ground.
Standing: you penetrate your partner from behind, they are standing and may be supporting their body against a wall, counter, or the back of a piece of furniture.
Partner on top: you lie on your back with your partner on top. They may be sitting upright or learning forward so your chests are touching.
Sitting: you sit upright and your partner comes and essentially sits on you, although allowing for intercourse would mean them supporting themselves either with their hands on their thighs or on the arms of a chair.
If you have had a hip replacement, and want to be penetrated by your partner during intercourse, recommended positions include:
Rear entry: you lie on your stomach, with a pillow under your stomach and hips to raise your bum up, your partner penetrating from behind.
Edge of the bed: you lie on your back, with your feet on the floor, and your hips near the edge of the bed. Your partner kneels by the bed between your legs.
Missionary position: you lie on your back with your partner lying on top of you. Your knees are bent and your legs may be in their air or on the bed.
Standing position: you stand, leaning on something to support your upper body. Your partner is behind you, also standing.
Partner on top: you sit on top of your partner, up right, with your knees bent and your legs on either side of their torso, shins on the bed.
Sitting: your partner is sitting in a chair and you face the same direction as if sitting on their lap. You may support yourself and control movement by using the arms of the chair or pushing your hands on your upper thighs.