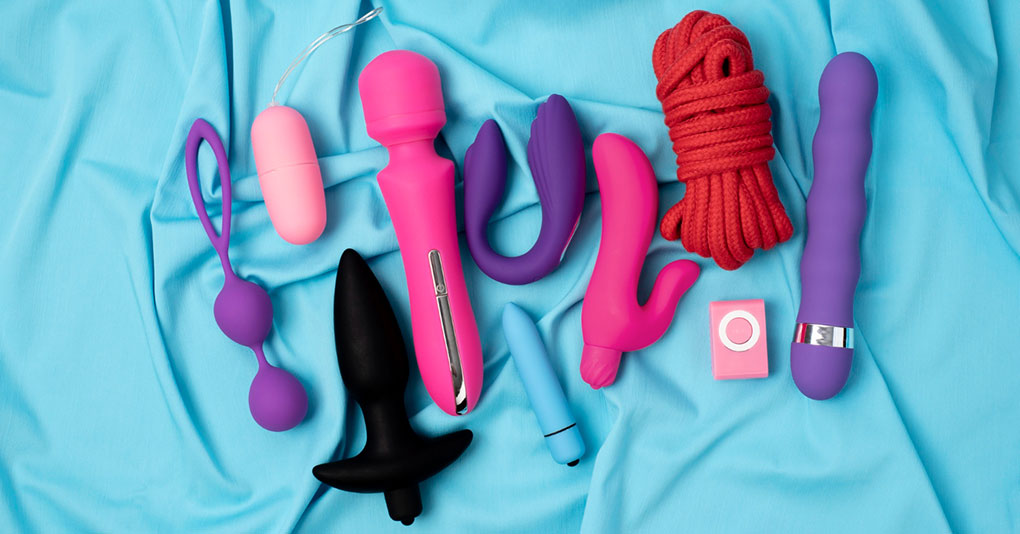 Battery vibrators are by far the most common, and best selling of all sex toys. Because they are more versatile and less expensive than electric vibrators they are usually recommended to people who are buying a vibrator for the first time.
Pros of battery vibrators include:
Inexpensive
Wider variety of shapes, colors, sizes
More functionally versatile, many models can be used externally or for penetration
Wider range of qualities and materials
No electrical outlet required
More discreet looking, and quieter than electric vibrators
Cons of battery vibrators include:
Tend to be lesser quality, shorter life span
In some cases made of material that can cause allergic reactions
Many models are badly designed, some are potentially dangerous
There are many ways to describe the different styles of battery vibrators. The categories I am using below are chosen because they relate to practical things you may want to consider when buying a battery vibrator. Most stores will understand these distinctions, but they may use different terms to describe them.
There are (at least) nine different styles of battery vibrators.
Slimline Vibrator
They look like they're intended for penetrative use, but these cylindrical and sometimes penis shaped battery vibrators tend to be much better for external stimulation. Most slimline battery vibrators have variable speed controls (using a dial, switch, or button) allowing you to adjust the speed and intensity of vibration. They are available in hard plastic, jelly rubber, silicone rubber, and metal, in a wide range of shapes, colors, and textures.
Mini Vibrator
Minis are the smallest vibrators available and are designed only for external, usually clitoral, stimulation. Most take three small watch-style batteries or one AA battery. The battery-life is not as long as with bigger battery sizes but the vibration strength produced is surprisingly strong. Many mini battery vibrators have a single speed and most are made of hard plastic. Minis are great because they're entirely cordless and discreet.
Bullet Vibrator
Ideal for external stimulation, these consist of an egg or bullet shaped vibe attached to a controller and battery pack with a wire. These toys are all variable speed, and while some people don't like the look of wires, the separate battery pack allows for easier access to the controls. The big drawback to these toys is that while holding them, your hand can easily go numb. Mostly made of hard plastic, some are available coated with jelly rubber or cyberskin.
Dual Action Vibrators
These toys offer simultaneous clitoral stimulation and vaginal penetration. The shaft may or may not have beads, and a second piece curves out near the base and hugs the body, providing clitoral stimulation. Some toys will have a third piece designed to stimulate the perineum and anus. These toys have a strong and loyal following, but they aren't for everyone as they are only for penetration. Mostly made of jelly rubber or silicone, there is a big quality difference between the dual action vibrators with Japanese versus Chinese motors, be sure to know what you're purchasing.
Waterproof Vibrator
Regardless of what style you choose, getting a waterproof model is always best. Not only can you then use your toy in water, but cleaning your toy is much easier.
G-Spot Vibrator
A good g-spot battery vibrator is one with a curved tip that will allow you to apply pressure to the g-spot area, but also one versatile enough to allow you to play with the kind of pressure, the angle of penetration, and the strength of vibration. These are available in hard plastic, jelly rubber, silicone rubber, and metal.
Anal Vibrator
To be safe for anal insertion, a battery vibrator needs to be smooth and seamless, and have a large flared base to prevent it from slipping into the rectum. There are a variety of models of battery vibrators that are safe to use for anal penetration. Available in all materials.
Wearable Vibrator
Vibrators for couples that are designed to be worn on the finger, to go around the base of the penis, or to be worn by women around their waist and sit above the clitoris are all an easy way to add vibration to partner sex play. You get much more control with a hand held vibrator, but wearable battery vibrators can be fun and allow your hands to be free for other activities.
Remote Vibrator
Vibrators that are cordless and come with a remote control that can turn on and off the vibrator, usually from fifteen to twenty feet away. Available in a range of styles (wearable, for penetration, for clitoral stimulation) remote control vibrators tend to be expensive, but they can add an intense element of power exchange to sex toy play.